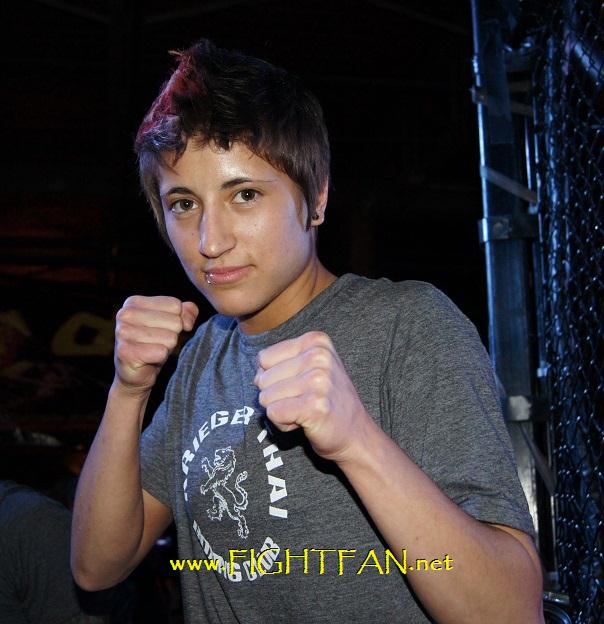 We had a chance to talk with Wyoming fighter Stephanie Skinner  about her upcoming bout in the WFC…
FF: So for the people that don't know you, can you tell us a little about yourself and your record?
SS: Well, I'm a 1-3 fighter, and 3-0 as an ammy.
FF: You seemed to have come out of nowhere here in the last year. Where were you fighting before coming here?
SS: I was actually fighting out of Riverton Wyoming for the longest time and then I moved to Denver and started training with my current team Serial Boxe.
FF: That explains that…Okay, Women's fighting Championship, what's it mean to you to be on the very first card?
SS: You know, it means a lot. It's a great honor, it's my home state and I'm proud to be fighting on a card that promoting women's MMA because there are not a lot of people that support it.
FF: Really? So you don't feel like there is a growing interest in women's MMA, even in Wyoming?
SS:  Oh it's definitely growing, even in Wyoming but you can go and listen to Dana White say he'll never support it or Canadian promoters saying they will never have women on their fight cards. It's the bigger promotions that are downgrading women's MMA but the smaller shows that are starting to build it up.
FF: Right…Oddly enough I just saw exactly what you're referring to with the MFC on HDnet.
SS: Yeah, exactly…
FF: Ok, so what are your thoughts on women's MMA in general?
SS: You know I think it's a good sport, it draws a lot of attention, and there are a lot of good athletes that compete. It just needs more support, and the as there become more all women fight cards it will gain more support. I feel women are equal to men, we can do anything they can do and we're showing it every day.
FF: How long have you been fighting?
SS: oh…about three and a half, or four years.
FF: Cool, and where do you see yourself in the next 3-5 years?
SS: In the next 3-5 years I see myself following in the footsteps of my teammate Diana Rael and be ranked in the top 10. I have the right training and I have the right tools. I want to make it big.
FF: So what do you know about your opponent?
SS: Well my opponent started out as Brittney Nipper, then Gina Galea, and now Darla Harris.
FF: That makes for an exciting fight.
SS: It's more exciting to me as well, being I called her out at the Grizzly Rose not long ago.
FF: Yeah, I saw that at the show…so what do you know about her?
SS: I watched her fight against Jen Berg, I watched her fight against Lisa Jeanson, and watching those two fights made me want to fight her. I want to show her what it's like to fight some competition. When I fight Darla Harris it might just end up being a blood bath.
FF: That's awesome. I missed the Berg fight, how did that end?
SS: Unanimous decision for Harris. It was kinda Darla took her down two or three times a round and laid on top of her. Not a lot of strikes, just take downs for points.
FF: So what can we expect from you in the cage?
SS: You can expect an exciting fight. You can expect a very technically sound fight, good striking as well as an impressive ground game from a team who is normally only known for their stand up.
FF: So what was the focus for this fight?
SS: A lot of focus on the elbows, I plan to throw more elbows than I did in my last match, because as Thai fighters, elbows are one of the limbs we like to use.
FF: Cool, anybody you want to fight?
SS: Right now I want to fight Darla Harris. After that I wouldn't mind fighting Stephanie Frausto after I watch my teammate Diana Rael fight her.
FF: So are you and Diana fighting the same weight class?
SS: It depends. I haven't had a fight at 105 but I am a 105er, against Darla it will be at 110, but I fight between 105 and 115.
FF: You know, that's another thing I like about women fighters, the willingness to move around from weight class to weight class. There are some pretty good swings between weight classes, you just don't see a lot of guys willing to do that as much.
SS: Exactly. When I fought Brittney Nipper she came in at 129 pounds and I was at 118 and still took the fight. Girls are up for anything.
FF: Cool, well I think that about does it, anybody you would like to thank?
SS: I would like to thank my training partners, Diana Rael, Sasha Brown, Nathan Gates.  My coaches Ben Schissler and Diana Rael. My sponsors, AMA, Serial Boxe, Archangel and Pruit Construction.