By Mike Pisano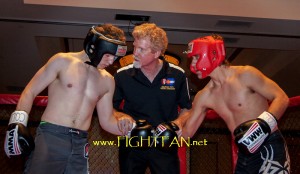 Fight 1 – Ethan Alley vs. Zack Lubline – Modified Muay Thai – 150
Round 1 – The fighters used no feeling out period, each engaging busily and landing. Alley stung Lubline with a powerful right uppercut to score the most meaningful strike early on. The pace slowed and each fighter worked kicks as well as knees in the Thai clinch. Alley appeared to finish the round with better strikes.
Round 2 – Each fighter attempted power kicks then Alley scored several times to the body of Lubline. Lubline fought hard, but Alley consistently got off first and landed the cleaner blows.
Round 3 – Lubline avoided several Alley kicks but then ate a stiff jab. He landed a good leg kick and appeared to listen to his corner well, but got caught with a good left hook then absorbed knees from Alley along the cage. Alley turned up the pressure to finish strong and leave one last impression on the judges. Judges: 30-27, 30-27, 30-27 – Alley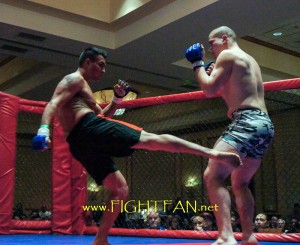 Fight 2 – Beau Menchaca vs. Japhet Springsteen – 180
Round 1 – Menchaca scored with two hard rights drawing blood from Springsteen's cheek. Springsteen scored with a powerful body kick. The fighters clinched and began to do work in the center of the cage as the crowd warmed up. Menchaca found his trusty right and hurt Springsteen with a power shot. Springsteen instinctively went for a double leg but Menchaca stuffed it and went back to his right hands landing several unanswered. The referee moved in and called the action. Time: 1:34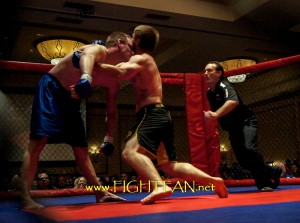 Fight 3 – Frank Duran vs. Kelly Doty – 205
Round 1 – Duran, showing exceptional quickness, shot in for a takedown and somehow caught and stunned Doty with a punch. The fight went to the mat where Duran busily worked fists. Doty was able to force a stand-up by smothering. Duran immediately threw a left-right-left. The first left knocked Doty cold. As he began to fall forward, the two following shots landed and Doty fell back where he lay for several tense moments before being lifted to his stool to a warm round of applause from the crowd. Time: 2:29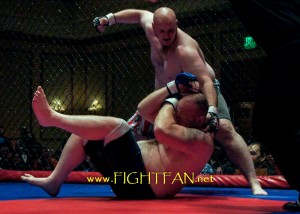 Fight 4 – Everett Scovell vs. Benjamin McGlaughlin – 265
Round 1 – After entering the cage with a steely , determined stare, McGlaughlin launched into an offensive attack. Scovell opened up his own fists and the two banged toe to toe. It appeared either fighter could end the action with a clean shot and that shot came from Scovell in the form of a right hand to the cheek which did not render McGlaughlin unconscious but did drop him to the fetal position with his hands covering his face and a huge mouse on his cheek suggesting a potential facial injury. Time: 16 seconds.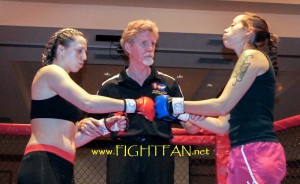 Fight 5 – LaTrisha Briedenbach vs. Kara Gehrig – 130
Round 1 – Both ladies were totally relaxed, Briedenbach measuring distance and attempting to use her reach and height advantage. Gehrig ducked a punch and worked for a double leg. Briedenbach defended well but Gehrig worked harder finally scoring a trip takedown. On the mat she worked punches to the rib cage until Briedenbach, relaxed the whole time, reversed her and began to try to isolate an arm.
Round 2 – Gehrig's corner called for foot work and Gehrig listened, ducking in and out of Briedenbach's range. Gehrig landed a good right, but began breathing open mouthed and heavy as Briedenbach still appeared relaxed and in good condition. Both ladies missed with strikes as not much offense was effective this round.
Round 3– Gehrig appeared to be loading up the right and Briedenbach seemed to expect it. Once again, both ladies were having trouble finding their distance, each throwing measuring type strikes but not landing or fully committing. As the ten second clacker sounded, Gehrig finally let her hands go and Briedenbach responded in kind. All at once, the action starved crowd stood up and erupted for the best action of the entire bout, though, nothing significant landed.  Judges: 29-28,30-27, 29-28 – Gehrig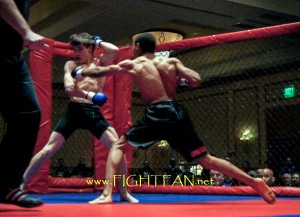 Fight 6 – Kris Briggs Jr. vs. A.J. Robb – 125
Round 1 – Both men displayed quickness early. Briggs got a quick takedown, worked for an arm then let the fight back up. Robb unloaded fast, powerful combinations turning Briggs' face red. He followed with a takedown as Briggs mouth dripped open. The crowd was on edge sensing that the explosive ability of both fighters could make for an exciting finish at any time.
Round 2 – Briggs tried a superman HOOK which didn't even look awkward though it fell short. The fighters finally engaged in a resting clinch after such a fast paced first round. Robb scored a takedown and did work but sensed Briggs was setting up for a triangle and invited him to stand. Both fighters rested, and then each landed big shots, Briggs a left hook and Robb a right hook. Each followed up with bombs but Robb caught Briggs on the chin with a power right, dropping him. Robb immediately swarmed with blurring speed as Briggs covered. Briggs was by no means ready to quit, but Robb gave him no chance to weather the storm. The crowd was very appreciative for a bout which had "fight of the night" written all over it. Time: 2:46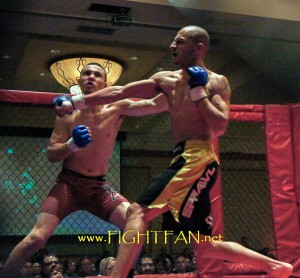 Fight 7 – Angel Estrada vs. Robert Fratterelli – 125
Round 1 – Estrada opened with a forceful leg kick to go along with the serious sneer he wore on his face. Fratterelli showed good speed and movement as he tagged Estrada with a good left. Estrada continued to score with his leg kick, setting up a right hand which stunned Fratterelli. Estrada moved in with a jab cross which scored cleanly. Fratterelli began to trap Estrada's leg kicks but Estrada's balance was so good he simply stood on one leg and punched.
Round 2 – Fratterelli began using more leg kicks of his own. He followed a spinning back fist with a left hook which landed and mixed kicks with a body blow. Estrada unloaded heavy counter shots each time Fratterelli stopped moving to punch. Both men landed good offense. Fratterelli trapped an Estrada kick and dropped him with a right hand at the end of the round.
Round 3 – The crowd was quiet as this even matchup of fast and powerful fighters unfolded. When action resumed after an unintentional low strike by Fratterelli, the crowd began to get very vocal. Estrada landed a straight right. Fratterelli answered. Both men landed kicks. Fratterelli got fancy and Estrada remained serious and angry. Toward the end of the round, Fratterelli connected with two rights, one knocking Estrada back. Estrada moved forward at the ten second warning and both fighters looked to land one last damaging blow in another fight which could have earned "fight of the night." Judges: 29-28, 30-27, 29-28 Fratterelli
 Fight 8 – Adam Vigil vs. Andrew Kauppila – 153
Round 1 – The crowd reacted excitedly to the walkout of the explosive and streaking Vigil. They continued their wild cheering right up until the fighters engaged. Vigil scored a takedown and Kauppila smothered. The referee stood the action. Vigil immediately landed a good left which drew blood from Kauppila's eye. Vigil followed with another left and a high kick knocking Kauppila to the mat.  Kauppila immediately isolated an arm and worked for a triangle then and arm bar. The crowd responded. Kauppila transitioned to an omaplata attempt which Vigil fought off at the end of the round.
Round 2 – Kauppila pressed forward and got tagged by a left hook. Vigil shot and Kauppila stuffed then followed with two good knees to the body. Vigil scored a double leg. The fight returned to stand up. Vigil unloaded bombs for hand strikes and Kauppila knees to the body. Kauppila stuffed a takedown and dug power shots to the body and head of Vigil as Kauppila's cheering section yelled, "He's tired Andrew! Let's go!"
Round 3 – As the fighters rose from their stools to begin the final round, the crowd responded to the great action of a close first two rounds. Vigil scored a take down and Kauppila reversed. He hammered Vigil's rib cage with knees. Vigil immediately reacted and escaped to top position. Bleeding from his eye, nose and mouth Kauppila instinctively transitioned  smooth Jiu Jitsu from one technique to another as Vigil, looking gassed, dug deep to take the fight to the final horn giving JR Gordon, calling the action cage-side, yet another candidate for "fight of the night." Judges: 29-28 Vigil, 29-28 Kauppila, 29-28 Kauppila. Winner by spit decision – Kauppila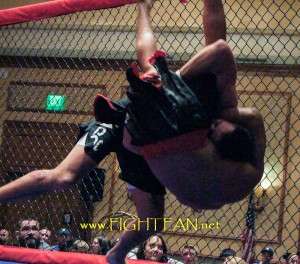 Fight 9 – Cody Connell vs. Steven Lee – 165
Round 1 – Connell ducked a one-two, dropped levels and scored a big slam. Lee maintained head control with a guillotine. Connell maneuvered onto north/south position, applied a choke of his own and closed it off. Time: 1:22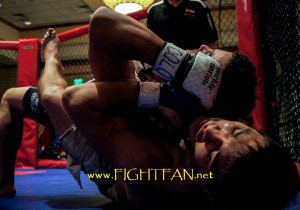 Fight 10 – Joey Munoz vs. Joey Welch – 145
Round 1 – Both fighters appeared to want to grapple. They clinched, battled for leverage and Munoz took Welch's back. He dropped levels, wrenched Welch to the mat, applied a body lock and finished Welch with a rear naked. Time: 52 seconds.