THATCH AND HOLLAND RETURN TO CAGE AT ROF EVENT
Denver,CO –
RING OF FIRE MMA is one of the longest running Mixed Martial Arts promotions in the world. On Saturday April 16th they return with ROF 40: BACKLASH!  Headlining the event will be a clash of two of the top Welterweight prospects on the professional circuit. ROF Young Gun Champion, Brandon RUKUS Thatch will be defending his belt against challenger Chris THE HAMMER Holland.
(above Brandon Thatch)
There is no more dynamic exciting fighter in the welterweight division then Brandon RUCKUS Thatch. He is a lifelong martial artist whose father and grandfather were both professional fighters. After a short stint in Kickboxing Thatch set his sights on MMA, and has never looked back. Although being known mostly for his devastating striking ability, he has proved his worth on the ground as well, with exactly half of his victories coming by way of submission.
A neck injury de-railed the young star, and after a 20 month absence he returned at ROF 39, where he finished Las Vegas fighter Danny DEE-1 Davis in a non title bout. Thatch now looks forward to returning to the ROF cage and defending his YOUNG GUN Title belt against Chris Holland. Thatch won't have to look very far for motivation as Holland has beaten two of Thatch's training partners in the ROF cage. "I am looking for a little payback for sure, but also to keep my belt. It comes down to who wants it more, me or him. This is my house, and these are my fans. I won't disappoint them. I'll be ready." said Thatch.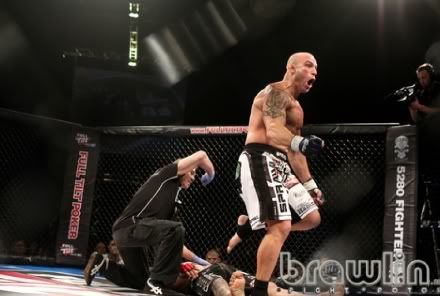 (above Chris Holland wins at ROF 38)
Chris The HAMMER Holland is known for his hard hitting aggressive fight style. He has amassed a 7- 4 record, with all 7 of his wins being a TKO or KO. He made his Ring Of Fire debut at ROF 33 where he finished Chris Williamson in the second round by TKO. He returned at ROF 38 to face his biggest challenge to date against knock out artist Vinnie Lopez. In what promised to be a stand up war, Holland shocked the crowd that night with a KO victory in the first round.  After the bout MMA writer Luke Henderson wrote "At a certain point, people are going to have to stop referring to Holland as an underdog. Every undefeated, or monster opponent that is put in front of the man, is as quickly put back out. This win cements Holland as a real-deal main event draw, and more than a few people in the crowd were wondering when we might see him again." The comment couldn't be more prophetic, as Holland gets his shot at the title, in the main event, come April 16th.
(above Chaun Sims lifts opponent at ROF 38)
Making his return to the RING OF FIRE will be grappling standout Chaun Sims. Sims debuted for ROF in 2010 after working his way up on smaller shows, bringing a dangerous reputation with him. Sims is a Black Belt in Brazilian Jiu-jitsu under professor Amal Easton and trains MMA at GRUDGE Training Center with multiple UFC veterans. Facing Sims will be Vitor Belfort protégé Cesar MUTANTE Ferreira (3-1) from Rio de Janiero, Brazil. Ferreira is one of the hottest prospects to come from the country known for producing some of the toughest fighters in the world. Ferreira is currently training in his home country, but will do final fight preparations in Las Vegas with his mentor Vitor Belfort.
(above Michelle Blalock)
One of the most intense fighters on the roster returns to ROF competition as well. ROF Women's YOUNG GUN Champion, Michelle The BOBCAT Blalock will defend her belt for the first time on March 18th. Going undefeated as an amateur, Blalock is ready to step up into the professional ranks. Challenger her for her title will be Heather Clark, who hails from the world famous Jackson's MMA team in Albuquerque, New Mexico.
(above Jason Lee)
The newest addition to the RING OF FIRE roster is Jason THE DRAGON Lee. Lee was voted the ATO 2010 Amateur Fighter of the year. With a 4-1 amateur and 2-0 professional record, Lee looks to be one of the top prospects to come out of the region in quite a while. The DRAGON will face Oakland's Christopher Clark. Clark trains at multiple gyms in the talent rich Nor Cal area, and is a fighter out of the RINO Sports Team.
ROF 40 BACKLASH FIGHT CARD:

170 lbs YOUNG GUN CHAMPIONSHIP
Brandon Thatch (6-1) vs Chris Holland (7-4)
185 lbs FEATURE BOUT
Chaun Sims (5-1) vs Cesar Ferreria (3-1)
125 lbs YOUNG GUN CHAMPIONSHIP
Michelle Blalock (5-0) vs TBA
185 lbs FEATURE BOUT
Jason Lee (6-1) vs Christopher Clark (2-1)
170 lbs FEATURE BOUT
Josh Cavan (6-0) vs Tamboura Gerl (9-5)
155 lbs YOUNG GUN CHAMPIONSHIP
Marcus Edwards (6-0) vs Nick Laney (7-0)
145 lbs BOUT
Joey Banks (6-3) vs Gabriel Marquez (6-3)
145 lbs BOUT
Chad Romero (6-0) vs Tommy Thompson (6-0)
155 lbs BOUT
Justin Geathje (6-0) vs TBA
135 lbs BOUT
Corey Kuchler (1-1) vs TBA
265 lbs BOUT
Rocky Hoffschneider (1-1) vs Eric Evans (4-0)
170 lbs BOUT
Tito Solis (3-0) vs Jared Deaguero (2-0)See More
VENUE AND TICKET INFO:
ROF 40 BACKLASH also marks it's return to the 1ST BANK CENTER, formerly known as the Broomfield Event Center. The arena is located just 15 minutes from both Downtown Denver and Boulder. The venue just received a multimillion dollar face lift and has recently hosted UFC FIGHT NIGHT on SPIKE TV.
Tickets are priced at $20.00, 25.00, $35.00 and $45.00* and can be purchased online at www.TICKETHORSE.com
Tickets also available at:
· TicketHorse charge-by-phone (8am – 8pm M-Sat., 9am – 5pm Sun.): 866.461.6556.
· TicketHorse kiosks located at all Colorado Dick's Sporting Goods Stores (credit cards only).
  *price does not include $4.00 facility fee, additional charges may apply
VIP TABLES:
 As always if you would like to see the event is style, VIP GOLD and VIP SILVER tables can be purchased. The VIP tables seat 8 people and are catered by Brothers BBQ. Cocktail service is available to the VIP tables. Call 303-521-0966 or e-mail beanz4@msn.com to reserve your table today! 
Photos courtesy of Ring of Fire