By Mike Pisano and Brian Montgomery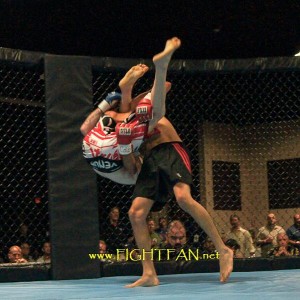 Fight 1 – Sergio Juarez vs. Forrest Marshall – 125
Round 1 – Juarez landed a right to the face and followed with a strong leg kick. Marshall fired back knocking Juarez to the canvas with a right hook. The pace quickened and Marshall scored a loud body slam and went for a triangle choke. Juarez slipped out and took Marshall's back but could not sink a rear naked. The crowd became vocal, loving the fast pace. Following a scramble, Juarez gained full mount, then flattened Marshall out with a body lock, and applied a choke but the bell sounded.
Round 2 – Marshall threw a kick that grazed Juarez' face. Juarez tossed him to the mat and fought from mount, digging punches to the rib cage. Marshall looked to his corner and carefully followed instructions to dig his heel to Juarez' kidneys. He escaped guard and stood up. On their feet, the fighters exchanged forceful leg kicks, Juarez' kicks appeared to do more damage. With his corner sensing Marshall was in trouble, they screamed, "Now or never Forrest!" and Marshall loaded up some haymakers before the bell.
Round 3 – Both fighters missed with combinations so Juarez trapped a kick and brought the fight to the mat. Marshall trapped his head along with an arm and attempted a triangle. The crowd became loud, but Juarez slipped out and took full mount. Marshall rolled to his stomach and laid still as Juarez whaled away with body shots. He then reached around and secured a choke. With little in the way of defense from Marshall, he rolled to his back and tapped him with a rear naked. Time: 1:25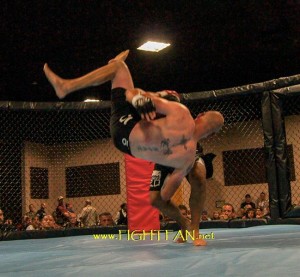 Fight 2 – James Robinson vs. Kenny Rivera – 170
Round 1 – Both fighters were patient, picking their spots. Rivera landed a leg kick and a right hand before getting dropped by a Robinson right counter. Rivera grabbed Robinson's legs, recovered, then took top position following a scramble. He did good work, staying busy with punches as Robinson's corner implored him to escape. At round's end, Rivera was unloading ground and pound and the crowd was coming alive.
Round 2 – Rivera was up before the bell, bouncing in his corner as Robinson looked gassed. Rivera scored a takedown right away, took full mount and began to strike. Robinson stopped defending and the referee moved closer. He gave Robinson one last close look and stopped the contest. Time: 1:27.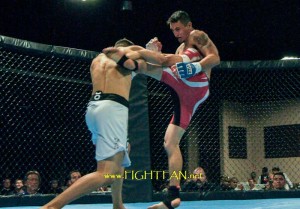 Fight 3 – Michael Mora vs. Adam Vigil -155
Round 1 – Vigil, entering the cage with a "Respect" tattoo across his chest opened with a body kick which could be heard throughout the auditorium and left an instant red welt. He followed with a power right hand and then stepped on the gas pedal. Every strike he threw was forceful and sharp. He continued to connect until Mora's back was against the cage and his knees were spaghetti. Vigil's final punch was a left hook to the mouth as the referee stepped in to prevent unnecessary damage to a game and durable Mora. Time: 32 seconds.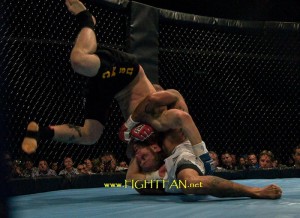 Fight 4 – Doug Brock vs. Bryce Holland – 155
Round 1 – Holland walked straight into a left right from Brock then took him down with a double leg. Brock battled to his feet and ate a big right from Holland. The crowd became vocal as both fighters looked to bang. Brock landed a jab and a right hand, Holland landed several knees to the body in a Thai clinch. Holland scored with a strong right uppercut. Brock threw a wild hook and dropped Holland who recovered in short order, capitalized on a scramble and began to unload right hands to the face of Brock from top position. The referee shouted one warning to Brock to defend and make a move. When Brock could not do so, the fight was stopped. Time 2:07.
Fight 5 – Jake Tatham vs. Tibor Janec – Heavy (Montgomery)
Round 1 –Tibor lands a kick and Jake pushes him against the cage. Jake goes to take him down but lands on the bottom.  Jake reverses him and lands some shots from the top while in full guard. He works to half mount and starts throwing some big shots, it seems only a few are getting through but with Tibor only covering up the ref gives him 3 warnings before calling a stop to the action at 2:36 by TKO – Time: 2:36.
After the fight, Tatham thanked Janec for stepping up to take the fight after several others cancelled.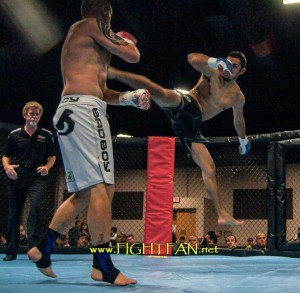 Fight 6 – Jason Burton vs. Omar Gonzalez – 150 (Montgomery)
Round 1 –Omar throws an impressive jumping back kick before going for the takedown. They scramble and Jason goes for a heel hook, they roll and Omar gets a heel hook tapout at 1:00 to become the new 150 champion. –  Time: 1:00.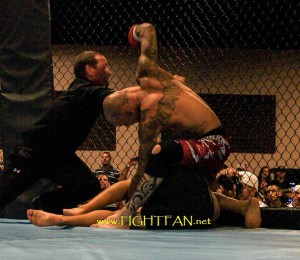 Fight 7 – Ronnie Tomasek vs. Jeremy Martinez – 155
Round 1 – Both fighters displayed speed. Martinez got a quick takedown. Tomasek reversed, took top position, fought off an armbar attempt, then rifled right hands to the face of Martinez until the fight was stopped. Time: 1:33.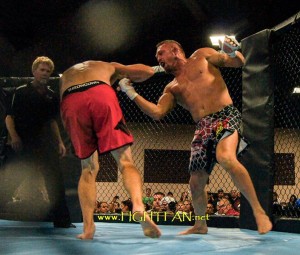 Fight 8 – Rocky Johnson vs. Pete Vandervort – 155
Round 1 – Vandervort used movement but Johnson cut off the ring and scored a quick takedown. He took side control and used knees to the body and elbows to the face as Vandervort tried for head control. Vandervort was able to escape and stand up, but Johnson landed a spinning head kick ending the fight. Time: 2:09