New year, new feature. We're going to start getting to know some of the ring girls, and aspiring ring girls. We'll start this off with Kick Down's brunette beauty.
It's Kick Down MMA's 105th show, and ring girl Audrey Burgio, is on site as usual. Guess it's time to find out her story…
FIGHTFAN: What got you into being a ring girl?     
Audrey:  I was watching the fights, and the ring card girl didn't show up. Gene, Steve's brother, asked me if I would fill in, so I did. I was a little apprehensive at first, but they said they would pay me, and I could wear my normal clothes, so I did it. After that, Steve asked me to continue working his shows, and here we are, a year later.
FIGHTFAN: So what do you do when you aren't doing the ring girl thing?
Audrey:  Other than working at a car dealership, teaching fitness classes, and doing jiu-jitsu, the other things I do regularly are powerlifting and gymnastics, I play pool a league, I like going to the race track (drag and circle she specifies), skateboarding, hiking, shooting. I have an associate's degree in automotive and I also studied horticulture.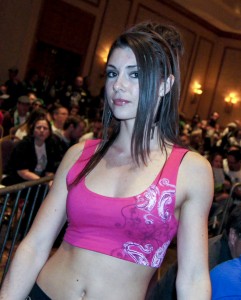 FIGHTFAN: What artist(s) will we find if we check your MP3 player or car stereo right now?
 Audrey: Just about everything. Let's see, the CD player in my car right now has Garth Brooks. I listen to everything from   Waylon  Jennings, Hank Williams Jr, and Conway Twitty to Motorhead. You'll even find some Pat Benetar, Primus, Diana Ross, Atmoshpere, its a very interesting mix.
 FIGHTFAN: Wow, well rounded list…What ties do you have to MMA, besides the obvious?
Audrey: I came to watch Nick Laney fight the day that they asked   me to fill in…other than being a fan, not much really.   I've been   doing Jui Jitsu for a while now, but that's it, not really MMA.
FIGHTFAN: What's your favorite finish to a fight, KO or Submission?
Audrey: Submission for sure. There are so many more technical aspects to submissions over KO's. I find it much more exciting.
FIGHTFAN: Do you have any favorite fighters?
Audrey: I don't know about favorites…I like Donald Cerrone.
FIGHTFAN: Anybody local?  
Audrey: Local fighters…you know, I see them fight, and I think "Oh, that's gonna be a good fight", but to think of their names…I'm kind of forgetful, but I do   recognize them when they come out, and I remember how they fought. There's a few that I route for…quietly.