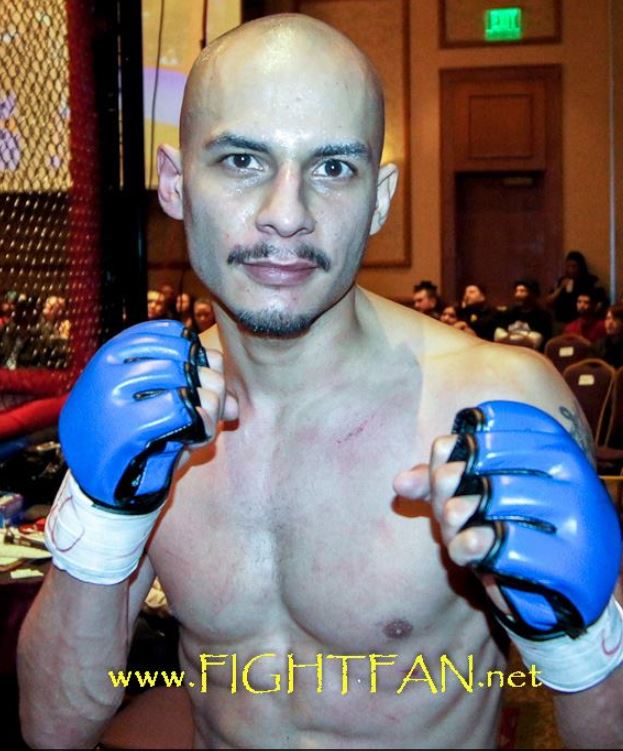 We got the chance to talk with up and coming flyweight, Angel Estrada in advance of his fight this weekend at Kick Down 113…
Fightfan: How's it going man?
Angel Estrada: Good, good.
Fightfan: Hey man, for those that may not know you yet, why don't you tell us a little about yourself and what got you started fighting.
Angel Estrada: The name's Angel Estrada, from San Jose California. I was born and raised there. Started training after I got out of the military. I was in the army for five years and did some Boxing and Jiu Jitsu in there. Started training back in 2007, and then moved to Colorado, where I started checking out gyms. I came to Edge MMA, and it just felt like the right place to be.
Fightfan: Nice. And we know there are some tough guys over there at Edge, what's the training like for you over there?
Angel Estrada: We do a lot of boot camps, cardio and muscle endurance training. We get our Jiu Jitsu, Boxing and Muay Thai in the mornings, and more Muay Thai later in the afternoon, and then MMA and sparring after that.
Fightfan: So are you training full time?
Angel Estrada: Yeah. I'm there almost every day. The only days I can't make it is if I have things to do with my kids that keeps me out. You know, regular parent stuff.
Fightfan: Yeah, I hear you. So do you work also?
Angel Estrada: No I don't, I go to school at night. I go to Lincoln Tech. I just graduated from the automotive side and now I'm taking welding. I'm REALLY involved in cars. I love cars.
Fightfan: So, your last fight was great. Didn't really go your way…We had it picked early as the fight of the night and then the Kaupilla/Vigil fight sort of beat you guys out, but your fight was just a barn burner, man, really exciting. I also heard that you went through a portion of the fight injured. Can you tell us how you think that fight fell through for you and about the injury?
Angel Estrada: You know… it was my shoulder. I threw a punch and something sorta tweaked. It was something like a pinched nerve in my shoulder. It just started feeling better about two weeks ago. As For the rest of the fight, it was sorta back and forth. He was quick, quick on his feet. He had really good hands and I was more expecting him to try and take it to the ground. That's why I was more at a distance through the fight, but it not going to the ground made me take a look back and see, you need to work on your stand up. Laughs
Fightfan: I take it you're more comfortable on the ground?
Angel Estrada: Well, I'm more versed in regular Boxing, like inside, but when it comes to Jiu Jitsu, and on the ground and in a fight, that's where I feel a little more comfortable. Cause that's where most of my fights have gone.
Fightfan: Gotcha. You're coming up on your next fight and facing Luis Fernandez. What are you expecting in that one?
Angel Estrada: I have no idea about the guy, I've heard nothing about him, I can't find anything on the internet either, so I'm going in completely blind. My first two fights were similar though, I didn't have any info on them, so I just come in prepared for anything.
Fightfan: OK man, you're four fights in, it's a little early, but any thoughts on turning pro?
Angel Estrada: I'd like to get a few more fights under my belt, until a get completely comfortable and well versed with my stand up and ground game, and everything in between. I'd like to get a few more fights under my belt really. If I were to give it a time frame, I would say maybe a year and a half hopefully.
Fightfan: Cool, you know, I hear guys say, "I want 10 fights and then I'm going pro", and we have been seeing you fight fairly regularly lately, is there a number of fights in your head or a timeline before going pro? Is there a "magic number"?
Angel Estrada: Oh no, I don't look at it as a number game. I'm more about how comfortable I am, and how well versed I become before I take the next step up.
Fightfan: Awesome man. That makes the most sense of any of the answers I've heard yet. Feeling comfortable with your abilities before making that jump. Anybody you want to thank?
Angel Estrada: Yeah, first off, Nick Marr for giving me the opportunity to see if I have it in me, Steve Alley for giving me the optimal opportunity to actually test myself. Sheldon Marr for the gym and all the awesome, awesome training I get over there. Aaron LaPoint and Lumumba Sayers, Mitch Peterson, and Satchell YellowHawk.
Fightfan: You have a bunch of guys over there that are just monsters…
Angel Estrada: yeah, and me being the smallest guy there laughs…It's and experience.
Fightfan: Hey man, you mentioned you came from California, any plans on leaving, or are you going to make Colorado your home long term?
Angel Estrada: That's what I'm leaning towards, because the fight atmosphere here is just brilliant. I mean, everybody loves it. There are people everywhere that cater to it. But my one downfall here is the weather, coming from California. Looking forward, I would say, yes, because there are a lot of opportunities here.
Fightfan: I feel like it could be argued who falls into the number three spot as far as MMA goes, between Colorado and New Mexico. I definitely feel we are only behind Vegas and California when it comes to MMA acceptance and availability. We're definitely a hotbed… Well, Angel I appreciate you taking the time to talk with us and we look forward to another exciting fight this weekend. Thank you.
Angel Estrada: I appreciate it, your coverage is awesome, the pictures and the play by play, every single time is amazing. I really appreciate you guys covering us.
Fightfan: Awesome man, thanks again.