By Mike Pisano
Kick Down 111 – CLOSERS – 11-23-13
Fight 1 – Angel Estrada vs. Marvincent Williams – 125
Round 1 – Williams touched up and came out firing. Estrada remained cool. Williams hoisted Estrada for what would have been a mega slam had Estrada not gotten away with a cage grab. Williams stayed busy with Estrada on his back landing good fists which caused a mouse under Estrada's right eye. Estrada worked to his feet and landed a haymaker right hand dropping Williams. Williams quickly recovered and stood toe to toe trading power as the round came to an end.
Round 2 – Estrada looked angry and ready. He pressed the action, walking through leg kicks to land a right hand then another, prompting Williams to shoot. Estrada quickly went to work isolating a wrist and tapping Williams with a standing arm bar. Time: 1:16 Estrada dropped to his knees and appeared to say a prayer for Williams who remained in pain. Following the fight, Estrada received praise for kicking off the show in particularly exciting fashion and stated, "I'm ready to go again any time!"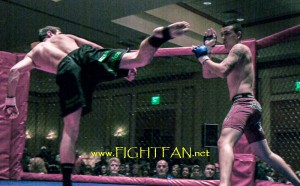 Fight 2 – Nick Bryant vs. Robert Fraterelli – 155
Round 1 – Fraterelli defended a Bryant take down attempt with well-placed uppercuts and strong balance on one leg. Bryant clinched and Fraterelli landed good knees to the body while keeping his feet.  Bryant already appeared to be breathing heavily. He finally pulled Fraterelli's legs from under him and brought the fight to the mat. Fraterelli attempted a triangle to close the round.
Round 2 – Fraterelli landed a hard leg kick then sprawled to defend a Bryant take down attempt. Bryant followed a right hand to get inside and clinch, and then scored a trip take down. Again, Fraterelli positioned for a triangle choke which he stayed with and tightened until Bryant couldn't punch or reposition and finally had to tap. Time: 2:46.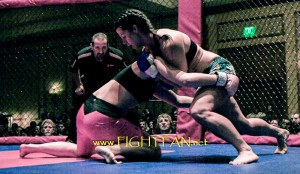 Fight 3 – Allison Walters vs. Kara Gehrig – 130
Round 1 – Walters opened with a good body kick and the ladies clinched. The crowd erupted as the fighters worked at a vicious pace. The clinch intensified and was competitive until Walters finally got a trip take down. The crowd was going crazy. Gehrig set in an arm bar which appeared to be deep and the referee moved in close. Walters battled and battled, demonstrating flexibility to loosen Gehrig's grip with her foot as the bell sounded ending the round.
Round 2 – The ladies traded kicks then went back to the mat, Walters taking head control. Gehrig began to better her position then fired power ground and pound. The referee stood the fight to issue a warning and the ladies attacked each other immediately, Gehrig landing a good right and Walters a strong kick to the stomach. The crowd as engaged as ever.
Round 3 – Walters landed great strikes to the face as she was being taken to the ground by Gehrig. Walters reversed then Gehrig got a reversal of her own. The crowd was deafening as both ladies banged hard rib and liver shots on the mat. The fight returned to standing and the fighters traded kicks. At the ten second mark the ladies opened up their fists and went for broke as the crowd raged. Judges: 30-27, 29-28, 29-28 – Gehrig
Following the fight, Gehrig stated that Walters was a strong opponent and that she had left everything in the cage. She also affirmed plans to return to the cage to continue her career.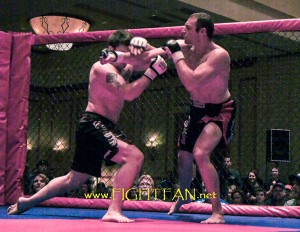 Fight 4 – Joshua Thomas vs. MacKenzie Roquemore – 205
Round 1 – Roquemore started fast. Thomas landed a punch and Roquemore went to the mat. It was unclear if the punch did the damage or if his knee gave out. He covered up on the mat and Thomas swarmed. The referee gave Roquemore a chance to work, and then stopped the contest as Thomas fired unanswered punches.  Time: 15 seconds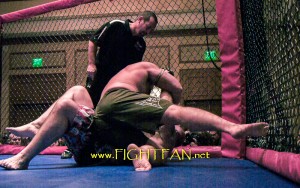 Fight 5 – Scott Slama vs. Ivin Emrick – 260
Round 1 – Emrick landed a right hand over a Slama jab and followed Slama as he fell to the mat. Emrick drilled Slama with right hands until Slama had a knot on his forehead and blood gushing from his nose. The referee announced, "That's it, we're done!" as he stepped in and stopped the beating.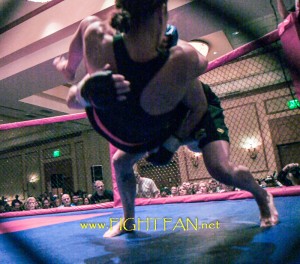 Fight 6 – Cheri Muraski vs. Selena Valdez-Montoya – 130
Round 1 – The second of two female fighters to enter the cage to Pantera  walkout music, Muraski rushed in and scored an immediate slam. She transitioned to Montoya's back, flattened her out, sank in a rear naked and tapped Montoya. Time: 49 seconds.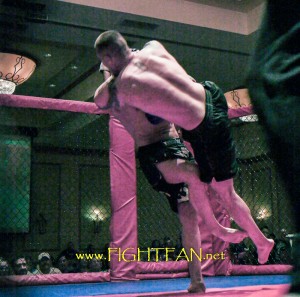 Fight 7 – Donny Bonini vs. Steve Strickler – 160
Round 1 – Strickler missed with a haymaker then scored a big slam. The fight returned to standing and Bonini dropped a power right hand over a Strickler jab scoring a knockdown. He began ground and pound but landed a blow to the back of the head and the referee stood the fight. Action resumed with Strickler working for a takedown.
Round 2 – Strickler trapped a lazy Bonini leg kick and swept his base leg. He gripped Bonini's left arm with both hands, set in a Kimora, rolled forward and tapped Bonini. Time 48 seconds.
Fight 8 – Ben Lugo vs. Jeff Nemeth – 145
Round 1 – Both fighters looked particularly speedy. Nemeth shot immediately and leveraged Lugo to the mat. The ground battle was busy and competitive until Nemeth assumed mount and began to methodically carry out instructions from his corner. He landed ground and pound to turn Lugo, then took his back, sunk in a rear naked and tapped a disappointed looking Lugo. Time: 2:01
Immediately after winning his first MMA title, Nemeth was asked what he planned to do next and he replied, "Keep fighting!"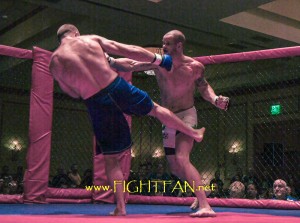 Fight 9 – Brian Maronek vs. Joe Miles – 175
Round 1 – Maronek, enjoying a height advantage, took head control in the standup. He used leverage in a guillotine to pull Miles to the mat as Miles' corner shouted, "Don't give him that guillotine anymore!" The grapple was strategic and competitive as Miles went for a heel hook and Maronek regained his guillotine. Miles battled to his feet and freed his head once again as the fighters battled for leverage against the cage.
Round 2 – Miles landed a jab and Maronek quickly went back to his standing guillotine. Miles slipped out and landed an elbow to the head and a right hand. Miles was beginning to work hard in the clinch, digging lefts to the body then going back upstairs as Maronek's head control was losing the effectiveness it had in round one. The referee shouted, "As long as you're working, I'll let you stay right there!" Miles kept the pressure up. The fighters separated and a winded Maronek tagged Miles with a good right. Miles pushed the clinch back to the cage and continued his busy offense.
Round 3 – Miles appeared fresh as he waited for the bell. He took the fight to the clinch where he was doing good work the previous round. Maronek, with little room to punch or knee, attempted to bring the fight to the mat as he had in round one with the guillotine. They broke momentarily and Maronek scored with a straight right. Miles muscled him back to the cage, buried his head under Maronek's chin and mixed up knees, punches to the head and heavy shots to the body as the crowd began to get loud. Maronek battled to the end as Miles corner shouted, "He's desperate!" Judges: 29-28, 29-28, 29-28