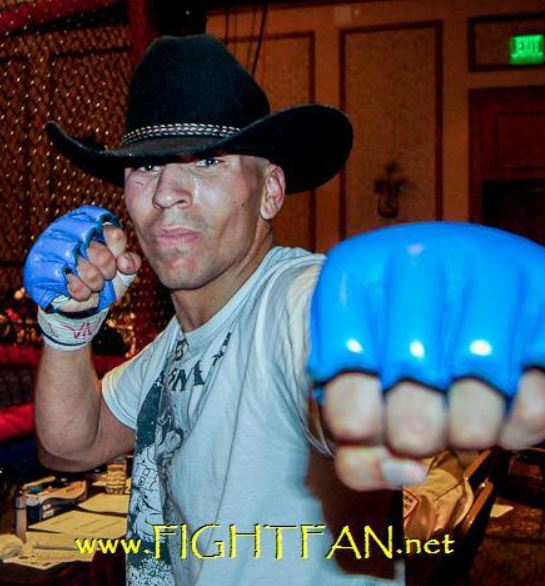 Thomas Sandau will be the co-main event as he takes on undefeated Jeff Nemeth at KickDown 113 this weekend. He took time out of his preparation schedule to share his thoughts with Fightfan and Colorado MMA fans.
FightFan: So you're fighting Jeff Nemeth this weekend. Are you starting to get excited?
Thomas Sandau: Yeah, yeah I'm actually pretty stoked about that. This is the biggest fight of my career so far. It's a title fight and I'm the co-main event too so I'm pretty excited for it.
FightFan: Exactly. And, do you also feel it's your biggest fight so far because Nemeth could be your most challenging opponent so far?
Thomas Sandau: Yeah, Nemeth's coming in at 4-0, he's an undefeated fighter, he's beaten fighters like Allen Washington who's a good fighter and a big guy…Nemeth's a good wrestler and a real aggressive guy. He comes from a tough camp out at Z's Training Gym and I'm looking forward to a pretty good fight.
FightFan: Talk to us about your amateur career now that you're seven fights in at 5-2 if we have your record correct.
Thomas Sandau: Well, I'm 4-1 actually. They also have me listed at 5'8" too so…(laughs) and MMA underground has me at 32 years old…
FightFan: Well let's clear all that up right now…
Thomas Sandau: I'm 22 years old, I fight at 145 and I'm about 5'10" or 5'11" and again, my record is 4-1.
FightFan: Great, so tell us about yourself as a fighter and your career so far leading up to your big fight March 8th.
Thomas Sandau: Well, I've actually been watching MMA ever since the Stephan Bonnar/Forrest Griffin fight and I always thought it would be something cool to do. So, for me, I was always getting into fights in LaCrosse games and stuff and I thought it would be a good sport for me. When I was 16, my dad found Infinite MMA for me because he watched a Kimbo Slice fight and got interested in it that way. At the time I was mainly a LaCrosse player, I had wrestled a little bit…we'd been set up for fights so many times, whether they were kickboxing, amateur MMA fights or whatever and so many of them fell through for different reasons.  One guy who I was supposed to fight, even got hurt in the locker room and wasn't able to fight (laughs). I had my hands wrapped and everything! Finally, for my first fight against Toby Lopez, I weighed in on my 20th birthday. I didn't know anything about him, then on the day of the fight, we found out he was a four-time state champion wrestler. Then, after the fight I found out he had competed in golden gloves twice (laughs)…I ended up winning that fight in the first round by arm bar. Most of my fights have been for Steve Alley. I had to fight against Eric Maestas, Tyler Garcia and my last fight was against Nick Clem. He's a tough little dude and the only guy I haven't finished. Even after the first time I fought for Steve he was talking about getting me title shots. I guess me just winning 3 straight in Steve's cage got me this shot…I don't know that much about Jeff. I personally don't look into my opponents a lot. My coach, Adam Martinez will do stuff like that…I don't remember seeing him fight, but I can go off of his camp I guess. I've been told he's a good wrestler, his camp has some pretty good brawlers in it. He's a really dangerous guy…being undefeated is a big thing and I think he's been in it for about four years which is a long time.
FightFan: So are you approaching this like any other fight or do you have new skills to showcase?
Thomas Sandau: Pretty much I'm going to approach him like any other fight. I think I can handle things wherever the fight takes me. We do have a game plan and I do have an idea of what I think might pan out in my head, but that's a sealed document until the fight arrives. But I'm approaching him the same way I have all my fights.
FightFan: Where would you like your career to go after Nemeth win or lose?
Thomas Sandau: Of course I'd like my career to go up so I will continue to fight the best 145ers in the state and in the world eventually. Getting more amateur fights against top guys like him and then going pro. I personally don't make any of those decisions, it's all up to my coach Adam Martinez. He decides when I do stuff.
FightFan: Cool. What have you been working at the hardest up there at Infinite?
Thomas Sandau: The think I work at the hardest is being an all around smart martial artist…controlling the fight on the feet, getting up off the ground, takedown defense, getting into position for submissions…I also focus on cardio. Once you start fighting those top guys it gets harder and harder to finish fights especially in our little weight classes like 145 and 135. So cardio conditioning getting ready for a three round war is something I prepare for and it's something I prepare for mentally as well.
FightFan: Well very good to talk to you. We can't wait to see you in action on the 8th!
Thomas Sandau: Oh yeah, it'll be good! Thank you!