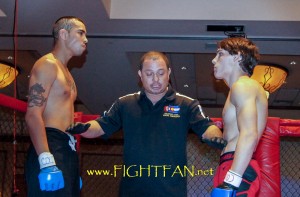 Fight 1 – Kris Briggs JR. vs. Aaron Lopez – 125
Round 1 – Lopez opened with a series of right kicks, one landing to the body of Briggs, dropping him as he threw a left hook. Another right kick landed to Briggs face shortly thereafter, dropping Briggs again and stunning him. Briggs battled a barrage of offense by Lopez to regain his feet, but he was clearly wobbly, and Lopez caught him with a right hand to drop him again. Lopez then finished him with a series of unanswered blows. Time: 1:22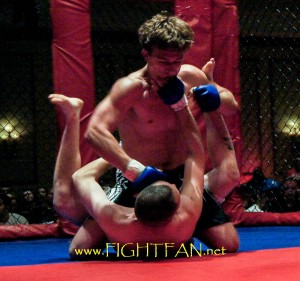 Fight 2 – Ethan Alley vs. Jason Rubio – 155
Round 1 – The fighters locked up and Alley took Rubio's back. He tripped Rupio, mounted him and launched ground and pound before transitioning to work for a crucifix which he gained in short order. He dropped right hands to Rubio's face until the referee moved in and called the bout. Time: 1:37.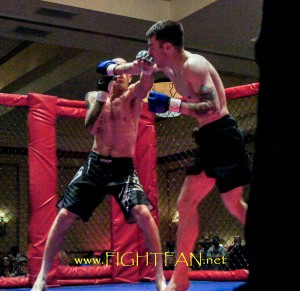 Fight 3 – Jimmy McDonald vs. Christopher Hansen – 155
Round 1 – Hansen landed a sharp jab which McDonald shook off. McDonald answered with a left right which appeared to stun Hansen who immediately slammed McDonald. McDonald made it to his feet and the fighters exchanged vicious punches. The pace slowed. McDonald went back to kicks and Hansen landed another great jab.
Round 2 – The fighter opened with a great exchange of punches and kicks, Hansen's corner shouting, "Just throw!" McDonald threw a combination which dropped Hansen. Hansen sprung back to his feet and immediately slammed McDonald. McDonald, following his corner's instructions, pinned McDonald against the cage and worked him with body and head shots right up to the horn.
Round 3 – Hansen punched his way inside on McDonald and slammed him with a double leg. He threw unanswered punches, but McDonald was able to defend intelligently despite not being able to punch or kick off of his back. McDonald locked Hansen's head and tried for a triangle, but, being pinned against the cage, could not close it off. Hansen worked free and finished with a flurry. Judges: 29-28, 29-28, 29-28 – Hansen
Fight 4 – Cody Gomez vs. Chuck Parrack – 135
Round 1 – The fighters exchanged punches and kicks at a distance until Gomez timed a punch and moved in to clinch. He took head control, brought the fight to the mat immediately, worked for and sunk a power guillotine, then tightened it and tapped Parrack at 53 seconds.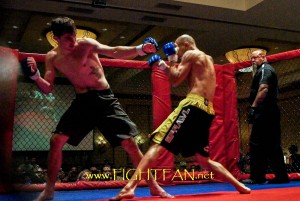 Fight 5 – Angel Estrada vs. Dylan Stubblefield – 125
Round 1 – Both fighters were disciplined and precise in their initial exchanges. Each landed kicks and Estrada scored with two hard body shots, Stubblefield with a right hook which dropped Estrada. Stubblefield swarmed, throwing wild punches, but his corner shouted, "Slow it down, slow it down!" Stubblefield backed off, let Estrada back to his feet, then tagged him with a spinning backfist just after the ten second warning. Estrada opened up his hands immediately and threw until the horn.
Round 2 – Estrada came out patient, landing leg kicks and dipping back out of range. Stubblefield show boated a little bit and was scolded by his corner. Stubblefield landed a jab which opened a cut under Estrada's right eye. Estrada continued to jab-cross and land leg kicks. Estrada landed a solid left jab at the end of the round. Stubblefield's corner shouted, "Don't give it away!"
Round 3– Estrada lifted Stubblefield's leg with a kick and landed a right hook. Stubblefield was rushing in with combinations . He attempted a takedown and was reversed by Estrada who then pulled guard and secured a triangle. As he closed it off and the referee stopped the action, Stubblefield lay twitching on the mat. Time: 2:09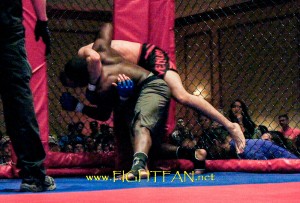 Fight 6 – Jeff Nemeth vs. Brian Sullivan – 150
Round 1 – Both fighters displayed quick hands and feet, though no strikes were landed until Sullivan caught Nemeth with a good right hand over a minute into the fight. Nemeth responded with a clinch and takedown attempt, but Sullivan reversed. Nemeth regained his feet at the end of the round.
Round 2 – Nemeth scored with a leg kick and Sullivan a right to the chin. Nemeth was the pursuer. Nemeth ducked a right uppercut and twisted Sullivan to his back. As Nemeth worked for position, Sullivan was setting up an arm bar. He finally gained wrist control, applied a body lock, rolled over and tapped Nemeth. Time: 2:21.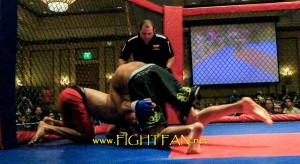 Fight 7 – Lannon Quintana vs. Andrew Hoogeboom
Round 1 – Quintana kicked off the action with a shot for a takedown. Hoogeboom landed an illegal knee to the face then another as Quintana lay on the mat. The referee moved in and stopped the fight and the ringside doctor attended to Quintana for several moments. Quintana received a warm ovation as he stood up and walked out of the cage. Quintana was ruled the winner as Hoogeboom was disqualified for his infraction.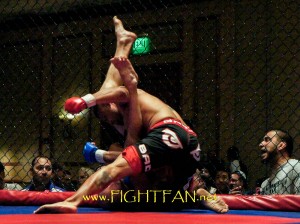 Fight 8 – Joey Welch vs. Pete Vandervort – 145
Round 1 – Vandervort lost his footing and Welch took top position. Welch landed knees to the body as Vandervort had wrist control. Welch broke out and began to pound Vandervort's body with fists. Vandervort managed to reverse temporarily, but Welch regained top position and did more damage as a Vandervort triangle attempt failed. Welch continued to hammer Vandervort's face, opening a cut under his left eye and leaving a big purple mouse under the right. Sensing Vandervort was game, but had taken enough damage, the referee stopped the action. Time: 4:11.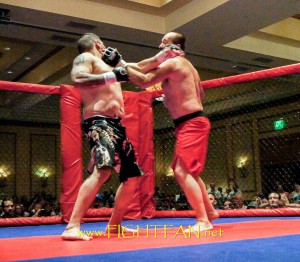 Fight 9 – Steve Alley vs. Micah Romero – 188
Round 1 – The action kicked off immediately with power exchanges from both men, Alley landing heavy combinations and proving he could take a strong combination. He kept Romero at bay with straight kicks as Romero pressed forward. Romero finally closed the distance and applied a standing guillotine. Alley dug punches to the body, looking to loosen his hold but Romero stayed with the choke, tightened it, and finally tapped Alley.