By Mike Pisano
March 8, 2014
Fight 1 – Joshua Devalle vs. Henry Holmes – 155 M
Round 1 – Devalle initiated the action walking in with a jab combination. Holmes landed knees in close. Both fighters exchanged evenly demonstrating a variety of Muay Thai disciplines. Neither fighter was damaged.
Round 2 – Devalle landed a spinning heel kick to the chin of Holmes dazing him and staggering him. Devalle was unable to capitalize. Holmes began to find range with knees and controlled the clinches. Devalle worked hand combinations.
Round 3 – Holmes continued working knees and picked up his punching offense as well. Devalle absorbed the blows without appearing hurt and continued pressing forward as he had in the prior rounds.  Both fighters flurried to please the crowd at the end, Holmes landing a good body kick. Judges: 29-28, 30-27, 29-28 – Holmes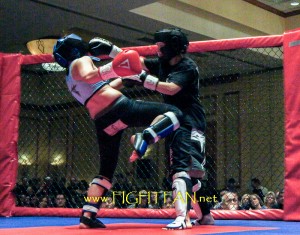 Fight 2 – Hanna Schaefer vs. Mandy Guest – 125
Round 1 – Guest marched straight across the cage and initiated a busy exchange; both fighters letting their strikes go freely. Both ladies listened carefully to their respective corners, each having moments of effectiveness in the opening round.
Round 2 – Guest opened with a straight right to the nose which appeared to anger Schaefer who fired back immediately landing a good right hand and a kick to the body. Guest was getting through Schaefer's guard with jabs and straight rights, Schaeffer was countering with power, occasionally connecting.
Round 3 – Guest used her jab and forward pressure, Schaefer threw kicks and counters. Guest appeared fresher, snapping Schaefer's head back time and again with jabs and right hands as Schaefer responded to her corner's instruction by circling and gamely throwing power strikes as her nose trickled blood.  Judges: 29-28, 29-28, 29-28 – Guest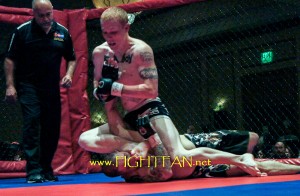 Fight 3 – Micah Romero vs. Kevin Tyner – 165
Round 1 – Tyner shot immediately, worked hard for the takedown and finally scored it in unspectacular fashion. He did open up his hands and land quality ground and pound on the mat, but Romero, able to take a good punch, regained his feet. Tyner got another take down, surprised Romero by reaching for wrist control, then tapped him with an arm bar.  Time: 1:48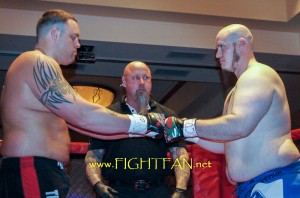 Fight 4 – Everett Scovell vs. Ivin Emrick – 195
Round 1 – Scovell lost his footing on a home-run head kick attempt and ended up on his back. Emrick took his back, sunk in a rear naked choke, and tapped him in short order. Time: 27 seconds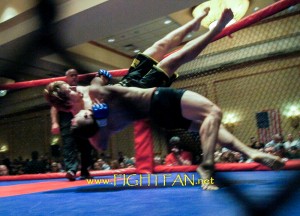 Fight 5 – Adam Carey vs. Frank Duran – 195
Round 1 – Carey secured double underhooks and slammed Duran with force. In side control, Carey landed quality ground and pound forcing Duran to scramble to his feet. Carey scored another takedown immediately and went back to side control.
Round 2 – Carey opened with a huge leg kick and Duran responded in kind. Carey scored another loud, crowd pleasing slam then controlled the grapple.
Round 3 – Carey absorbed a leg kick then took the fight to the mat again. In a scramble, he took Duran's back and applied a body lock. Duran defended the rear naked choke for several  moments effectively, eventually escaping and surviving the round. Judges: 30-27, 30-27, 30-27 – Carey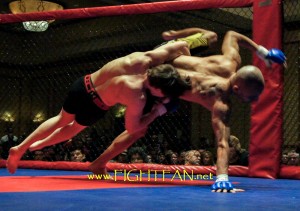 Fight 6 – Angel Estrada vs. Kris Briggs Jr. – 125
Round 1 – Briggs used speed to dip in and out with strikes, eventually getting a takedown. Estrada patiently took head and wrist control, securing a triangle and gradually cinched it tight. Briggs attempted a slam to escape but Estrada's hold was too solid and he tapped him at 1:04.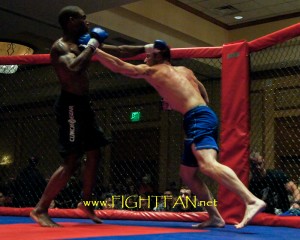 Fight 7 – Will Gravley vs. Joe Barton – 170
Round 1 – The fighters engaged and Barton got a takedown. Gravley scrambled and regained his feet but Barton raised him high in the air and slammed him twice more. He used good wrestling to control the fight from top position for the duration of the round.
Round 2 – The fighters exchanged punches and clinched. Barton wrapped gravely up around his waist and carried him several steps before slamming him once again. As he'd done in the first, Gravley scrambled and regained his feet but quickly went back to his back on the mat with Barton on top. Barton had a point deducted during this round for grabbing the cage.
Round 3 – Gravley led with a front kick then tagged Barton with a right hand. Each fighter began to find their range with kicks. Barton landed a slapping kick to Gravley's face and Gravley retaliated with a furious punch combination to the face of Barton. Barton went low for the double leg and Gravley punished him with several powerful shots to the body before being taken down for a final time.    Judges: 29-27, 30-26, 30-26 – Barton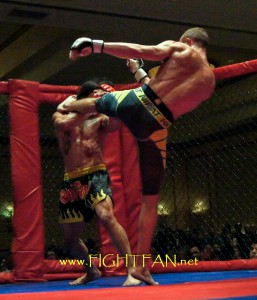 Fight 8 – Satchell Yellow Hawk vs. Jake Mendez – 150
Round 1 – Yellow Hawk was speedy and patient, Mendez calculating. Mendes trapped a kick and scored a big slam. Yellow Hawk worked back to standing. Big blows were exchanged before Yellow Hawk got a takedown of his own. Mendez hammered shots to Yellow Hawk's ribs as Yellow Hawk took Mendez' back.
Round 2 – Mendez landed a big shin to the side of Yellow Hawks face. Yellow Hawk retreated and took an overhand right. Mendez tossed Yellow Hawk to the canvas. Yellow Hawk took Mendez' back briefly and Mendez reversed. He sunk in a rear naked and tapped Yellow Hawk. Time: 1:49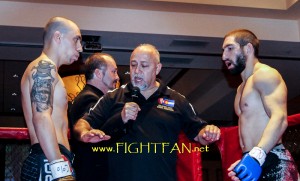 Fight 9 – Jeff Nemeth vs. Thomas Sandau – 145
Round 1 – Nemeth closed distance and landed a left kick to Sandau's body. Sandau collapsed immediately and the referee stopped the contest. Time: 11 seconds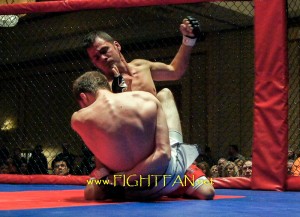 Fight 10 – Lannon Quintana vs. Matt Peckham – 155
Round 1 – Quintana calmly approached Peckham, ducked a strike and scored a double leg take down. He worked ground and pound and controlled position as Peckham tried to find a way to use his long arms and legs to his advantage. Quintana, relentless from top position, controlled the fight for the entire five minutes.
Round 2 – Quintana, not surprisingly, ducked a head kick and shot. He brought Peckham to his back and began to assert his wrestling once again. He worked ground and pound and controlled position as Peckham continued to attempt to scramble and triangle.
Round 3 – Peckham  attempted a flying knee and ended up on his back again. Quintana controlled position for the duration of the round as he had in the previous two.
Decision – Quintana