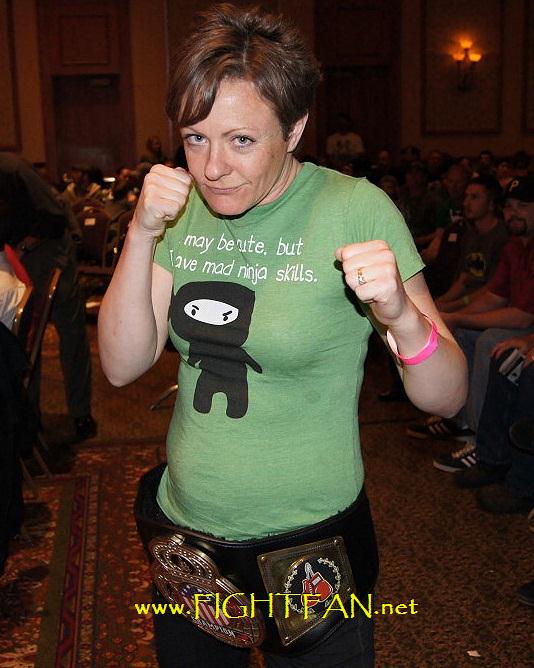 We had a chance to speak with Margaret Bloom who is looking to collect another title win in the new WFC promotion…
FF: Hey Margaret, how's it going?
MB: Good!
FF: How's camp going?
MB: Absolutely fabulous.
FF: Stacy Vega…what do you know about her and do you mind sharing the game plan?
MB: When I started training MMA, she was in the gym that I was going to. So once upon a time, back in 09 we were training together a little bit. She is a boxer, and I know that there are grapplers in her gym, I know that she has fast hands.
FF: And do you feel like she'll have anything that surprises you?
MB: Nah.
FF: Where do you prefer to see this fight go?
MB: I would kind of like to test myself with her standing, but I wouldn't mind seeing it go to the ground.
FF: You know, it's gotten to the point that when I hear about women's MMA you're the first person I think of. You're all over the place. You're fighting in a couple different states regularly, on multiple promotions. I don't know of any other woman locally with a record that matches  yours as far as number of fights. I mean, your almost like the face of women's MMA around here.  Seems fitting that you would be on this card. How's it feel fighting on this inaugural event?
MB: I appreciate that. I guess I'm constantly preparing for something, and I love that guys like Steve alley and Keith Schmeltzer feel comfortable calling me and trust that I'll show up prepared to do what's been asked of me.
FF: So how does it feel being on this card and what are your thoughts on an all women's organization?
MB: I think it's fabulous! It's wonderful that there are enough women participating now to justify an all women's card or a promotion that is strictly women. That shows that more women are involved in the sport and that is wonderful. I do have a concern however…I worry that if there is an opportunity to fight on a men's card that they may hold back to fight us on a woman's card.
FF: That's an interesting viewpoint, I hadn't thought about that angle. My concern was, is the pool deep enough to keep the fights going?
MB: Right. Then again, if you have women who are performing consistently, and competing it's going to encourage other women to get involved…deepening the pool.
FF: Right…Steve has a plan, and I'm excited for this promotion.
MB: Yeah, me too, and especially this first card. Are you kidding me? The names that are going to be on it. I'm so excited to just watch them!
FF: Yeah, it's going to be a great show. So besides your own fight of course, what is the fight you are looking forward to most that night?
MB: The fight that I think is going to be the fight of the night is Haelle Smith vs. Brittney Elkin. They're both heavy hitters, they're both smart fighters and their skill levels are incredible.
FF: And Haelle is out of Fight Syndicate?
MB: Yes
FF: Can you talk a little about your gym?
MB: I think that it's wonderful that more women are getting involved in martial arts, even if it's just at a conditioning level. We have a lot of women in our gym that are just there for the workout and they aren't interested in getting punched or getting involved in the fighting aspect of it. They are there for the workout and that is super encouraging to me. I'm also seeing more women bringing in their daughters…I love it.
FF: Any predictions?
MB: I predict that I'm going to win! laughs
FF: Anything in closing?
MB: I think we are embarking on a journey in women's MMA that… we're in a very special time right now. This is the beginning of something huge. I think we're growing into something here with Steve Alley's promotion as well as the Invicta promotion… I think we're going to get a new opinion of women as fighters.
FF: I agree, I've always been a fan of women's MMA. They're exciting fights and you aren't going to hear any complaints from me…well thank you Margret for taking the time to talk with us.
MB: Thank you.