Fight 1 – Jared Olguin vs. Billy Johnson – 150
Round 1 – Olguin missed with a superman punch and the two exchanged kicks. Olguin landed an overhand right and Johnson tagged him back with a left hook. Both were steady scoring with leg kicks as they picked their spots to strike to the head. Olguin landed a straight right which dropped Johnson. As Olguin jumped on top of him, Johnson gained arm control.
Round 2 – The two exchanged energetic combinations and snapping leg kicks. Johnson scored with a knee in a Thai clinch and Olguin smiled. Johnson exploded with a combination landing several strikes and forcing a clinch. Both fighters worked.
Round 3 – The fighters unloaded huge shots in an exchange to begin the round. Olguin scored with a kick to the head. Johnson got the first takedown of the night and wasted no time isolating Olguin's arm. He positioned his legs, leaned back with the arm, pushed out his hips and tapped Olguin. Time: 1:15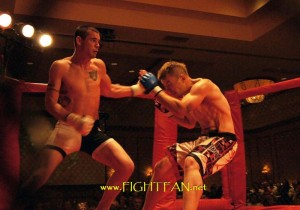 Fight 2- Louie Gonzales vs. Cody Gomez – 125
Round 1 – Gomez opened with a kick to the head and Gonzales took him to the mat. He worked knees to the back and hand strikes to the body and face as the crowd came alive. Gomez, from the bottom, arched his back and created a scramble. In the scramble, Gomez isolated an arm and applied an immediate arm bar which was secure enough to prompt the referee to stop the action at 1:45.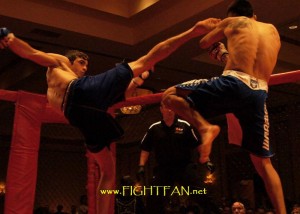 Fight 3 – Brandon Royval vs. Isaac Johnson – 135
Round 1 – Johnson punched his way in off of missed kick to the head by Royval forcing a clinch. The fighters battled for leverage along the fence and Johnson finally scored a takedown and took top position. Royval swung a leg over his head and worked a triangle choke for several seconds as Johnson rolled and struck with his free hand. The referee, sensing Johnson may be in trouble, stepped in and called a stop to the bout. Time: 2:27.
Fight 4 – Garth Heth vs. Brian Maronek – 185
Round 1 – Maronek timed a shot attempt by Heth and landed a huge kick which stunned Heth and sent him backward. Maronek took him to the mat and worked ground and pound. Heth squirmed out and took top position. He dug a series of rights to Maronek's ribs causing Maronek to lay down. Heth stood up and landed a huge right to the face. Both men were bleeding from the nose. Heth looked for more haymakers at the end of the round and Maronek grabbed an arm and began to sink an arm bar as the bell sounded.
Round 2 – Heth opened by landing several bombs. Maronek clinched to defend then put on a guillotine and jumped guard. As the fighters crashed to the mat, Maronek tightened his choke and the referee stopped the action. Time: 23 seconds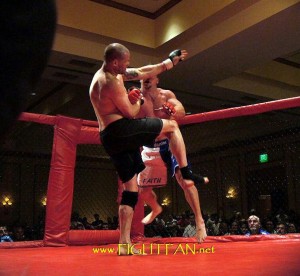 Fight 5 – Anthony Peairs vs. Marquise McKnight – 150
Round 1 – Peairs landed two stiff leg kicks then slipped. McKnight landed a solid right  hand as Peairs scrambled. Peairs regained his feet and landed a huge kick to the ribs. The fighters battled for leverage and Peairs sunk a deep standing guillotine and appeared to try to end the fight with it. McKnight pried his head free and the two continued back and forth to the delight of the full house.
Round 2- Peairs shot in and scored a single leg takedown. He worked his way up and threw punches to the face of McKnight who applied a triangle. Peairs defended and gained side control then full mount. He threw punches and McKnight defended by keeping him close and holding his arms. The referee took a point from McKnight for grabbing the cage. As action resumed, McKnight went for an arm bar and Peairs escaped.
Round 3 – Both fighters appeared slightly gassed from the pace of the first two rounds. Peairs went straight for the take down and operated in McKnight's guard. He controlled the contest from this position as neither fighter attempted submissions and the bell rang. Judges: 30-26, 29-27, 29-27 – Peairs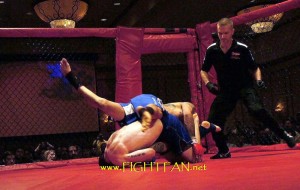 Fight 6 – Margaret Bloom vs. Heather Sachleben – 125
Round 1 – The women touched gloves and measured distance. Sachleben landed a good right hand over a Bloom kick. Bloom landed leg kicks and Sachleben another right. The fighters came together in a clinch and each landed knees. Bloom began to show movement, circling the cage and landing kicks as Sachleben cut off the cage and landed hand strikes.
Round 2- More movement and leg kicks from Bloom and more hand combinations and right hands from Sachleben. Another clinch with more knees from both ladies. They separated, then circled, Bloom using kicks and Sachleben jabs and right crosses.
Round 3 – Sachleben opened with a right hand and Bloom clinched. The ladies battled for leverage and used knees. Sachleben worked for a takedown and eventually got Bloom to the mat with a double leg. She established side control and threw punches as the bout came to a close. Judges: 30-27, 29-28, 30-27 – Sachleben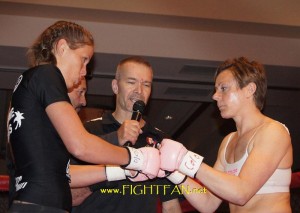 Fight 7 – Patrick Walsh vs. Mourad Laiti – 250
Round 1 – Walsh bulled his way in throwing strikes as Laity countered.  The exchanges continued fast and furious, both fighters landing power shots, until Walsh decided to take the fight to the mat. The pace slowed dramatically as Walsh worked ground and pound and looked to set up a Kimora. He had Laiti's arm in position, Laiti rolled trying to create a scramble or break the hold, Walsh stayed with it, and tapped him at 1:57.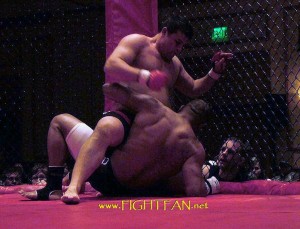 Fight 8 – Joey Munoz vs. David Payne – 145
Round 1 – Payne caught Munoz square on the jaw with a right hand dropping him. Munoz immediately clinched and tried for a takedown which Payne resisted until Munoz picked him up and slammed him. Munoz then used top position to smother Payne and control the fight, landing ground and pound.
Round 2 – Munoz walked in with punches and got another slam. He continued to dictate the fight from top position on the mat attempting a Kimora, landing hard knees to the body and ground and pound from the full mount. He closed the round with a rear naked choke attempt.
Round 3 – Payne attempted to fight his fight by striking from outside until Munoz trapped a kick and clinched. Munoz worked knees as he kept Payne pinned against the cage. Munoz finally leveraged Payne all the way to the mat and then wrestled him effectively landing punches in the process. Judges: 30-27, 30-27, 30-27.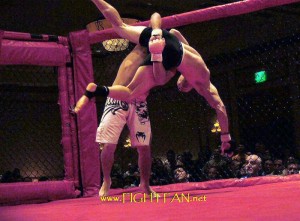 Fight 9 – Cody Connell vs. Mitch Peterson – 155
Round 1 – Connell immediately got a single leg takedown. Peterson kept him in a tight guillotine for several seconds until Connell freed his head and worked to better his position. Controlling the battle on the ground, Connell smothered Peterson until the referee stood the fight. Connell immediately scored another take down and the round ended.
Round 2 – Peterson threw a kick and Connell floored him with a right hand. Again, Connell took top position and controlled the grapple from side mount and half guard mostly. Peterson landed an up kick toward the end of the round which sent Connell's mouth piece sailing.
Round 3 – Peterson landed an overhand right. Connell clinched then pulled Peterson back to the mat. This time, the grapple went back and forth with Peterson able to get off his back and reverse position at the end of the round taking Connell's back and attempting to position for a rear naked choke before the fight ended. Connell unanimous on the judges cards.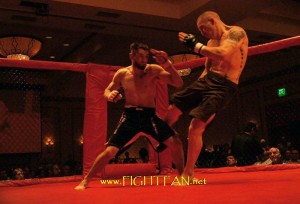 Fight 10 – Travis Peak vs. Ali Hanjani – 170
Round 1- Peak stalked in and Hanjani looked to counter. Peak landed a loud leg kick. After taking a right hand to the face, Peak moved in and dumped Hanjani with a body slam. He took top position and worked his way to back control as the crowd erupted into chants of "Peak! Peak! Peak!" Peak proceeded to hold Hanjani down and pound him with power punches until Hanjani gave up his arm and Peak applied a Kimora to tap him. Time: 3:49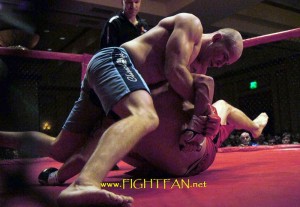 Fight 11 – Jack Johnson vs. Ian Stonehouse – 155
Round 1 – The fighters exchanged combinations and kicks then clinched. Johnson got off a great flurry and Stonehouse answered with a solid knee to the face. Stonehouse then landed a kick to the head and clinched. He picked Johnson up and slammed him to the mat following his corner's instructions to "lock it and slam him!" On the mat, Stonehouse used ground and pound to create space, then took Johnson's back, rolled him and submitted him with a rear naked choke at 2:47.