UFC featherweight champion Conor McGregor will look to make history when he faces lightweight champ Rafael dos Anjos at UFC 196 on March 5 in Las Vegas.
If McGregor defeats dos Anjos, he will become the first reigning champion in UFC history to win the belt in a second weight class while still maintaining his original championship. While BJ Penn held the lightweight belt and challenged Georges St-Pierre for the welterweight title, he was unsuccessful in capturing the second championship.
HOT TOPIC  Former UFC Champion Kevin Randleman Dead at 44
Even though there are still a few weeks to go until fight time, McGregor's camp is already entertaining the idea of the Irishman then moving up to challenge welterweight champion Robbie Lawler if he is successful against dos Anjos.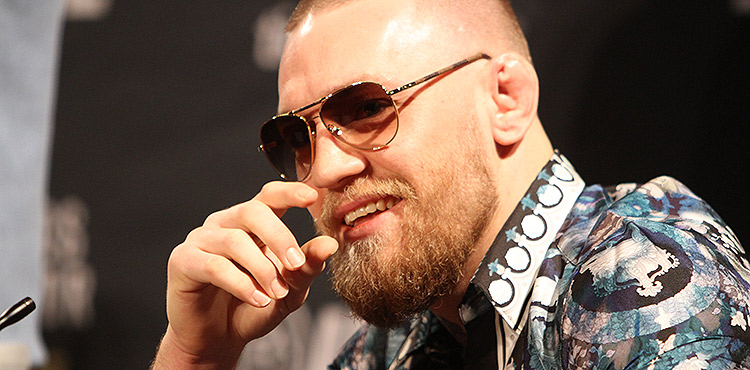 "I've seen that rumors of Conor fighting Robbie Lawler for the 170lbs belt at UFC 200 on 9 July have been gathering momentum," McGregor's coach, John Kavanagh wrote in a column for the42.ie. "It's not something we have discussed specifically but after Conor wins the lightweight belt, it wouldn't surprise me at all if the next fight is for the welterweight belt."
It's unusual that the UFC is allowing McGregor to hold the featherweight belt while challenging at lightweight, so it would be highly unexpected if the promotion allowed him to hold two belts and then challenge for a third, if he decided he wanted to go up yet another weight class. And no fighter in UFC history has held belts in three different weight classes, although Randy Couture and BJ Penn have each held belts in two different weight divisions, although neither held the differing belts concurrently.
"If that's what Conor wants to do, I'll absolutely support that move," Kavanagh continued. "I think that would be fantastic. We're already talking about making history in a few weeks, but can you imagine what it will be like if Conor is the champion in three weight classes by the summer?"
Before looking too far ahead, however, McGregor first has to find a way to take the belt from dos Anjos. With thousands of votes cast in an ongoing MMAWeekly.com readers poll, most of you think that dos Anjos will successfully defend his belt against McGregor on March 5. Thus far, dos Anjos leads the voting 57 percent to 43 percent.
Cast your vote in that poll and others just below this article.
Follow MMAWeekly.com on Facebook, Twitter and Instagram
Article source: http://www.mmaweekly.com/could-conor-mcgregor-move-up-again-and-challenge-at-welterweight