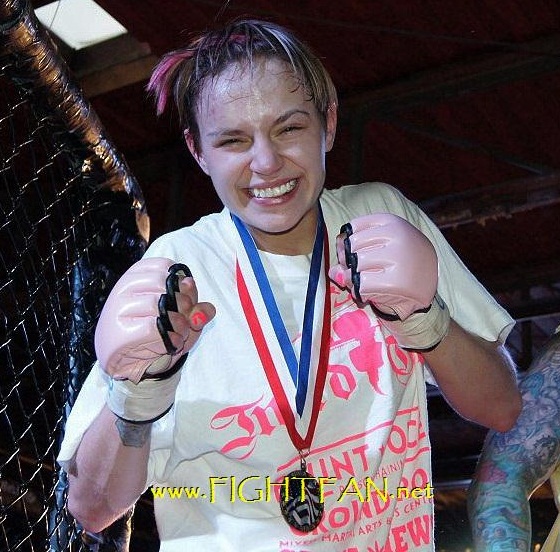 Montana turned Colorado fighter, Darla Harris speaks out on her next match up…
FF: For the people that don't know you, can you give us a little background?
DH: I'm 2-0 Professional, training out of Ground Zero under Nate Johnson. And then I get my personal training at Blunt Force with Tiffany Coolidge.
FF: You seem to have just appeared on the scene here over the last year or so, did you move here recently?
DH: Yeah, last year in January I moved to Colorado from Montana.
FF: Cool. So what are some of your notable fights?
DH: My first fight was against Jen Berg, my second fight was Lisa Jeanson.
FF: OK, I missed the Berg fight, how did that go?
DH: It was crazy. laughs …I was trying to pay rent and kinda fell in love with it all.
FF: Who's been your toughest fight to date?
DH: Toughest fight? …I have no idea. I don't know how to answer that I guess.
FF: fair enough. What are your strengths in the cage?
DH: I would say my heart.
FF: Anything you specialize in or focus on?
DH: I just kind of do whatever.
FF: Just get in there and bang it out eh?
DH: laughs…yeah, just get in there and throw down.
FF: You took this fight on short notice. Any particular reason? Any bad blood there or anything?
DH: No…She called me out and then wouldn't take the fight, so I'm glad that we're fighting again. The reason I took the fight is because I had a fight for King of the Cage lined up May 12th against Angelica Chavez down In Santa Fe and that fell through and this came along so I was like, yeah, ok Sweet! Because I had already been training.
FF: Great, so what are your thoughts on the women's fighting Championship?
DH: I think he's a good promoter, I hear good things about him. I'm excited.  I haven't fought for Steve before, but I'm excited. I think this is going to keep getting bigger. There's a lot more people doing it now.
FF: What's your plan for yourself as far as MMA goes?
DH: To be the best 105er ever. I'm gonna shoot for that and see what happens.
FF: Cool…So what do you know about Stephanie skinner? And what's the game plan.
DH: I know she trains with Ben Schissler and Diana Rael. That's about it. I saw her fight once before in Casper against Brittney Nipper. I'm just excited and ready for whatever's gonna happen, and I'm gonna win.
FF: Would you like to thank anybody?
DH: Canna Chews, Jacktheripped.com, Pinchyosack, Bluntforce – Tiffany Coolidge, Ink Inertia, Hook Fish Branding, Ground Zero MMA – Nate Johnson.
FF: Well I enjoyed watching you fight last time and I look forward to seeing the fight Saturday, thanks for talking with us.
DH: I'm excited too, I can't wait! Thank you.