By Mike Pisano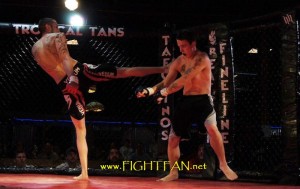 Fight 1- Willie Najera vs. TJ Hughes – 170
Round 1 – Najera forced a Thai clinch and began launching knees to the body. Hughes went low to defend but Najera imposed the clinch he wanted and continued to score damage to Hughes. Hughes finally broke from the clinch and Najera landed from the outside then got of a series of hooks to the body.
Round 2 – Hughes took a jab to the eye then a hard knee to the stomach. Najera then tossed him to the mat and mounted him. He patiently picked his spots with lefts and rights, Hughes game as could be was unable to buck him off. The referee then stopped the contest. Time: 1:52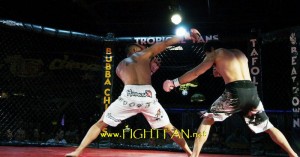 Fight 2 – Daylen Oligo vs. Gabe Flores – 125
Round 1 – Flores used a lightning fast shot to gain a double leg. The referee then stopped the contest to take a point from him for grabbing the cage. When action resumed standing, Flores used another explosive shot to score another takedown. In the grapple, Oligo kept his composure, looking back at his corner men for instruction.
Round 2 – Oligo missed with a spinning head kick then landed on top of Flores following a tussle. Flores isolated his left arm. Oligo defended the arm bar well momentarily, rolling away from Flores' leverage and attempting to reverse and pull away, but Flores held on tight, positioned his hips and tapped him with pressure on the elbow. Time: 43 sec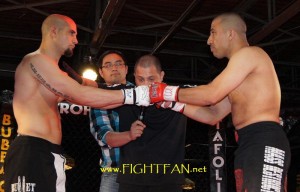 Fight 3 – Mike Gonzales vs. Josh Augustine – 170
Round 1 – Gonzales refused the glove touch then shot and latched onto Augustine's right leg. Augustine defended the attempt using an advantage in height and leverage then applied a guillotine, cinched it, lifted upward and squeezed until Gonzales' body went limp and the referee pulled them apart. Time: 1:01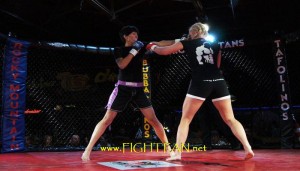 Fight 4 – Lynda Santiago vs. Jessica Kennett – 120
Round 1 –  Santiago landed a sharp leg kick then took Kennett to the mat. She hammered her with elbows to the thigh as Kennett clung to a guillotine. Santiago popped her head out to roars from numerous fans present and maintained dominant position in the grapple working ground and pound until round's end.
Round 2 – Kennett scored with precise punches to the face as Santiago walked in. Santiago went low looking for another takedown but Kennett applied a standing guillotine and pinned Santiago's body against the cage. Santiago managed to drive Kennett to her back but could not break the choke and succumbed to it at 45 seconds.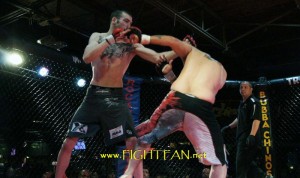 Fight 5 – Chris Lobato vs. Brian Cammozi – 155
Round 1 – Lobato shot immediately but Cammozi used leverage and technique to take his back and apply a choke. Lobato worked and improved position momentarily to take some breaths but Cammozi maintained his poise as well as his Jiu Jitsu execution and tapped Lobato at 1:25.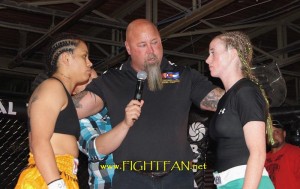 Fight 6 – JJ Aldrich vs. Stacy Sigala – 130
Round 1 – Both ladies looked serious and ready. No glove touch as the action began with Sigala taking a leg and Aldrich landing several uppercuts to the face. Sigala stuck with the takedown and ended up on top of Aldrich where she landed some of her own punches to the face. Aldrich created scrambles and landed an up kick that pleased the already loud house. The fighters stood up and Aldrich landed effective knees and uppercuts to the body as Sigala applied a deep guillotine. The crowd stood and cheered at the sound of the horn.
Round 2 – Aldrich floored Sigala with a spinning back kick to the body. She immediately swarmed landing knees and punches but Sigala fought back effectively. Again, Sigala put on a guillotine to control Aldrich on the ground but Aldrich was too savvy to get caught in the submission. Immediately after escaping, Aldrich took wrist control and postured for an arm bar. Sigala lifted her high and slammed her attempting to break the hold, but Aldrich kept her grip, adjusted her body and tapped her opponent at 2:16 before a standing and frenzied audience.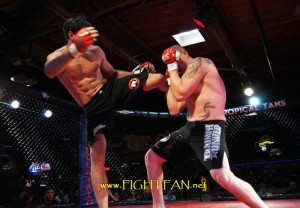 Fight 7 – Brian Scraper vs. Chase Arbanas – 185
Round 1- Arbanas opened with a series of power right hooks to the side of Scraper's head. Scraper appeared unscathed and willing to exchange. Arbanas kept his hands flying and caught Scraper squarely on the chin staggering him and leaving him foggy. Arbanas tried to finish, but Scraper stayed alive by tying up his hands up and using survival grappling. The fight went back to standing. Arbanas turned up the pressure even more; this time catching Scraper with a right cross and dropping him. Scraper battled, but could not weather the storm and Arbanas finished him with strikes. Time: 2:15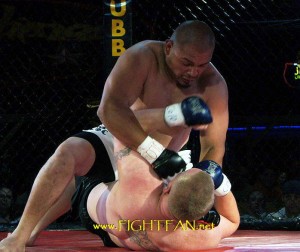 Fight 8 – Jose Martinez vs. Sylvester Mitchell – 265
Round 1 – Mitchell ducked a punch and head tossed Martinez into the fence. He got off a string of right hands to the head of Martinez. Martinez freed himself fought back. The two banged along the cage in a wild exchange that ended up in a clinch as the two big boys appeared to tire slightly. Martinez twisted Mitchell to the canvas and pounded him with right hands. Mitchell weathered the storm, reversed and stood the fight. Now they were really tired but Martinez initiated more striking and bested Mitchell in an exchange at the end of the round.
Round 2 – Mitchell tagged Martinez squarely with a jab-cross which Martinez walked right through. Martinez wrapped the gassed Mitchell in a standing guillotine and tapped his breathless opponent. Time: 19 seconds.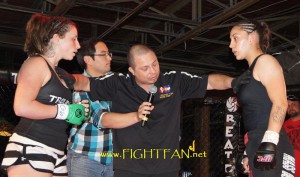 Fight 9 –  Ashley Villasana vs. Lavida Givens – 135
Round 1- Both ladies appeared confident and relaxed as they traded standing strikes. Givens landed a head kick and followed with a right hand. Villasana answered with a jab and right cross. Givens dropped her guard as she punched and ate a Villasana right hand.
Round 2 – Villasana trapped a kick and took Givens to the mat. Givens fought from her back and up kicked. Villasana backed off and allowed her to stand. Villasana became the aggressor, bringing the offense, but Givens stood her ground and countered with kicks and hand strikes. Givens turned her back inexplicably and appeared momentarily to quit. Villasana unloaded and did some damage with a barrage. Givens re-composed and finished the round.
Round 3 – Givens missed with a head kick and lost her footing. Villasana jumped on and used some ground and pound but, with the crowd live, Givens made it to her feet and fought gamely, landing kicks and punches though she appeared tired and hurt. Villasana landed a spinning backfist and Givens dropped her head and covered up. Villasana finished with pressure. Judges: Villasana.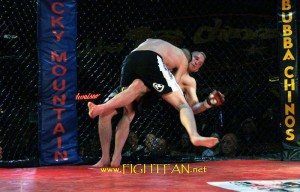 Fight 10 –  Kris Hocum vs. Max Brady  – 170
Round 1 – Hocum opened with a jab-cross and Brady tied him up. Hocum used the clinch to take Brady to the mat and strike to the face. Brady's nose began spewing blood and the referee called in the ringside doctor to take a look. The action resumed in the same position and Hocum went back to work. Seeing the damage and Brady's inability to stem the tide, the referee moved in and called the bout. Time: 1:20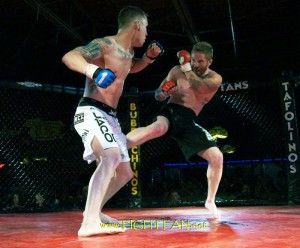 Fight 11 – Justin Moss vs. Andrew Ross – 170
Round 1- With a raging crowd, Moss opened with strikes and Ross went low. Moss worked in the clinch then pushed Ross away. Both fighters landed shots in the standup. Moss got a takedown and secured a guillotine which he gave up in favor of ground and pound. Ross battled from his back and Moss kept the pressure on as the horn ended the round.
Round 2 – Both men were breathing hard through open mouths. Moss moved to strike and Ross looked for the clinch game. Moss landed a knee to the mid-section then took Ross to the mat. He mounted Ross then began ground and pound once again. Ross, breathing heavily and bleeding from the nose, had no answers as the referee called a stop to the contest at 1:25.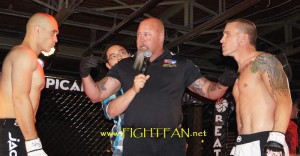 Fight 12 –  Pete Baker vs. Alfredo Corona – 155
Round 1 – The two exchanged speedy strikes then clinched along the cage. Baker got a double leg slam but Corona put on a guillotine and didn't let go even after landing hard on his back. On the mat, he sunk it deeper with the referee watching closely. As he saw that baker was losing consciousness, the referee pulled Corona off at 1:30.