KickDown 97 – "Fight
Feast" – Casper – 11-19-11
Fight 1-  Joey Marez vs. Josiah Olmstead – 155
Round1-   As Olmstead boxed, Marez immediately tied up
his hands and pulled the fight to the mat. Olmstead pulled guard and began to
inch his legs up as his corner shouted "Triangle choke, Joe! Triangle choke!"
On cue, Olmstead wrapped a leg around Marez' neck, straightened his arm, and
pulled on his own foot. Marez tapped at 1:02.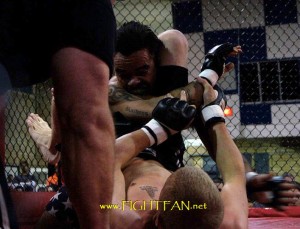 Fight 2-  Angel Hernandez vs. Ryan Pohl – 160
Round1-  Hernandez opened with a succession of
body kicks and a one-two to the head. Pohl remained composed, trading kicks.
Hernandez followed a roundhouse to the side with a straight right which
connected. Again, Pohl demonstrated a nice chin. Pohl clinched and worked for a
take down. Hernandez fought free and let his hands go, Pohl beginning to show
signs of fatigue.
Round 2-  Pohl's looked for offense, his corner
yelling, "Strike first!" Hernandez kept the pressure on bloodying Pohl's nose
with a jab and a straight right. Fending off a clinch, Hernandez used a
standing Kimura to arm toss Pohl to the mat. Pohl remained on the ground
inviting Hernandez to grapple. Sensing opportunity, Hernandez threw big strikes
from the standing position then mounted Pohl and poured on the ground and pound
until the referee had seen enough and called a halt to the bout. Time: 1:45.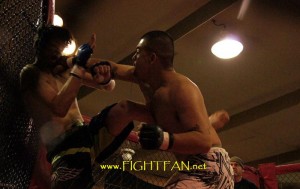 Fight 3-  Charles Lewis vs. Daniel Thayer
Round 1-  Each fighter whiffed with kicks and punches.
Lewis trapped a kick and held on for dear life as Thayer teed off with punches
to the face and body. Lewis finally fell to the mat pulling Thayer with him but
Thayer positioned himself in the mount, rained down power punches and forced
the referee to stop the fight. Time: 1:33.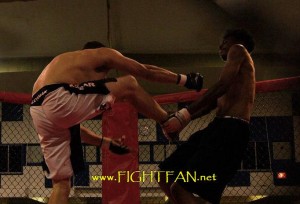 Fight 4-  Nathan Saucedo vs. Beau Wilson – 185
Round 1-  Wilson tried for a takedown but Saucedo
stuffed it. Each fighter tested leg kicks and then Wilson stunned Saucedo with
a spinning backfist. Saucedo responded with a flurry beginning a frenzied
exchange of punches as the crowd warmed up. The brawl raged on until Wilson
knocked Saucedo to his back and finished him with a succession of right hands.
Time: 1:37.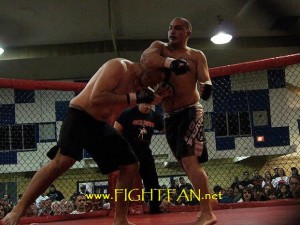 Fight 5-  Crystal Pedraza vs. Nancy Jaure – 135
Round 1-  The two traded strikes and Jaure clinched.
Pedraza secured a headlock and hung on until she'd spun Jaure to the mat and
kept her head control. Jaure muscled her way to top position and worked
effective ground and pound. Pedraza rolled, covered, shrimped and postured her
way out of strikes and choke attempts to survive the round.
Round 2-  Pedraza drilled Jaure with a right hand
breaking a clinch and then fed her two more before Jaure secured a headlock and
dragged Pedraza down. Pedraza, the fresher of the two, stood up, reversed
position and mounted Jaure unleashing some effective ground and pound of her
own until Jaure gave her back to escape taking more punches. Pedraza then sunk
a rear naked choke on the breathless Jaure forcing her to tap at 1:37.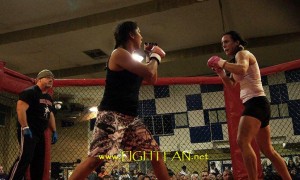 Fight 6-  Frank Morris vs. Pete Vandervort – 140
Round 1-  Vandervort blocked successive leg kicks. Morris
ducked in and got a big double leg slam. Vandervort, active from the guard
reversed position and threw strikes from on top. Morris brought his leg over
Vandervort's shoulder and looked for the triangle choke with Vandervort's
corner screaming, "Pop your head Pete!" Vandervort freed his head long enough
to land more strikes but almost immediately gave up head and arm control again
and this time had to tap from the triangle choke. Time: 2:05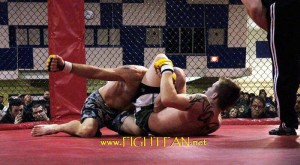 Fight 7-  Joey Munoz vs. Tom Stanley – 150
Round 1-  Munoz came out south paw. The two exchanged
hard combinations, Munoz landing uppercuts and body hooks. In a clinch, Munoz
lifted Stanley off the ground, carried him across the cage and slammed him
hard. Munoz immediately went to work positioning for ground and pound. He held
a head and arm from side control momentarily. Before round's end, Munoz let go
some vicious knees to the body. When Stanley brought his hands down and Munoz
teed off with head strikes trying to finish the fight before the bell. The bell
sounded and both fighters returned to their corners but Stanley was unable to
answer the bell for round 2. TKO – Munoz.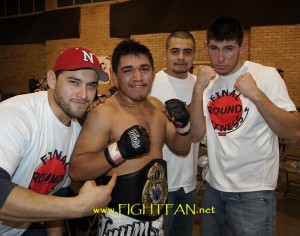 Fight 8-  Margaret Bloom vs. Kelly Reilly – 115
Round 1-  Reilly trapped a Bloom leg kick and the
ladies clinched. Bloom used strength to ride Reilly to the mat where she began
punishing her with punches to the head and body as she looked to position
herself for various submission attempts.
Round 2-
Bloom exploded across the cage with a succession of left-right combinations
tagging Reilly and forcing her to turn away then clinch. Bloom again used
strength to ride the clinch to the mat. Reilly reversed position and worked
from the top as her corner implored her to pass guard. Bloom, with her back to
the mat defended ground and pound by tying up Reilly's arms and allowing her
minimal space to do damage. At the end of the round, Reilly landed a series of
knees.
Round 3-
Neither fighter seemed to have the energy to stand and bang. They clinched
immediately and Bloom managed a takedown. She controlled the grapple using head
control, all the while looking to do damage with body strikes. Reilly plodded
forward trying desperately to get ahold of one of Bloom's legs. Bloom took few
chances with the position, electing to punish Reilly's body rather than finish
with a submission. Teh bell sounded with the ladies still battling hard and the
crowd showing appreciation. Judges: 29-28,30-27, 30-27 Bloom. New KickDown
Women's Flyweight Champion. 2010, 2011 women's Fighter of the Year.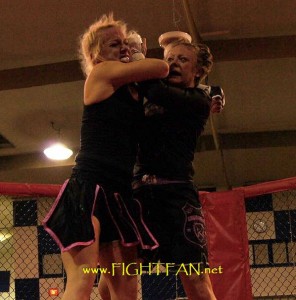 Fight 9-  Tim Nixon vs. Jason Clayton – 185
Round 1-  After a tentative exchange of punches,
Clayton shot. He leveraged Nixon to the mat and placed his arms in guillotine
position around Nixon's neck. He stood up to tighten it and Nixon tapped. Time:
47 seconds.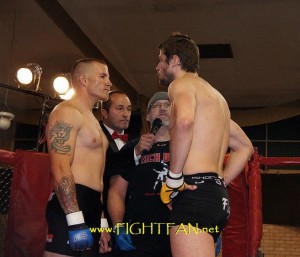 By Mike Pisano