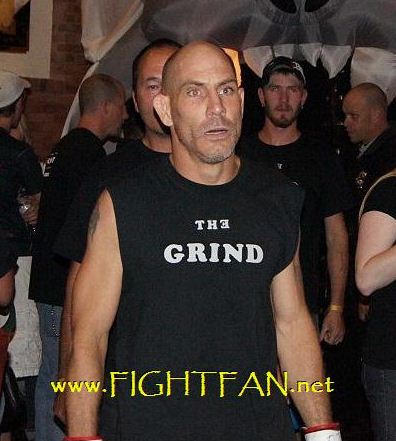 FF: So we saw you take on Justin Houghton September 30th and now
we're getting ready to watch you this Saturday in Wyoming against Frank
Morris…
PV: Well I can't wait to see you guys because I hope to put on a
much better show for you guys than what happened with Justin. You know some
days I show up and some days it doesn't seem like I do. But I know my
preparation has been there and I plan on being ready. He's gonna have to break
me in half…(laughs).
FF: That's good to hear. We know how MMA goes.
PV: Yeah, any given night you know, it's anybody's game. A lot of
it is the mental game for me. If I show up it's a bloody war and if I don't,
well, you saw what happened last time.
FF: It sounds like you've refocused mentally. What's been the key
there?
PV: I have had an excellent training camp. I have my own gym up
in Loveland it's called The Grind and I've got a good group of guys around me.
I train and spar with John Sargent, he'll be cornering me, and I feel one
hundred percent confident in my game. Somehow I remember where I came from and
my roots in this whole sport and I've got to just keep in check the fact that I
do it because I love it and it's fun. You know, I like to train, I like the
martial arts and I like the whole aspect of testing myself.
FF: What are your roots in this sport?
PV: Well I've been around a little bit. When I first became
serious and when I lived in Denver I trained with Clarence Thatch and got my
black belt under him.
FF: So is your black belt in Jui Jitsu then or…
PV: No it's just under Clarence Thatch. When I first started in
MMA I was training with him. It's kind of an eclectic style. It's not really
just Jits or anything like that. He trains a lot of stuff there.
FF: I look at your record and I see that you've fought a lot of
good opponents: J-Ho, Jared Mercado, Larry Williams, Jack Johnson…
PV: Yeah, I also fought Matt Ver Halen who fought on Don Frye's
team and I mean I've been all over. I've got 50 fights and I plan on bringing
that experience into the cage with me.
FF: What's the difference between the fighter that you are now
having 50 fights and being 43 years old as opposed to the fighter that you were
when you had a younger body but less experience?
PV: It's weird because it's all kind of come full circle for me.
The reality is I used to be a little too aggressive and then somewhere in the
last few years I've become too passive. Now I think I'm finding the right
balance. Now I just don't come out and explode and lose my cool yet I can turn
on the heat when I need to. So I think that would be it, the control that I
have when I'm in there. That's it for me.
FF: Which style are you going to bring for Frank Morris?
PV: I'm going to bring my hands and box him. I'm going to light
him up with my hands and my feet, one hundred percent…knees, elbows,
clinches. Muay Thai. If he thinks he's going to take me to the ground and tap
me out…I'm not going to just lay there and be in his guard defending
submissions. I'm going to passing and drop bombs on him. I'm going to try to
cut him open.
FF: Frank Morris just fought a real competitive and exciting
fight agains Ricky Johnson at No Mercy Extreme last month. Did you get a chance
to check it out?
PV: I didn't make it to the event but I did see the fight on
Youtube. Like I said, if he thinks he's going to take the fight to the mat and
do whatever he wants…shit.
FF: Okay well, that said, now it's just a matter of sitting back
and enjoying the matchup this Saturday. Thanks for talking with us Pete.
PV: Yeah, I plan on bringin' it man so I'm definitely going to
give you that.