"When Champions Collide"
Fight 1 – Tony Hiser vs Steve Holton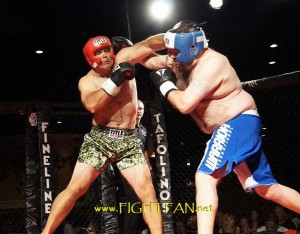 Round 1 – Holton stung Hiser with a jab followed by a right cross prompting an eight count from the referee.  As action resumed, Holton resumed throwing strike flurries landing a direct shot to the solar plexus of Hiser which brought about a second eight count, but Hiser could not continue. Time 1:01.
Fight 2 – Joaquin Baca vs Phillip Gallegos
Round 1- Baca shot immediately snatching a leg and lifting Gallegos high for the first slam of the fight. Baca quickly regained his feet landing strikes and knees. Baca tried to get another takedown but Gallegos never stopped throwing and landing strikes. Eventually Baca had taken too many shots and went to the mat as the referee moved in and called a stoppage. Time 1:31.
Fight 3 – Jesse Ellis vs Michael Matthews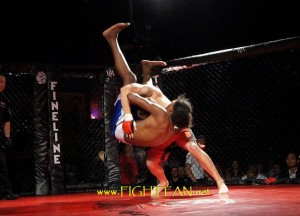 Round 1 – Matthews immediately stunned Ellis with a combination causing Ellis to retreat. Ellis then worked for and got a hard takedown but already appeared gassed. Matthews reversed position in short order and alternated between pounding Ellis' body and face. Ellis eventually rolled over to protect exposing his back. Matthews applied a rear naked choke and tapped him at 2:26.
Fight 4 – Jason Gilmore vs Jake Anderson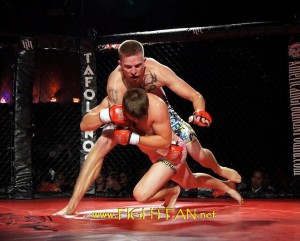 Round 1– Both fighters circled patiently until Anderson punched his way in, did work, then set up and executed a lateral drop to take the fight to the mat. Gilmore appeared comfortable in the guard so Anderson got up and backed away. A standing clinch ensued during which both fighters got off good knees and uppercuts to the excitement of the crowd.
Round 2 – Anderson's corner was shouting for leg kicks so Anderson obliged. Each fighter was looking to counter and a lull in action was the result. The crowd grew restless. Finally, Anderson punched his way in and the two traded knees until Anderson executed another lateral drop. The round ended with Gilmore again looking comfortable in guard and Anderson looking for some ground and pound.
Round 3 – Anderson got a body slam using double underhooks and fought off Gilmore's rubber guard to take side control. Anderson landed a few hammer fists in the grapple but did no true damage. After limited success on the ground, Anderson got off of Gilmore to bring the fight back to standing but the bell sounded. Judges: unanimous decision for Anderson.
Fight 5 – Doree Sanchez vs Cady Kinzie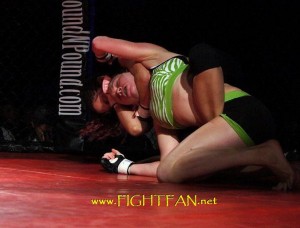 Round 1– The two traded strikes on their feet evenly until Kinzie lost her footing and fell backwards. Sanchez jumped on her immediately, applied a body lock from behind, and choked her out with a rear naked. Time: 51 seconds.
Fight 6 – Brian Montoya vs Josh Hagerty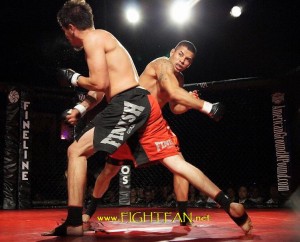 Round 1- The fighters clinched and Hagerty pulled guard. Montoya elbowed Hagerty to the head and the referee stood the fighters to warn him for it. When action resumed, Montoya took Hagerty back down with a double leg and began hammering him with punches to the face until the referee called a stop to the contest at 2:51.
Fight 7- Margaret Bloom vs Ashley Villasana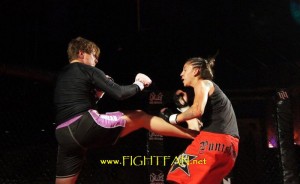 Round 1- The fighters traded leg kicks to begin the action. Villasana launched a combination which packed some power and shook Bloom momentarily. Bloom clinched to regroup then resumed her leg kicks. Both fighters landed big right hands and Villasana became more aggressive. The crowd cheered as the bell sounded ending the round.
Round 2 – Villasana pressed the action and let her hands go. Bloom ate a few then defended and went for the first takedown of the fight. Villasana stuffed the takedown and continued to press. Finally, Bloom grabbed a single leg and pushed forward until Villasana was on her back. On the ground Villasana trapped Bloom's arms and the referee stood the ladies. They resumed action with a vigorous exchange as the crowd cheered through the ten second clap to the bell.
Round 3 – Bloom landed a kick and a right hand. Villasana threw more strikes and Bloom fought her way off of the cage. Bloom stayed with her kicks and Villasana threw mostly punches. Villasana landed a big right hand but Bloom absorbed it and fought back. Villasana then hurt Bloom with a spinning backfist and followed her into the side of the cage with a non-stop flurry. Bloom fought back gamely until the bell. Judges: unanimous decision for Villasana.
Fight 8- Roman McNeil vs Todd Clark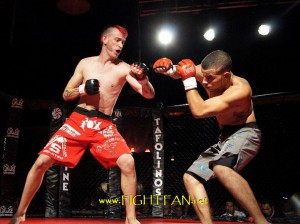 Round 1– Clark stalked and McNeil circled. Neither fighter seemed to find his range until Clark scored with a head kick. McNeil landed two leg kicks which disrupted Clark's attack momentarily. McNeil then landed a good left hook. Suddenly, McNeil shot in for a takedown and grabbed Clark's head in a tight guillotine which he attempted to tighten until the bell sounded.
Round 2 – McNeil missed with big hooks and Clark missed with a front high kick. McNeil ducked in for a takedown and Clark reversed him and sunk in a guillotine causing McNeil to tap. Time: 1:00.
Fight 9 – Dave Ross vs  Davon Gray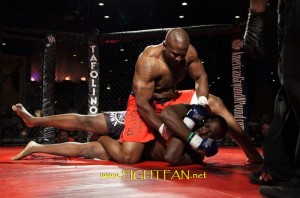 Round 1 –  Ross looked for big strikes, Gray remained calm and kept his distance. Ross bulled his way in and attempted to take the fight to the mat, but Gray kept good balance until he began to breathe heavily and Ross' corner shouted, "he's tired." Finally, with Gray offering less resistance, Ross spun him down. He appeared to position himself for a mounted crucifix and then a Kimora but abandoned it for good old fashioned ground and pound until Gray stopped fighting back. The referee moved in to pull Ross off at 2:06.
Fight 10 – Gabe Marquez vs Brett Hodgin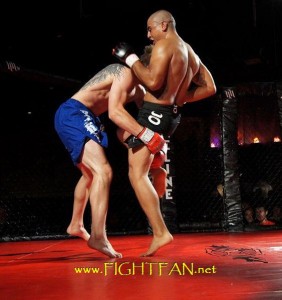 Round 1 – Hodgin moved in to apply double underhooks and take Marquez to his back. Hodgin tried to pass guard then took Marquez' back. Marquez defended the rear naked by arching his back and holding Hodgin's arm. He reversed position and went for head control but then lost two points for an intentional head butt. Hodgin scored a double leg and Marquez gained head control with a guillotine. Marquez stretched his legs up higher and was working for an arm bar as the bell sounded.
Round 2 – Marquez slipped on a kick attempt and again ended up giving his back to Hodgin. Marquez again defended the guillotine with rigid posture but the crowd was growing restless. He finally struggled to his feet and landed a big leg kick but time ran out in the round as he tried to mount an offense.
Round 3 – Marquez landed a strong knee off a Hodgin takedown attempt then assumed top position in the grapple before letting Hodgin stand back up. Hodgin took Marquez down but Marquez  applied a  triangle choke, rolled Hodgin to his back and pounded away Hodgin with kicking off the fence and the crowd ready to erupt. Having tried every escape, and tiring and taking shots, Hodgin could not defend against Marquez' strikes and the referee stopped the beating at 2:17.
Fight 11 – Brian Scoggins vs Marcus Edwards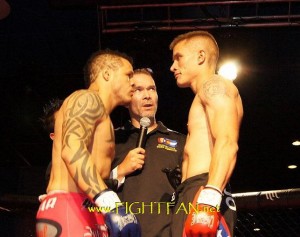 Round 1 –  Edwards, light on his feet, dictated distance. In a sudden burst, he closed 6 feet of distance and landed a perfect left, dropping Scoggins. He transitioned from half mount to full mount. Scoggins gave his back to avoid strikes. Edwards tapped him with strikes.
Fight 12 – Justin Houghton vs Pete Vandervort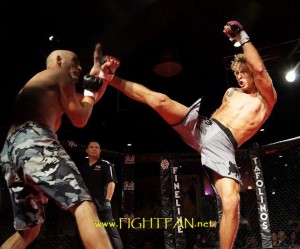 Round 1 – The two fought a careful fight, keeping their distance and moving in and out with strikes and lots of circling. Houghton landed a big right hand and a head kick. Gradually, he closed the distance and became more flat-footed. Suddenly, he launched a spinning backfist which landed squarely and dropped Vandervort. Time: 2:49