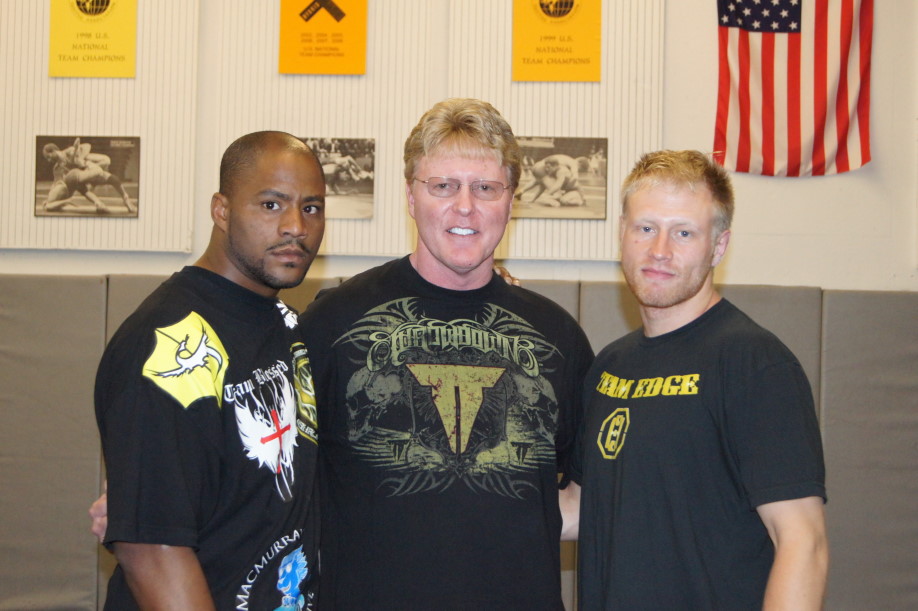 The first time I ever heard the name Sheldon Marr it was within
MMA circles and he was referred to as, "The Legendary Sheldon Marr." Take a
glance around his East Colfax MMA school, be in his presence for a few moments,
and it becomes clear that legendary is a very fitting descriptor.
Edge MMA and Fitness, as it is now known, is an apt mixture of
historical and leading edge elements. Huge trophies and classic UFC memorabilia
dot the lobby, office and descending entryway. The framed magazine covers and
photos of household names and UFC hall of famers are legit. Mr. Marr has
competed against, coached, or is good friends with them all. From from
international competition to teaching law enforcement combat to suffering a
broken neck and everything in between, his 30 plus years of experience and
achievements in martial arts are too extensive to fully detail and too rich to
gloss over. He mentions a little of everything in our conversation. If you're
interested in delving deeper into anything in particular, feel free to look for
him at the upcoming Grand Reopening of Edge MMA and Fitness. He speaks like a
true historian of the combat arts and his gym offers all levels and disciplines
of training and fitness.
The day we spoke, Mr. Marr had just given me a tour of Edge and
shown me some of the physical improvements which have been done in preparation
for its Grand Reopening which he and his son Nick Marr are putting together for
a date in July to be announced soon.
FF: I definitely like this place…
SM: Thanks. As you know we started in 1995 and the name was
Grappler's Edge. But since Nick has joined me as a full time instructor here,
it was his idea to change the name to Edge MMA and Fitness to let the public
know we do more than just grappling. We have a reputation as one of the top
grappling schools in the country. Locally, our reputation is more, "Oh they're
a bunch of wrestlers that's all they do." Well, we've always combined the
Jiu-Jitsu and the Judo and the Sambo…we've got two fantastic kickboxing
coaches here…with a name like Grappler's Edge no one would know all that.
FF: That makes me curious, with the various competitive camps and fight teams in Colorado, are
you looking to step into that arena with your own MMA team?
SM: We would like to
have a bigger team here. We have a few guys getting ready for fights now. I had
Denver's first MMA fighter, Larry Parker, back in 1995. Around 1997 I had him
fighting in Japan and Russia. He fought in Pride and did real well. This was
Ron Waterman's first Dojo…So we've always had good MMA fighters come out of
here. Since MMA is the craze now -it wasn't when we started- all these other
schools are popping up and they're nice, big, pretty schools and they're doing
well. We want people to know we're still here and we're still churning out
champions.
FF: And you could have two soon-to-be MMA champions here in Lumumba Sayers and Nick…
SM: Absolutely. Lumumba hasn't gone past the first round as a
pro. People have given up belts because they don't want to fight him. He's
submitted everybody he's beaten but his specialty is actually his hands. He's
knocked all of those people down before he's submitted them. He's a little
discouraged right now because no one wants to fight him and he's considering
getting out of it. But I told him to take a little break and things will
change. Nick? The promoters love him. He's only had one fight but they said
he's probably the most exciting debut they've ever seen. I've already been
offered two title shots for him and he's only had one fight. That said, we're
not in a hurry. Nick is very smart. What I don't like to see is people taking
fights on no notice. Without the proper amount of time between fights you
really can't improve and you're not going to reach long term goals that way.
Nick want's 8-10 weeks to train for each fight.
FF: Who are your other up and comers here?
SM: We have some people with talent but they're in their early
stages. They are still looking forward to their first fights so I really can't
say, "watch out world" yet. But Justin Rea, he actually goes by Jay Rea is just
a good all-around fighter. He's very strong physically, his striking is good
and he trains very hard. He'll be fighting July 16th at Kick Down.
There's Taj Ashaheed…he's fun to watch. He's 6'4" and only 160 lbs. He's
actually had some fights but he's starting to train more seriously for them
now. He'll be fighting at Kick Down as well.
FF: Tell me about yourself and your path…
SM: You know, I've always liked to help people train. After I
left the Olympic Training Center, my Judo career was over in the early 80's, I
started coaching wresting at Cherry Creek High School. We had a great team. In
the six years I was there we won a state championship and finished no worse
than fourth. I thought about opening a judo school, but I really love wrestling
as well. When I started seeing the UFC's in the early 90's I said, "Well this
is kind of what I do." I've always combined the Judo with the wrestling and it
made me very unorthodox and very successful. In the meantime, when I broke my
neck in 1976, I started taking different forms of Jiu-Jitsu and Sambo as well
so I felt pretty well-rounded and thought, "Why don't I open up a Jiu-Jitsu
school and teach all the combinations and different systems of Jiu-Jitsu and wrestling
and Judo. So I did that and immediately we had a successful team that was
winning national championships. So we're just keeping it going and I've brought
in tremendous kick-boxing coaches…I've got two of the best.
FF: Speaking of team success, would you like to have a team out of Edge MMA and Fitness similar to
say a Team Wildman or Grudge or Infinite et al.?
SM: Well I kinda thought we already did! (laughs)
FF: Hey, that's probably my bad. (laughs)
SM: That's alright, I know team Grudge is the big name because
they have so many top fighters that are training there but I think the
difference between what we have and what they have is there are a lot of people
going to that gym that may have started elsewhere or may have just come to town
to train there whereas we've started a lot of people from scratch. Team
Wildman, when they first came to town they came here and trained with us and
they had a lot of nice people and we had a good workout with them.
FF: How come that didn't continue? Because isn't the way to get better and better to train and spar with
good fighters from strong local camps?
SM: As far as MMA absolutely. As far as grappling, I think we're
still the top grappling school and they need to come to us. (laughs)
FF: What's your vision for this school over the next few years?
SM: I'd like to have to
get a bigger place. I'd like to outgrow the place in the next 5-10 years.
FF: Would you be interested in the promotions aspect?
SM: I hate promoters.
FF: Why?
SM: The average promoter doesn't look out for the fighters. They
try to get them to fight every three weeks. When promoters call me, which has
happened two or three days before a fight and asked me if I had someone to put
on their card, I know they're not looking out for the fighters. I've had some
friends that have become promoters and I probably don't respect them now as
much as I did before.
FF: Maybe that's something that you can change.
SM: At this point I don't have time to do that. People have
approached me before saying that's something I should do. I have connections
all over the country in the martial arts and MMA. Ken Shamrock is a good friend
of mine, Mark Kerr is a good friend of mine he's trained here for fights,
Maurice Smith, Kevin Jackson, all former UFC champions and good friends of mine
and there are quite a few more. With those connections I could probably put on
a good show, bring in people from all over the United States. But I'm busy
teaching at the Denver Sheriff's Department, I'm busy teaching here so, who knows?
Maybe someday.
FF: I should ask you about your work at the Denver Sheriff's Department.
SM: I started with the Denver Sheriff's Department in 1992
because I had a baby on the way and coaching high school wrestling was only
seasonal work. I really didn't have any interest in law enforcement per se but
I thought I could get into their training division and help teach them to
defend themselves. That happened pretty rapidly. Within a year I ran the
training division as far as defensive tactics and fitness. I enjoy it. I've
been doing it for the past 18 years and I have taught other deputies to assist
me but I'm in charge of the program. I also teach weapon retention, knife
defense, ground fighting and a few other things.
FF: What are your plans for Nick?
SM: I would like Nick to eventually take over the school. He's
probably teaching as much or more than I am at this point and he's a great
teacher. I didn't know that until I had him run the classes. I knew he was a
great athlete, but I think he's a great teacher and I'd like him to inherit the
school someday.
FF: Are you his manager?
SM: Yes.
FF: What are your plans for him as an MMA fighter?
SM: I think he's got all the talent in the world and can
probably go as far as he wants to. Wanting your son to go in the cage and
fight, that's something that he has to want to do. But it was his suggestion
and I was real nervous when he got out there, a lot more nervous than he was.
I'm sure the more fights he takes the less nervous I'll be. But it's up to him.
If that's something he wants to do he can be very successful.
FF: Hopefully I've been thorough, anything else you'd like to talk about?
SM: Well, we're trying to get grappling in the Olympics. The
FILA world championships is the organization. It's through USA wrestling and
there have been four world championships. I've been one of the coaches at all
four world championships. I'm the assistant coach now to Ricardo Liborio who is
the head coach of Top Team in Florida. Grappler's Edge or Edge MMA has actually
had as many or more athletes on the US team than any other school in the
country. The first world championships in Turkey in 2007 we had a silver and a
gold (medal). The second world championships in Switzerland in 2008 we had a
gold and two silvers and a bronze. We've had members on every team. This last
one in Poland, I had three competitors make the team but they weren't able to
go. Brandon Reese, my heavyweight won't compete on Sundays. His weight class
competed on Sunday and he's mormon so he won't do that. Bahar Shahidi, she's
taken a silver and a bronze in the world championships, she's graduating from
medical school and she wasn't able to go. And Shane Cross actually made the
team in two weight classes, wasn't able to go because he's a lawyer and opposing
attorneys wouldn't postpone (a trial) to allow him to go. But we've had as many
members on the team as any other school in the country and I'm real proud of
that. We hope to continue that.
FF: How about more women?
SM: For MMA or for grappling?
FF: For anything. Coaching even or just to come train here.
SM: We'd love to have more women here. Again I think it was a
stereotype that we're just a bunch of sweaty wrestlers down here so we probably
haven't attracted as many wrestlers as we should. Hopefully we can change that.
Bahar Shahidi is one of the best women in the world, she's proved that at the
world championships twice.
FF: Is she a coach?
SM: She's a competitor but anytime you come down here she'll
show you something…after she taps you out a couple times. (laughs)
FF: (laughing) I really appreciate it.
SM: You're more than welcome.