Gym: Relson Gracie Academy Denver
Location: 9150 Federal Blvd. 
Hours of operation: M-F (11:00 a.m. – 1:00 p.m.) and (5:30 p.m. – 7:30 p.m.)
Types of classes: Brazilian Jiu Jitsu (Gi)
Specialty: Brazilian Jiu Jitsu
Women's and kids classes available: Yes/Yes
Individual/Private lessons available:  Yes
Class sizes: Varies between 4 and 8 students per class
What experience level is needed to join: None to start, beginners welcome
Equipment available/condition: no equipment needed. Gi recommended
What about the instructors?: 1 second degree Black belt
Overall look and feel:  Smaller more personalized feel, Straight BJJ training
Fight team calling this home:  With the gym just getting started, there is no fight team yet
Current members say:  My visit occurred between classes, so I was not able to get member feedback. If you are a member, please feel free to leave your thoughts on the facility and training.
The breakdown: This is a new gym with a solid name behind the training. Smaller classes should mean more individualized training. Straight up bare bones Gracie Jiu Jitsu.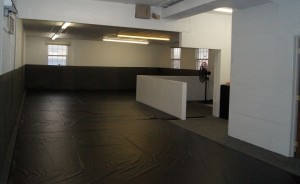 Do you have  a gym you have been wondering about? Maybe you want your gym reviewed. Let us know. Just send us an email through the "Contact us" page.