Fight 1 – Bill Mischtil vs. Trey Staff
Round 1 – Staff landed a solid right hook then got swept by a low leg kick from Mischtil. Staff immediately stood back up and pursued Mischtil. He clinched, then took Mischtil to the mat. In Mischtil's guard, he worked ground and pound until the bell.
Round 2 – The fighters exchanged hand strikes and Mischtil got a takedown. He quickly mounted staff, and began alternating lefts and rights to the face until the referee moved in to call the action. Time: 54 seconds.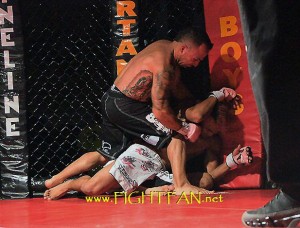 Fight 2 – Chris Garcia vs. Dylan Oligo – 125
Round 1 – Oligo tried a straight kick and got dropped by a right hand from Garcia. Garcia immediately looked to finish with strikes causing Oligo to cover and give up his back. Garcia wasted no time applying a rear naked choke. Time: 31 seconds.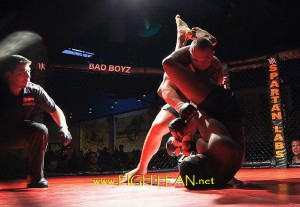 Fight 3 – Bo Arbanas vs. Marvin Maxwell -205
Round 1 – Arbanas threw two hard rights then clinched and spun Maxwell to the ground in half guard. Maxwell took wrist control just as Arbanas' corner was shouting to warn him. Maxwell wrapped his legs over Arbanas' shoulders, straightened his arm out and tapped him with the arm bar. Time: 1:29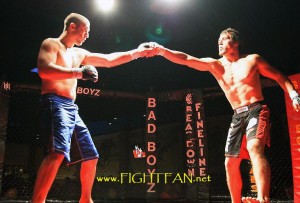 Fight 4 – Luke Vandenburg vs. Mark Monroe -190
Round 1 – Vandenburg ducked a jab and scored a quick double leg takedown. He landed knees to the body before letting Monroe back to his feet. In the standup, Monroe fired several good strikes prompting Vandenburg to take the fight back to the ground. Monroe got back to his feet and exchanged strikes before the bell.
Round 2 – Vandenburg went immediately for the takedown. Monroe landed several uppercuts to the face as Vandenburg took his leg. Vandenburg gained full mount. The action was stopped to warn Vandenburg for an infraction then restarted standing. Vandenburg got a takedown but a point was taken away for a strike to the back of the head. The bout resumed standing again. Vandenburg landed a stiff jab drawing blood from his nose.
Round 3 – Vandenburg scored a double leg. Monroe reversed position and landed decent ground and pound. He continued working until the bell. Judges: 28-28, 28-28, 28-28 By Colorado state law, a decision must be rendered. Winner: Vandenburg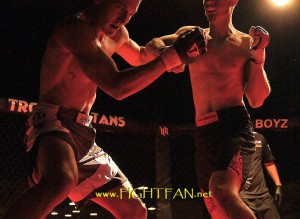 Fight 5 – Cody Johnson vs. Trevor Springsteen – 155
Round 1 – The fighters exchanged strikes right from the get go, each landing. Johnson landed knees and an uppercut in a Muay Thai clinch but appeared to be shaken by a short hook from Springsteen.  Johnson went back to the Muay Thai clinch where, again, he landed knees and uppercuts which hurt Springsteen. Johnson followed up with lefts and rights flooring Springsteen. He moved in and landed two more punches to his downed opponent before the referee pulled him off. Time: 2:45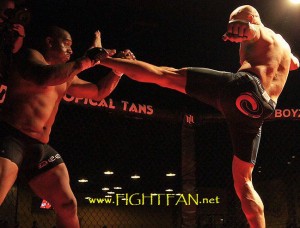 Fight 6 – Brian Maronek vs. Deon Harris – 185
Round 1 – Maronek landed a head kick, Harris scored a double leg slam. Maronek isolated a wrist, positioned his hips, locked them out and tapped Harris with an arm bar. Time: 37 seconds.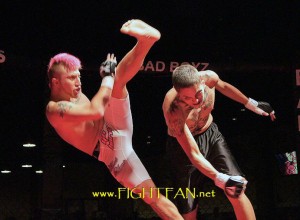 Fight 7 – Dominick Garkow vs. John Valverde – 145
Round 1 – Garkow came out with haymakers from all angles and power kicks. Valverde weathered the storm and took advantage of a Garkow slip, pouncing and taking top position on the mat. Garkow reversed, landed an illegal strike and lost a point. The fight resumed standing. Garkow, noticeably more relaxed, landed a series of left and right hooks dropping Valverde and prompting the referee to stop the contest. Time: 2:08
Fight 8  – Josh Copeland vs. Vern Earwood – 245
Round 1 – Earwood got tagged by a Copeland left and began to bleed instantly from beneath his right eye. Copeland kept the pressure on and hurt Earwood with a right hand. Earwood clinched. Copeland relaxed, waited for Earwood to lower his base, sunk a standing guillotine, and cinched it tight, tapping Earwood to win his pro debut. Time: 58 seconds.
Fight 9 – Tori Adams vs. Raquel Pennington -145
Round 1 – Adams came out with movement, Pennington relaxed. After moments of tentative caution, Pennington threw a head kick and Adams followed it in to work for a takedown from the clinch. Pennington displayed good leverage defending Adams attempts to bring the fight to the mat. The referee reminded them to work.
Round 2 – Pennington, her corner shouting, "Be first Rocky, be first!" came out aggressive with kicks. Adams pinned her against the cage and finally scored a single leg takedown. She transitioned to side control then to back control as the Pennington crowd grew restless. Adams mixed in elbows to the body as she controlled the grapple. Pennington fought off several advantages in position by Adams. Adams gained full mount but Pennington defended all strikes. Adams took Pennington's back again at round's end and appeared to be close to a rear naked with Pennington standing as the round ended.
Round 3 – Both ladies were in great condition, neither laboring to breathe after a hard fought second round. Adams pinned Pennington against the cage as the crowd chanted, "Rocky, Rocky, Rocky!" The referee reminded the ladies to work then separated them as a stalemate ensued. Adams trapped a Pennington kick in the standup and wrestled her down. Pennington escaped to her feet and both ladies worked in the clinch with the crowd shouting at both ladies as well as the referee. Judges: 30-27, 29-28, 29-28 – Adams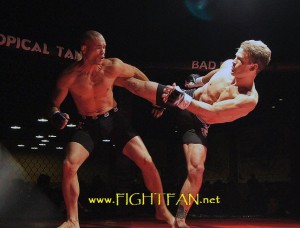 Fight 10  – Alfredo Corona vs. Brian Wood – 145
Round 1 – Both fighters came out cautious, gauging distance with kicks. Corona trapped a kick and drilled wood with a right hand. Wood caught a Corona leg kick and took him to the mat. He threw punches from a standing base. Corona wrapped his legs around Wood's neck in a scissor. Wood stood erect and Corona lifted his torso grabbing Wood by the neck. In one swift motion, Wood dropped his weight and slammed Corona to his back knocking him out cold. Wood immediately stepped back without landing any unnecessary blows. Time: 3:21
By Mike Pisano