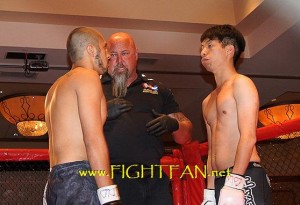 Fight 1 – Lee Vue vs. Eric Maestas – 135
Round 1 – Vue came out unorthodox, carrying his left low. Maestas tagged him with a jab followed by a right hand down the pike and two hooks. Vue clinched. Maestas worked for punching room and tagged Vue flush in the nose with a right hook on the break followed by a series of body hooks, as Vue doubled over. Vue impressed the crowd with a recovery as the referee had moved in to protect him by stopping the fight if he had to. Maestas took Vue down and was punishing him as the round ended. Vue could not answer the bell for round 2.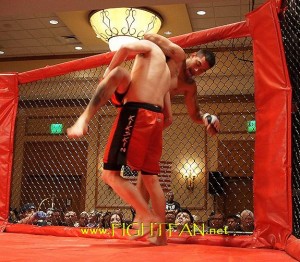 Fight 2 – Daniel Rosales vs. Chris Monfor – 185
Round 1 – The fighters engaged in an intense stare-down then came out swinging, Monfor with his mouth open and his head down. Rosales scored the first big shots of the fight when a left hook landed solidly to the mouth and a one-two also tagged Monfor. Stunned and winded, Monfor reached down for Rosales' legs. Rosales stuffed the initial takedown then jumped guard and secured a guillotine. Rosales' tightened the choke from his back and tapped Monfor. Time 2:00.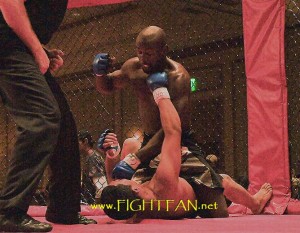 Fight 3 – Juan Budge vs. Allen Washington – 155
Round 1 – Another strong stare-down by the fighters. Both wasted no time exchanging punches from the opening bell. Washington clinched, then spun Budge to the mat and took mount. He flattened Budge's posture then tagged him with ground and pound. He paused to take Budge's back then went back to ground and pound as his corner shouted, "Take your time!" The round ended with Washington working for a crucifix.
Round 2 – Washington peppered Budge with an assortment of kicks and punches to the face. Budge shot and took him to the mat. He accomplished some work, Washington battled back to standing, then Budge took him down once more to conclude the round.
Round 3 – Bleeding from the nose, Budge opened with a high kick. Washington immediately took him to the ground, his corner imploring him to strike. Budge kicked him off. Washington re-mounted Budge from the side. Budge forced a scramble and escaped reversing position to end the fight in top position and striking. Washington, however, appeared fresh at the end while Budge was swollen and busted up. Judges: 29-28, 29-28, 29-27 – Washington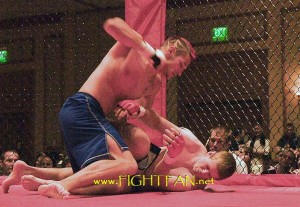 Fight 4 – Corey Benedetti vs. Will Gravley – 175
Round 1 – Gravley punched his way in and Benedetti appeared to simply sit down after getting grazed. Gravley jumped on top and dropped a series of power right hands to the side of Benedetti's face overwhelming him and knocking him cold. Time: 14 seconds.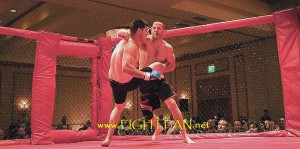 Fight 5 – Ralph Carabajal vs. Bryce Thorstad – 185
Round 1 – Carabajal came out throwing big leather, Thorstad covered. Carabajal caught Thorstad with a high kick then threw another. Thorstad trapped the second kick and took Carabajal to the mat. Carabajal lay on his stomach as Thorstad patiently listened to instructions from his corner until a rear naked choke presented itself and Thorstad cranked it to tap Carabajal. Time: 2:21.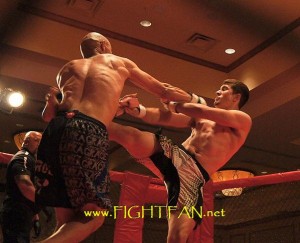 Fight 6 – Leonard Ybarra vs. Mackenzie Roquemore – 185
Round 1 – The fighters struck from distance, each landing kicks and punches. They clinched some, then resumed striking. No damage was done by either fighter.
Round 2 – Roquemore, much more aggressive, unloaded two consecutive right hands to the jaw of Ybarra. He then took Ybarra to the mat with a double leg, began improving position and landing strikes when, inexplicably, Ybarra quit. No injury, no tap. Time: 2:21.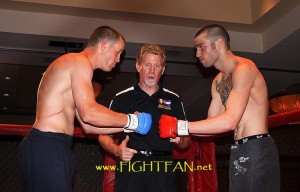 Fight 7 – Brian Camozzi vs. Josh Eaton – 155
Round 1 – Camozzi immediately dropped Eaton with a precision right and took top position on the mat. Eaton's corner began shouting instructions, "Relax! Go to work now! Take his posture first!" Camozzi, however, methodically worked for openings and began to feed Eaton right hands, one after another. Eaton's corner shouted for him to scramble, but Camozzi continued to penetrate his defense with more ground strikes until Eaton, out of options to stem the tide, tapped. Time: 1:56.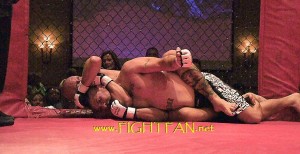 Fight 8 – Jeremy Bro vs. Don Westman – 205
Round 1 – After a brief exchange of strikes, Westman caught Bro in a clinch then jumped guard. He applied a rear naked but could not quite close the deal. Bro reversed and worked to establish something from top position but found himself instead, defending an arm bar attempt from Westman. Bro finally scrambled to his feet, but Westman put on a guillotine, jumped guard again, and this time tapped Bro with the submission. Time: 2:59.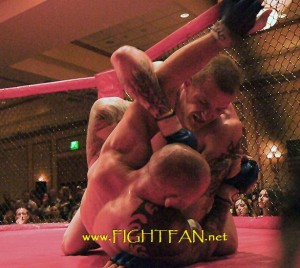 Fight 9 – Jason Clayton vs. Josh Goldberger – 185
Round 1 – Clayton uncorked a huge right hand to the face of Goldberger knocking him to the mat. Goldberger got his bearings and worked effective grappling to an eventual reversal. He controlled the action from on top, attempting a choke, but then was reversed by Clayton. The grapple remained competitive until the bell.
Round 2 – Clayton opened with two strong leg kicks. Goldberger answered with a loud, snapping leg kick of his own. Goldberger threw a head kick and Clayton raised both hands as if to say, "Bring it!" Clayton then picked up a single leg and slid Goldberger's base out. Clayton landed knees to the rib cage while on the ground. Goldberger went for a triangle followed by and arm bar as Clayton defended. Clayton remained in top position for the balance of the round.
Round 3 – Clayton came out and threw a left hook followed by a spinning backfist. He pressed the attack and got off a flying knee. Goldberger clinched and wrenched the fight to the ground. Each fighter rested in the grapple looking for a second wind. Clayton remained in control for much of the round as Goldberger looked to stand back up. Clayton mixed in ground and pound as he displayed strong wrestling to the final bell. Judges: 29-28, 29-28, 30-27 – Clayton
 by Mike Pisano