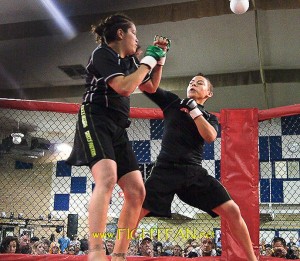 Fight 1 – Denise Miller vs. Rosa Acevedo – 135
Round 1 – The fighters wasted no time feeling each other out. Miller stuck a jab in Acevedo's face and Acevedo launched a combination fists to the body and then upstairs. Acevedo, now inside of Miller's strikes, took Miller to the mat, maneuvered into position from the guard and submitted her with a guillotine. Time: 102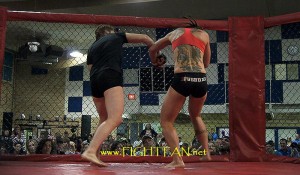 Fight 2 – Haelle Smith vs. Brittney Elkin – 163
Round 1 – Elkin landed a right jab followed by a straight left. Smith countered, and the battle many predicted, was on. Each fighter landed knees to the body and strikes to the body and head. Smith appeared to look for a head toss takedown. Elkin fought it off. The ladies rested in a clinch briefly before resuming the furious offensive pace. With the crowd cheering wildly, Smith wrestled Elkin to the mat. Elkin took top position and landed ground and pound but Smith reversed and was looking to improve position as the horn, barely audible above the roar, sounded.
Round 2 – The fighters picked up immediately with the striking exchanges from round 1. Both ladies did damage on their feet. Elkin stuffed a Smith takedown then pulled guard. Smith passed guard and landed ground and pound. Elkin took heavy damage with the referee watching closely. Elkin battled gamely off of her back finally raising her legs, putting them around Smith's shoulders and wrenching her off. Smith wasted no time in the ensuing scramble, isolating Elkin's arm and, despite Elkin's tenacious defense and will to escape, caused the referee to step in and stop the contest without a tap from Elkin. Time 2:59
Fight 3 – Lilliana Orozco vs. Ali Kistler – 109
Round 1 – Kistler missed with a spinning back fist then took successive counter right hands from Orozco. Kistler attempted a takedown from the clinch but Orozco brushed it off. Orozco dug several right uppercuts to the body of Kistler then pushed her to the mat and pounced. Orozco immediately began what would seem like non-stop ground and pound for the next several seconds causing swelling around the left eye of Kistler. The referee moved closer and closer. Suddenly, Kistler, in a single motion, reversed and took full mount. It was her turn to land non-stop ground and pound which she did, for several seconds, until the bell sounded.
Round 2 – Demonstrating sound conditioning, Kistler opened the round by throwing a number of kicks. Orozco was patient. She waited for Kistler to slow down then threw precision rights to the swollen eye of Kistler. Kistler's corner called for offense shouting, "She's tired! She's tired!" Both women landed strikes to close the round but Orozco's appeared harder and more damaging.
Round 3 – Kistler landed kicks but Orozco appeared to hurt her with right hands. Kistler seemed to tire and Orozco stuck with the right hands which continued to land and land. Kistler was now bleeding from the nose and her eye was beginning to turn purple. Just when she appeared shot, Kistler landed some punches of her own which gave her confidence and energy. As the round closed, both ladies dug deep and gave all they had left. Judges: 29-28, 29-28, 29-28 – Orozco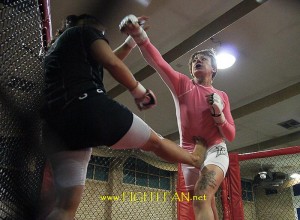 Fight 4 – Margaret Bloom vs. Staci Vega – 125
Round 1 – Both fighters had many fans cheering them on. They touched gloves and began to exchange, Bloom using kicks to dictate distance. Vega dipped in and out to slip punches. She took a solid right hand then trapped a Bloom leg kick and landed a strong upper cut of her own. Bloom followed a leg kick in at the ten second clap and got off one last combination of punches.
Round 2 – Vega absorbed a leg kick then blasted past Bloom's defense with punches. Bloom clinched to weather the storm then stepped back and threw combinations. Bloom began to find her range with leg kicks and straight rights. Vega appeared to get angry and stepped up the pace landing a good knee and listening to her corner in the clinches. Vega trapped a Bloom leg kick and dropped her to her back looking to capitalized as the round ended.
Round 3 – Bloom continued to work kicks and Vega responded with focused aggression. Her corner shouting, "You gotta close that distance Staci!" Bloom landed a straight right to the jaw which appeared to hurt Vega. Vega retaliated with a good combination to the face of Bloom. Bloom landed a good straight right then clinched. Bloom, working effectively controlled the clinch for several moments working knees and leaning on Vega. She maintained control until the bell.
Round 4 – Vega moved forward with a sense of urgency, he corner shouting , "Dig deep Staci! Dig deep!" Bloom snapped a leg kick to the same spot she'd been finding all fight long buckling Vega. Bloom kept pressure on going back upstairs with strikes drawing a stream of blood from Vega's nose. Vega, lacking answers to the offense of Bloom, looked at the referee and gave him the okay to stop the contest.  Time: 31 seconds.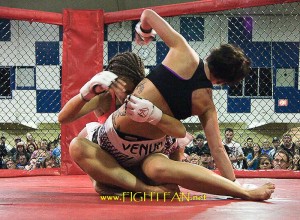 Fight 5 – Katie Moerke vs. Cassie Robb – 110
Round 1 – The ladies engaged immediately, wide open, with both hands. Robb grabbed the head and Moerke did damage to the body. Robb let go and ate a big straight right hand. Robb, in a clinch along the cage, reached down for a double leg and Moerke pushed her head down and rode her to the mat. Moerke applied a rear naked and Robb defended then reversed position. The grapple was energetic and exciting. Both fighters reversed, scrambled and landed punches.
Round 2 – Robb walked in and Moerke clinched, digging punches to the body.  Moerke applied a standing guillotine, lifted Robb off her feet and dropped her to the mat. Robb escaped the guillotine but absorbed ground and pound. Suddenly, she had Moerke in a head scissor. Moerke pulled out. Robb defended two separate arm bar attempts. Moerke took top position and landed ground and pound as the round closed to a roaring crowd.
Round 3 – Robb did not answer the bell to continue.
Fight 6 – Stephanie Skinner vs. Darla Harris – 110
Round 1 – Harris jabbed her way in, clinched skinner along the cage and slammed her. Skinner looked for arm control and also to maintain guard. Harris kept her pinned against the fence, then passed guard. Skinner rolled and Harris took her back. Harris punched from on top and Skinner managed to land punches to Harris' jaw from on bottom. Harris got off a succession of strikes to the head prompting the referee to ask Skinner if she was okay. Skinner affirmed.
Round 2 – The fighters traded strikes from distance. They clinched along the cage and skinner applied a guillotine. Harris slammed her. Skinner applied a triangle choke and worked to finish it. Harris slipped out. A stale mate ensued prompting the referee to threaten to stand the fight up. Skinner continued to fight from the bottom looking for a triangle, Harris continued to defend and keep Skinner's back to the mat. At the ten second clap, Skinner exploded of the bottom and threw hard strikes.
Round 3 – Skinner threw a head kick and Harris trapped it forcing a clinch. The ladies battled for leverage and Harris scored another takedown and took side control. The grapple was competitive and technical; Skinner looking for submissions and Harris maintaining position. At the ten second warning, Harris took Skinner's back following a scramble. Judges: 30-27, 29-28, 30-27 Harris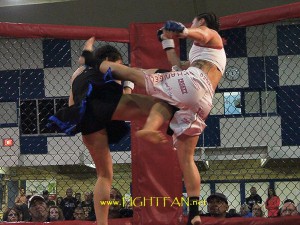 Fight 7 – Dianna Rael vs. Stephanie Frausto – 107
Round 1 – Rael slipped while throwing a head kick and Frausto made her pay for it with a right hand to the nose. Frausto followed with solid knees in an ensuing clinch. Rael got separation and scored with a one-two causing swelling under Frausto's left eye. Both ladies worked in the clinch. Frausto appeared to stun Rael with clean strikes and Rael shot for a leg. Frausto, however, gained advantage on the ground taking full mount and working ground and pound while trying to isolate an arm. Rael defended but took several vicious elbows to the forehead and eye. Rael rolled and Frausto straightened her arm and tapped her. Rael protested the elbow strikes to no avail.Time: 3:25
By Mike Pisano