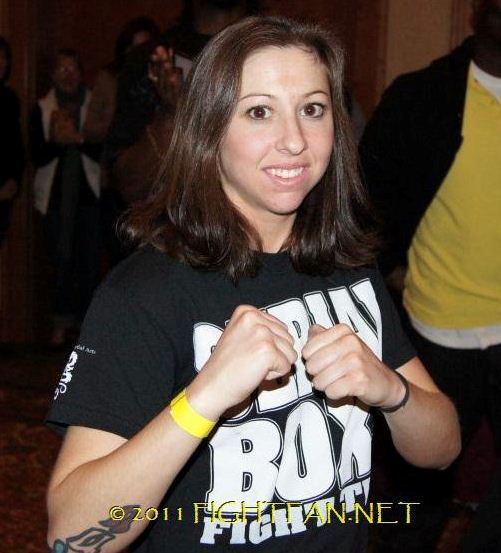 Women's Fighting Championship main event fighter Diana Rael took the time to talk to us about her next fight…
FF: How did you get your start in MMA?
DR: My boyfriend Ben Schissler, he's actually an MMA fighter but he trains our team, Serial Boxe. Well, about six years ago he asked me if I wanted to fight this 105 pound girl that was running her mouth about how she could beat any fighter that he trained. So I went to Wyoming and fought her. I ended up winning and I really fell in love with it from there.
FF: So what have you been up to for the past few months?
DR: I've been training and trying to rebound from my recent loss just tidying up everything and trying to get better. I've been able to train full-time for about a year now which has been helpful.
FF: Training full-time…you must have strong belief and big goals as far as your MMA career.
DR: I do. And I've actually taken the steps more recently to make a career out of it. I work at LA Boxing as a trainer so I'm in a gym all day long which is nice. I get to train people and teach them the things that I like and watch them succeed in their goals… I really want to fight the best of the best.  I want to hopefully go to Japan and fight some of the littler chicks out there too because a lot of the women that are ranked are Japanese so I'd like to get out there and get some competition with the little ones. I think I can handle anyone at my weight for sure. But it's MMA so anything can happen. That's the one thing about the sport; you could dominate a fight and lose in four seconds. Everyone I step in the cage with is another human being that bleeds and breathes just like I do. The one thing that's hard about the division is a lot of the bigger girls trying to make the cut and fight in my division, so these girls are getting bigger and bigger at 105 where I walk around truly at a lower weight than they do. But you know what; I like challenges so bring it on!
FF: In the women's division, there are a few things we've noticed: since there are fewer fighters, it seems like there would be more potential for rematches…
DR: Absolutely.
FF: Is there anyone you'd like a rematch with?
DR: Oh yeah, Michelle Waterson.
FF: Your last fight.
DR: Yeah. I really want that rematch and I'm sure it will happen. Patience…
FF: Another thing we've noticed is no matter how many women's fights are on a card, it always seems like the fans are especially excited for them, the promoters look forward to them, and they never seem to disappoint. They always seem to be competitive, strategic and sometimes even more personal. How do you see it?
DR: I would agree with you actually. I think the women are held at a certain expectation because we're not supposed to be cage fighters. So we perform better because we almost have that expectation of, "Hey, we're here, we can do it just as well as the guys can and be just as skilled as any man." So I think a lot of the female fights end up being entertaining because we have to live up to that expectation. We're as real as it gets just like men are.
FF: We've also talked to female fighters who train and spar with men, but say that to truly be ready to fight, they have to spar with other girls because it's just a different game. Do you agree or can you explain that?
DR: Actually tonight I'm going to train with Lacey Schuckman to get my training in with a female. I have females that I train with but it really is different. The speed of a woman is different, the body of a woman is different, the way a woman moves is completely different than a male; women can move in ways that men can't. So it is completely different and I do understand where female fighters are coming from when they say they need to go and find a female partner because I do it too.
FF: As a female, do you think you might have to fight more of the same competition or potentially even travel to stay as active as a man could.
DR: Absolutely. And on top of that, I'm in the atom weight division and fighters at 105lbs. are hard to come by. So, you definitely need to be travelling to stay as active as a male.
FF: So one thing you're going to try to do is travel to Japan. What else do you see yourself doing to develop your career?
DR: My ultimate goal is to try to open my own gym for our team, but not just for the team itself. I want to work with people with special needs and people with Down syndrome. I want to give them a place to feel comfortable and a place to work out. I have a Down syndrome client and he has opened my eyes to a big horizon that I'm going to change as well. There's a little girl that I work with, her name is Jesse, and every day I'm just amazed by the things she says and the push she has, her mental abilities and just how her self-confidence has grown. I want to be able to do that for more than just one child. It's definitely my ultimate goal.
FF: Awesome… and how much longer do you want to fight?
DR: As long as my body will let me.
FF: Oh, so that could be another decade…
DR: I'm hoping!
FF: You'll be fighting Stephanie Frausto. Is she someone who you feel represents the best competition possible right now?
DR: Stephanie is a well-rounded fighter. I hear she's been working on her Jits a lot with her sister but I'm sure it's nothing I've never seen before.  I try to worry more about what I'm going to do and not really what their strategy might be. She could come in and want to flying-arm-bar me for all I know. You just keep your "A" game up for their "A" game.
FF: For someone like you who wants to take her career as far as she can, what's the best way to make a bigger name for yourself in MMA?
DR: That's a great question. I'm trying to make a big name by fighting the big names. Unfortunately, with women's MMA being so new we all have to climb that ladder and we're all pushing each other to get to the next step up.  So, I think we all just have to battle that ladder and I think that's how we're all going to eventually get to where we want.
FF: Would you also have to maybe market yourself a little or maybe somehow pull more women into the sport so that some years down the road they have skills and can help bring fans of their own to your events?
DR: I would agree with that 100 percent. The problem with that is a lot of these women are going the sexy route with the promoting and that's just not my personality and it's not how I sell myself. So I would definitely promote my skills more than anything. But definitely getting more women into it is huge. A lot of my clients now consist of women so a lot of women are definitely opening their eyes to this new world and realizing that they can do it too. So that's definitely going to be a big step for me too as a trainer. In a few years you never know what kind of fighter can be produced with my skill level and my teaching.
FF: Definitely. Well, it's been great talking to you. Is there anything else you'd like to get out there?
DR: I'd just like to mention my team, Serial Boxe, and my main coach Ben Schissler. Also, Scott Pederson who helps me out with my Jiu Jitsu at Advantage Martial Arts and my sponsors Jack and Grill, Revolution Chiropractic, Inksmith, Performance MMA, Gurlfytrz, and Archangel Fightwear.
FF: Cool. Good luck in your fight, we're excited to watch you perform.
DR: Thanks. And thank you for taking time to interview me I appreciate that.