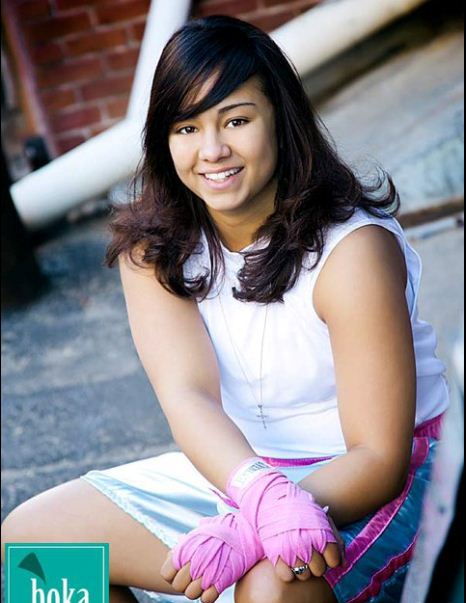 Casper fighter Staci Vega speaks out about her upcoming fight this weekend for the Women's Fighting Championship…
FF: We thought we'd start off by asking you for a little background…
SV: I'm 23 years of age and I was born and raised in Cheyenne Wyoming and moved to Casper when I was 10. So the only life I've known is pretty much being here. I have a younger brother, Ezequiel and my parents Micki and Dan. Growing up I did every sport you could possibly think of. My coaches nicknamed me the "twelve second player" because you could put me on the field in any sport and it would only take me twelve seconds to figure it out. Basketball was my first love. I always wanted to box but my mom always told me no because she said I had too pretty a face. So I did every other extreme sport I could. I did BMX for four years and became state champ. I could have turned pro at sixteen but I chose basketball instead. Growing up I had a friend named Jordan Martinez who was an inspiration to me because she was great at boxing and she was the only girl I knew who did it and she didn't care…she was just really good at what she did. So when I was 19 I started to train MMA at my first gym, Fisticuffs. My first coach was Damon Clark and I made my debut as a fighter against Raquel Pennington. I lost to her and to my next opponent. That's when I decided to focus on boxing. I boxed for Casper Boxing Club for two years with Coach Clay Jennings. I boxed in a lot of big tournaments against people from all over the world. This year, I got a call from Steve Alley asking me if I wanted to get back in the cage again. So I went down and joined team TNS. I had four weeks to train to fight in the Universal Fight Alliance. The girl I fought was ten or fifteen pounds heavier and like five inches taller than I was. There was every reason in the book why I should have lost that fight, but I told myself I was never going to lose another fight in my entire life, and I won that fight. It was sweet victory! Ever since then I've been in the gym training and trying to get fights figured out. Steve offered me this fight on May 12 and I took it not knowing who I was fighting yet but I knew that I needed to push myself to get to a smaller weight because I knew I didn't want to fight women so much taller than me anymore. So I confirmed to fight at 125 pounds and Steve called me two weeks ago in the morning and woke me up to a phone call offering me a title fight with Margaret Bloom and that was definitely a dream come true!
FF: Awesome! And you must at least know a little bit about her…
SV: Yeah when I first started training I started out with her as one of my teammates. Like when I was going into my second fight, she would always come down to the gym and we would spar because she was really big on kickboxing. So, we did train together but it was not for long. I have seen her fight and I think she's an awesome fighter and an awesome instructor. I'm honored to fight her.
FF: How would you describe your style?
SV: I would have to say I'm really comfortable standing up. I'm really confident in my boxing. I know that just boxing can't get you as far as knowing everything but I can throw some kicks if I need to and if I can keep this fight standing up that's definitely what I want to do. But don't get me wrong; I can definitely do work on the ground too!
FF: Are you a strategic fighter or do you just like to go let it all hang out?
SV: Oh no! I don't let it all hang out. I have a certain routine for every single fight that I have. If I have a bout coming up, the last two weeks before I fight I will pretty much keep to myself. I will set a curfew for myself. I let everyone know, "I'm not pushing you away, this is me getting into the mindset I will need for my fight." And no matter what, I will make sure that I'm home by 9:30. I'm also really into music. So I'll listen to all kinds of different music from country to…not so much Slayer because I can't stand that…so I'll listen to music and I like to draw so I'll sit there and get my mind clear like that. Then the last week before the fight I'll send a mass text to everybody and tell them that if they need to get ahold of me they can hit me up on my email, but other than that, I will deactivate my Facebook and shut off my cell phone.
FF: So you're really dedicated…
SV: Yes.
FF: Is that because you told yourself you would never lose again or because you want to make a long, serious career as an MMA fighter?
SV: When I went into that last fight, and she threw me in that rear naked choke and I started to panic, I told myself, "You're not going to lose. You've just got to fight. She's either going to have to pass you out, she's going to have to knock you out, or she's going to have to break something." So having that mindset and winning that fight that way made me become a stronger person and a stronger fighter. Now It's just my passion for the sport I think. Win or lose, I will always have a smile on my face. I'm just that type of person. Even through the hardest times in my life I've always walked away with a smile on my face.
FF: And how does your mom feel now that you're into a sport that she discouraged you from doing because of that pretty face?
SV: My mom is honestly, hands down, my number one fan in anything I do. If I were to tell her that I was going to go wrestle a bull tomorrow she would say, "I think you're the craziest kid in the entire world but I just want you to know that I love you." No matter what she will always be by my side. She tells me, "Win or lose you will always be my hero."
FF: Being such a good athlete and having competed in other sports, how would you compare MMA to the other non-combat sports you've excelled at and why do you prefer a combat sport?
SV: In a combat sport, it's just you against that other person. You can't blame your loss on anyone else. You have a team and they're there to help you, but they're not in there fighting your fight. You have to depend on yourself. You have to make yourself a better person. You get out of it what you put in.
FF: What's your best athletic asset in the cage?
SV: I'd have to say that I'm pretty strong and I have good hand-eye coordination. You know those light games where you have to like, hit it on the button right away?
FF: Yes.
SV: Oh, I can play those games! …And, I know I have weaknesses, but I have yet to find them out. I won't know them until someone else finds my weakness. That's when I'll know.
FF: What are your career plans if any?
SV: I really didn't have any I kind of just wanted to do it for fun. But, this year, for some reason, I've been more confident than ever before or for anything I've done in my entire life. So I really want to take this and run with it! I've met some pretty awesome people along the way this year and I think that's why I'm so confident. I want to develop a team and I want to grow together. Even if I don't totally blow up I want to make a name for myself. I want to be that girl that you tell a story about, I want to be that girl that you will always have something good to say about no matter what. And that's basically how I live my life.
FF: Do you have a lot of fans so far?
SV: Oh yeah, when I put my stuff out on Facebook I tell everyone, "I'm nothing without you…I'm nothing without my family, I'm nothing without my friends and I'm nothing without my fans. If it wasn't for you, I wouldn't have this drive." So basically all my fans are like my friends and my family but I even have two little girls that look up to me no matter what and they're always at my boxing matches, they're always at my fights. My last fight, this little girl, her name is Olivia, she was crying and she was literally the first person I ran to when I got out of the cage and told her everything was going to be okay. It's cool to have such a big impact on people's lives when you really don't even see it and you really don't even know it.
FF: Will you have a ton of people there for you on May 12th?
SV: Oh yeah! Yep…
FF: What are your plans if you win?
SV: I want to carry on this title and hopefully drop weight and pick up another title. I want to try to get as many titles as I can. I'm really comfortable with Steve Alley but at the same time I want to fight for other promotions and get my name out there. I want to develop the fighting technique of Gina Carano. I want to study her and meet her and learn everything about her because I want to be just like her but with my own style. I really watch her every single day. I watch her films, her fights, everything that comes out new, I follow her on Twitter and Facebook…she is such an inspiration to me that I want to be like her.
FF: We've noticed that there is always a lot of intrigue surrounding women's fights. Some promoters and fans say the women's fights are what they look forward to most even more than the mens'. Do you feel that way?
SV: Oh I definitely feel that way! Sometimes if it's just an all guys card I leave those fights and I feel like I didn't get anything out of it. Women put on a good show, and that's what people like. You can just see the heart and the drive and the dedication in a women's fight. Whereas to a guy, they just want to beat the shit out of each other. I'm not saying that girls don't either, because girls are mean, I'm not going to lie. We're pretty freakin' mean! But guys should do so much more than girls do but I just feel like girls put on a better show. That's the one thing I look forward to is a girl's fight no matter what!
FF: Well hey Staci, it's been great talking to you. This will be our first time seeing you fight.
SV: Nice! Well I sure hope I can give them a good show. If they're not my fans, I hope that they walk away my fans.
FF: Anything you want to say to Margaret?
SV: Just that I respect her as a fighter and as a human being. Win or lose I will always want to be friends with Margaret.
FF: Good luck Staci! We'll see you in Wyoming.
SV: Thank you. I appreciate it.
 Photo courtesy Staci Vega