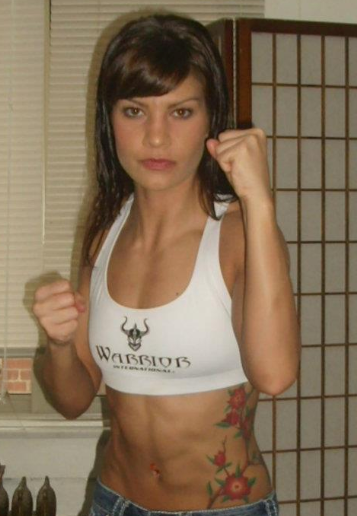 A new face to the local scene, we had the chance to talk with fighter Katie Moerke about her upcoming fight in the Women's Fight Championship…
FF: For the people that don't know you can you tell us a little about yourself and your record?
KM: Well, I have been training MMA for a little over a year now. A couple years ago I started dabbling in it but nothing serious. My first fight was in February, I won by arm-bar, and my second fight was in March and I won by TKO.
FF: Cool. So a couple of different wins.  What would you say your strong suit is? Stand up or ground?
KM:  I would say ground. I like Jiu Jitsu quite a bit. I think that's my strong point. Stand up is a little more challenging for me but for this next fight I have been working more on my stand up. This fight will be interesting because I have addressed my weaknesses. As far as what I favor, I really like the ground game. I entered a grappling tournament in the past and will be entering another…I really enjoy the ground.
FF: I know you're training out at the Fight Syndicate. Are you working on your ground game anywhere other than there?
KM:  Nope, right now I am just there. I have trained other places before, but that's where I am now.
FF: What's it like training at the Fight Syndicate?
KM: I absolutely love it. I love the atmosphere. I know that Margaret was focusing on mostly women in MMA and I think that made it comfortable for us as women to have a place where we could enjoy the sport. It's grown and there are a lot more guys down there now. There's an environment of respect and encouragement, not just with MMA but in all aspects. It just feels like a big family. We encourage health and fitness in all realms. MMA is the gym's base, but I actually do my personal training out of her gym. We're all about health and fitness.
FF: OK, Cassie Robb…what do you know about her?
KM: I have seen her fight twice now, I saw her fight in Cheyenne, 2 or 3 years ago. She lost that fight, and then I saw her most recent fight.  She lives here, and I know her through some of the gyms…it's like we know each other's face, that's about it. We have maybe trained or rolled together twice. I don't know her very well, but I know that she is better at stand up and she trains out of TNS. From what heard she likes stand up but from what I have seen it's been ground, so it's going to be an interesting fight.
FF: any place you would like to see this go?
KM: I would like to keep it standing. I would like to show some different skills.
FF: This is actually for a title as well…any added nerves?
KM:  Um…there's a little bit, it increases the intensity. A little more desire. Of course you always want to win, but to have something to take home and display is a motivator. Also, for us both being from Casper, it's not like we are from rival gyms, but in a way, it just sort of ends up that way. This is going to be an intense fight. I'm passionate about it. Tonight in training I noticed my emotions towards the fight…that passion is starting to come out. I definitely want this.
FF: What's your long term plan for MMA?
KM: I'm not really sure. My family would like me to chill out, although they attend all my fights…my mom is my number one fan for sure. When I started I thought "Oh I just want to try it once" but it's now become a passion. I don't want to overdo it because I have other hobbies, like I'm training for the Casper Marathon, a triathlon as well as another grappling tournament. I want to be well rounded. I hate missing a night at the gym and I believe I will always train MMA, but as far as fighting I want to see where it goes, and gauge my progress after every fight. Who knows, maybe one day I'll be able to teach other people MMA, right now, I'm still learning.
FF: Cool. Ok, Women's Fighting Championship…what's it feel like to be on show number one?
KM: I's really cool. I am excited about it. We had an all women's card here back in February, and there was so much excitement over it. There's just something about an all women's card…it just has a different vibe and it helps us women network as well. We have others to train with in different locations and get to find out about other opponents, and we are able to encourage each other. As far as the first card on this promotion, we're making history and it's pretty cool to be part of history.
FF:  Well, in closing do you have anything you want to say to Cassie?
KM: I wish her the best. I want a great performance and I want to thank her for being my opponent in this game.