Fight 1- Dillon Bailey vs. Lee Vue – 130
Round 1- Bailey moved forward setting up combinations off his jab. Vue tried to clinch but got tripped to his back and mounted. He quickly reversed and started ground and pound, his corner yelling, "Loosen him up with some body shots!" Vue, unable to pass guard, decided to stand the fight up and trade some kicks for Bailey's punches.
Round 2- Vue's mouth was wide open and he looked tired but he soon bloodied Bailey's nose with a jab. He then followed another jab in with a straight right stunning Bailey and knocking him down. Vue wasted no time taking top position on the ground and unleashing right hands until the referee stopped the contest. Time: 1:05.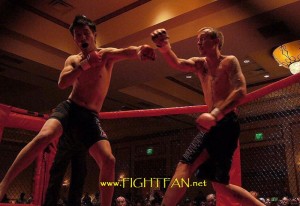 Fight 2- Kyle Enders vs. Verne Hassell – 170
Round 1- Enders ducked a jab and scored a double-leg takedown. Hassell stood up briefly along the cage but Enders, showing good wrestling, quickly took him back down. Enders landed two big right hands to the face of Hassell causing a scramble. Enders took Hassell's back and quickly positioned a rear naked choke causing Hassell to tap. Time: 2:14.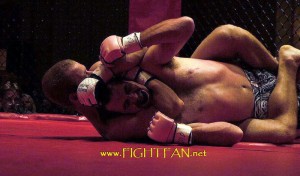 Fight 3- Jay Rea vs. Paul Valdez – 150
Round 1- Valdez bulled his way in and started a striking exchange in which both fighters scored with heavy shots. Valdez then took Rea down but action lacked on the mat so he got up and invited Rea to stand. The rapid action continued, with Rea landing big knees to Valdez' mid-section in the clinch. Moments later, Valdez verbally submitted and limped to his corner. Time: 2:12.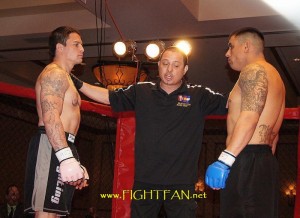 Fight 4- Kenny Stone vs. Collin Hoelz – 170
Round 1- Stone landed a slapping leg kick. Hoelz tried a trip takedown but Stone defended. Hoelz then defended a single leg try by Stone. Stone tried again and scored a big slam. Hoelz momentarily isolated Stone's right arm but Stone lifted him high and slammed his way out of it. Stone then mounted Hoelz and took his back. He put on the rear naked, but Hoelz fought it off with his corner screaming, "Fight it Colin! Two-on-one!"
Round 2- Hoelz landed a right hand and Stone trapped a leg kick and took Hoelz down. Again, he worked his way into rear naked choke position then abandoned it as Hoelz gave up his left arm. Stone quickly straightened it, positioned his hips, rolled to his stomach and tapped Hoelz. Time: 1:21.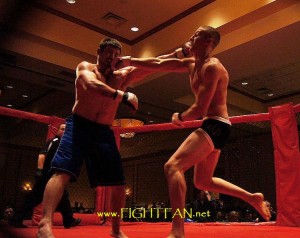 Fight 5- Mackenzie Roquermore vs. Josh Thomas – 185
Round 1- Thomas attempted a spinning back kick, Roquermore defended and then forced a clinch. Thomas shook it off and landed a high kick. Roquermore scored a double leg take down. He walked Thomas' hear straight into his corner so he could hear instructions. He landed a big right to the face then controlled the grapple as the horn sounded.
Round 2- Roquermore trapped a kick and lifted Thomas high for a slam. Thomas triangle Roquermore's head but Roquermore escaped and worked elbows from the half guard. Using knees and staying flat, Roquermore kept the fight along the cage near his corner once again tightening a neck crank little by little and moving his body north-south. With his body and his opponent in the right position, he transitioned to a Darce choke and muscled it until Thomas was forced to tap. Time: 2:45.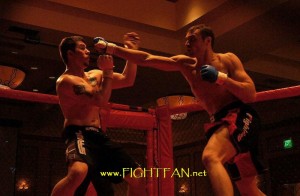 Fight 6- Nick Mota vs. Cody Curtis -135 – Title
Round 1- Mota threw a combination then defended knees from Curtis. Curtis forced a clinch and used it to affect a head toss, but in doing so, he gave Mota his left arm. Mota straightened it and rolled onto his stomach forcing Curtis to tap. Time: 23 seconds.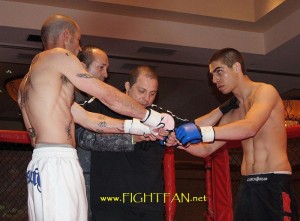 Fight 7- Leonard Ybarra vs. Bryce Thorstad – 195
Round 1- Ybarra circled, Thorstad pursued. Thorstad fought past hand strikes and brought Ybarra to the mat with a slam. He turned Ybarra's head to the cage, landed two hard strikes to the face and Ybarra tapped. Time: 35 seconds.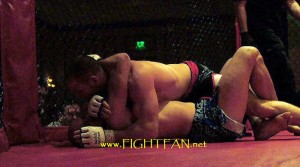 Fight 8- Charles Stage vs. Josh Augustine – 175
Round 1- Augustine, light on his feet, used his superior quickness to frustrate Stage early, landing strikes and moving. Stage absorbed a few strikes to move in for a takedown attempt. He bulled forward with under hooks in but Augustine landed with a guillotine on. He tightened it, and tapped Stage at 55 seconds.
Fight 9- Don Westman vs. Cameron Wallis – 200
Round 1- The crowd was going crazy for Westman. He timed a kick and landed a strong right hand to the face. The fighters clinched. Westman maneuvered to Wallis' back, wrapped his legs around Wallis' waist to flatten him out and then began rapid strikes to both sides of Wallis' face until the referee moved in. Time: 1:00.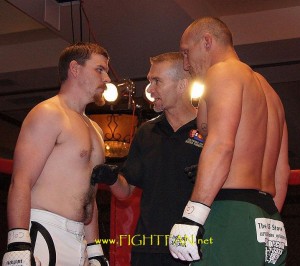 Fight 10- Brian Maronek vs. Kyle Gould – 185 –Title
Round 1- The fighters opened in a clinch. Gould got low, lifted Maronek high off the mat and slammed him hard on his back drawing roars from the crowd. Maronek defended in the guard stuffing ground and pound then withstanding another slam while positioning his arms to cinch a guillotine. Once on the ground, he tightened it further until Gould was forced to tap. Time: 57 seconds.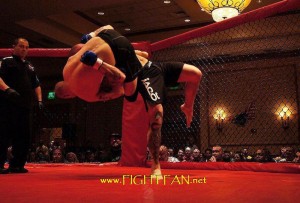 Fight 11- Josh Goldberger vs. Ken Scott – 185
Round 1- The fighters touched up and traded jabs and 1-2's. Goldberger tagged Scott with a straight right, knocking him to the mat. Goldberger jumped on and rained hammer fists and elbows until the referee had seen enough. Time: 32 seconds.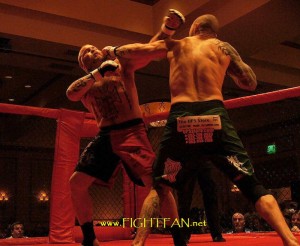 Fight 12- Larry Williams vs. Alfredo Corona – 147 – Jr. Lightweight Title
Round 1- Corona landed a forceful leg kick and the fighters came together in a Thai clinch. Both worked hard in the clinch landing strikes and knees. The action slammed into the fence and became a battle of leverage. Williams finally pushed Corona away and gained some space to strike lunging in with a superman punch and taking a counter right from Corona. Williams then scored a takedown and the two faced off in a grappling battle which went back and forth. Williams had Corona's back momentarily flattening him out and attempting a rear naked before being reversed by Corona. Who got off some power body and head strikes before the horn.
Round 2- Corona opened with another big leg kick and Williams threw a superman punch. Once close to Corona he went low and Corona sunk a standing guillotine. Williams reached down to pick up a leg but Corona jumped guard, secured Williams' body and tightened the choke until Williams tapped. Time: 31 seconds.