By Mike Pisano
Fight 1- Randy Rowland vs. Sean Johnson – 155 (Thai)
Round 1- Rowland used kicks to initiate offense and Johnson countered with hand strikes. The two then began to exchange power shots, both landing with precision and drawing appreciation from the full house on hand. Johnson caught Rowland with a left hook knocking him back several feet straight onto his behind. The round ended with both fighters striking all out.
Round 2- Johnson stung Rowland with a powerful leg kick. Rowland answered with a flying body kick. The fighters clinched and exchanged body blows. Rowland landed a big right hand as his corner shouted for him to push the pace.
Round 3- The crowd was whistling and clapping as the fighters touched gloves. The even exchanges and rapid offensive pace continued as Rowland landed several leg kicks and Johnson landed combinations. Johnson appeared to tire and Rowland began to load up. The crowd grew even louder as the 10 second clacker prompted the best effort of both fighters. Judges: 30-26, 28-28, 28-28 -Rowland.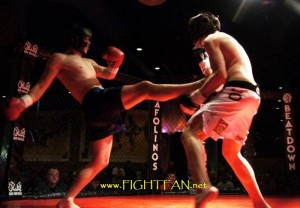 Fight 2- Tim Radcliffe vs. Jarrod Jordan – 170
Round 1- Jordan opened with a leg kick then shot for a double leg. Radcliffe sprawled. The referee stood the fight due to lack of action. When action resumed, Jordan caught Radcliffe sleeping and let go of a wild, non-stop flurry of bombs finally catching Radcliffe with two right hands knocking him down and causing the referee to stop the action. Time: 1:40.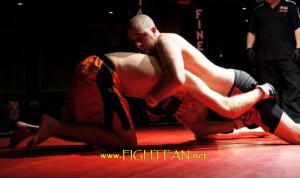 Fight 3- John Maldonado  vs. Zac Hare – 145
Round 1- Maldonado bounced on his toes as Hare stalked flat footed. The fighters clinched, traded knees to the body, and Hare pulled Maldonado's legs out from under him to bring the contest to the ground. Hare passed guard but Maldonado had a guillotine on. The fight was stood up due to an unintentional illegal head strike. In the standup, Maldonado trapped a leg kick from Hare and got a takedown as the horn sounded.
Round 2- Maldonado drove Hare into the fence. The fighters battled for leverage. Maldonado landed knees to the thigh of Hare. Hare wrestled the fight to the ground and passed guard. Maldonado bridged and reversed position taking half guard and was landing ground and pound as the round closed.
Round 3- Hare followed in a combination and took Maldonado down. He applied a body lock and took Maldonado's back but Maldonado created space and again, reversed position. He could not hold the advantage long as the referee stood the fight. Maldonado scored a single leg takedown and the fight ended as Hare tied up his ground and pound. Judges: 29-28 -Maldonado, 29-28 -Hare, 30-27 -Maldonado.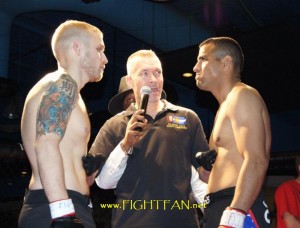 Fight 4- Mark McGlasson vs. Blaine Power – 135
Round 1- Power exploded across the cage and landed a straight kick to the face, rocking McGlasson. He pounced and began looking for a choke but the referee stood the fight due to an unintentional infraction. As action resumed, it was McGlasson who shot across the cage and initiated a working clinch. He took Power to the mat, mounted him, and began raining fists as Power covered up. Because Power was not returning strikes or improving his position, the referee stopped the bout as Power protested. Time: 1:11.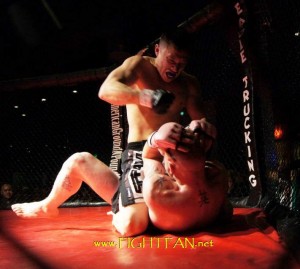 Fight 5- Josh Copeland vs. Sylvester Mitchell – 265
Round 1- After some circling and feinting from the fighters, the crowd grew restless and began to boo. Mitchell punched his way in with several haymakers and Copeland retaliated with a head toss takedown. As the crowd shouted at the referee to stand them up, he finally obliged. In the standup, Mitchell missed with a leg kick and ate a Copeland jab at the end of the round.
Round 2- Copeland offered his hand for a glove touch and Mitchell tried to surprise him with a big right hand which missed. Copeland landed a straight right and continued to press forward. He landed a big leg kick. Mitchell loaded up to counter several times but never reached Copeland with his single haymakers. As the round was drawing to a close, Copeland landed a solid right, took Mitchell down, uncorked three Power right hands and got the TKO at 2:43.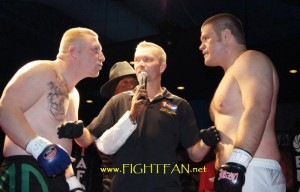 Fight 6- Michael Matthews vs. Chris Hocum – 175
Round 1- Hocum absorbed a slapping leg kick then scored a hip toss takedown. Matthews made it to his feet quickly but Hocum gained the advantage and slammed him from high off the mat. The ground battle was back and forth, each fighter working furiously and each attempting submissions. The round closed with Matthews controlling Hocum's back and trying to sink a rear naked.
Round 2- Hocum grabbed an ankle and began the round with a ground scramble. Matthews maintained head control briefly but Hocum escaped. Each fighter enjoyed full mount but neither could capitalize. Matthews tried hard to get wrist control and isolate Hocum's arm but Hocum defended adeptly, lasting to the end of the round.
Round 3- Hocum shot low and Matthews sprawled. The grappling action resembled one prolonged scramble until Hocum gained side control. Matthews gave up his back and Hocum applied a body lock and transitioned to an arm bar attempt which Matthews defended. After one last scramble, the round ended with Matthews working for a rear naked. Judges: 29-28, 30-27, 30-27 –Hocum.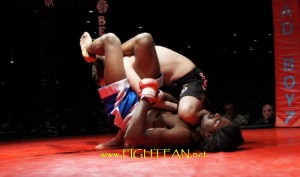 Fight 7- Ricky Johnson vs. Scott Grimm – 135
Round 1-  Johnson, with a cheering section of female fans, ducked a punch and hoisted Grimm off the mat putting him on his back. Johnson then went to work controlling his head and arms eventually securing a "side naked" choke to submit Grimm. Time: 57 seconds.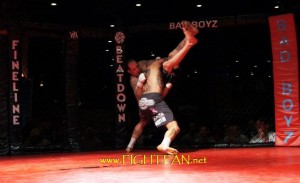 Fight 8- Tommy Thompson vs. Gabe Marquez – 145
Round 1- Thompson cut off the cage, landed a right hand and took Marquez to the ground. He gained side control then took Marquez' back and went for a rear naked. Marquez, over several long seconds, fought it off and escaped to his feet. Thompson timed a kick and dropped Marquez with a straight right. He then reached for his head and tried to jump into a guillotine. Marques freed his head and landed punches and elbow strikes. Thomson kicked him off and got to his feet. Marquez landed a powerful kick. Thompson took him down again. Marquez wrapped up Thompson's head and landed elbow strikes. The fighters then grappled back and forth to end the round with the crowd cheering.
Round 2- Thompson caught Marquez with an uppercut and followed with right hand which backed Marquez into the fence. Thompson moved in and let his hands go. He mixed in several knees, but it was a succession of uppercuts that prompted the referee to stop the contest 39 seconds into the round.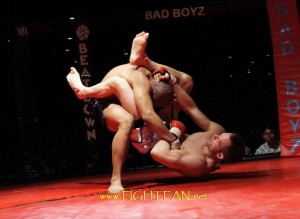 Fight 9– Nick Buschman vs. Brian Wood
Round 1- The two kept their distance from one another throwing kicks and occasional hand strikes. Buschman connected with a one-two and Wood answered with two rights of his own. Buschman landed a big right and Wood grabbed on. Buschman scrambled out. Wood landed a good left and took Buschman's back. Buschman escaped and the fighters grappled until the close of the round.
Round 2- Wood carefully closed the distance and got a single leg takedown. The fighters grappled back and forth, Wood attempting a kimora and Buschman escaping only to be caught again and tapped at 3:57.