by Mike Pisano
Fight 1- Eugene Rodriguez vs. Josh Augustine -170
Round 1– Both fighters opened with kicks. Augustine moved in and initiated a clinch, his corner yelling, "Look for those knees!" Augustine obliged with two knees to the body then the fight went to the ground. Rodriguez went straight to his offense working for position, then taking Augustine's back. He sunk in a rear naked and tapped him at 2:19.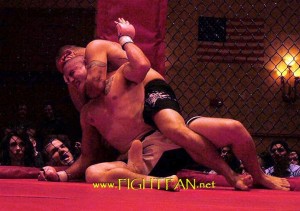 Fight 2- Will Gravley vs. Jeremy Gibson -170
Round 1– Gravley moved across the ring, unloaded a precision left hook which knocked Gibson to the mat, smothered him with a succession of big uppercuts and prompted the referee to stop the contest at :08.
Fight 3- Jay Rea vs. Brandon Espinosa – 145
Round 1– Espinosa timed a Rea kick and scored a double leg take down. He took side control and maneuvered around to Rea's head. He sunk his arm around Rea's throat in a side choke and tightened until Rea tapped at 1:23.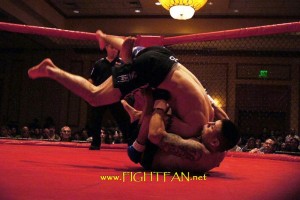 Fight 4- James Crawford vs. Brad Newhof – 185
Round 1– Newhof appeared to refuse the glove touch before the horn but didn't try anything.  The fighters traded high energy kicks and hand strikes before settling into a flow. Newhof used his reach, particularly with the jab. A combination opened a cut over Crawfords's left eye. Crawford shot and scored a double leg.  He immediately passed to side mount. But the round ended before he could do anything with the position.
Round 2– Newhof's corner was yelling, "Use your jab Brad." It was crawford that scored with a jab  early, however. Newhof then opened up his hands confidently landing strikes and bloodying Crawford's nose . Crawford tried to take the fight to the groud but this time Newhof was ready for his shot and stuffed it. Winded from the punches, however, Newhof got tagged and shaken by two successive head kicks from Crawford which struck him square in the face. Newhof circled taking huge breaths and then got off a body kick that dropped Crawford. He followed with several more kicks and the referee stepped in at 2:07 and stopped the fight.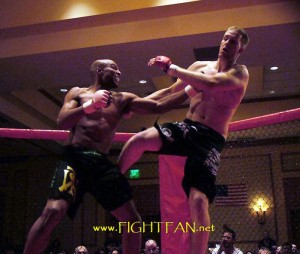 Fight 5- Bo Arbaranas vs. Omar Belal – 240
Round 1– Arbaranas shot hard and tried to clinch. He scored with a big right hook but then got caught with a full force body kick. The pace was blistering for the first half of the round with every strike and every kick thrown with full power by both fighters. Little defense was on display. Both fighters gassed at the same time and a resting clinch took placed at cageside. Arbaranas was wobbly on his legs and pouring sweat as he gasped for air and Belal was simply out of breath and bone dry. Arbaranas got a takedown and threatened to end the fight with ground and pound as Belal was too tired to fire back.
Round 2– Arbaranas rushed Belal, took him down and started wailing on him with right hands until the ref stopped the contest 14 seconds into the round.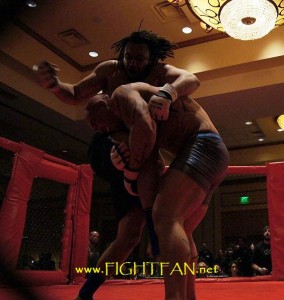 Fight 6- Reid Delman vs. Cody Curtis – 145
Round 1– Delman slipped a left jab and landed a right hook. He followed with a double leg takedown. He muscled Curtis up against the cage but Curtis secured a guillotine choke and cranked it. There were tense moments among the crowd until Delman broke the hold and the fight went back to standing. Knees and uppercuts were thrown by both fighters.
Round 2– Delman confused Curtis with movement so Curtis clinched. Delman broke loose and went back to boxing at a distance. Moving in and out to strike, Delman landed a big right which stunned Curtis who immediately reached for Delman's legs. Delman reached down for a guillotine, secured it, and stood up to tighten it. Curtis was forced to tap at 1:38.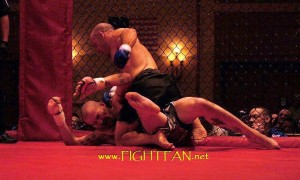 Fight 7- Lee Vue vs. Derek Mainus – 130
Round 1– The fighters began calmly, each showing caution. Mainus suddenly moved in with a straight right hand and followed with a Muay Thai clinch and knees to the body. Vue pulled guard. Mainus passed in short order and got off a non-stop flurry prompting the referee to move in at 2:44 and stop the action.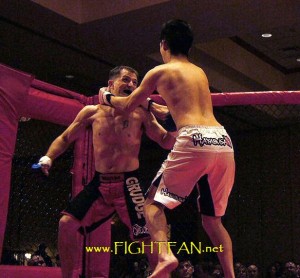 Fight 8- Taj Ashaheed vs. Michael Matthews -185
Round1– Matthew took the fight straight to Ashaheed, throwing strikes as Ashaheed countered. Ashaheed clinched and got a trip takedown. He pushed Matthews into the cage controlling his head. Matthews reversed. He attempted some ground and pound and some position control but Ashaheed defended well from his back.
Round 2– The round began with Matthews in pursuit again throwing numerous strikes and landing some. Ashaheed ducked a hand strike and got another leg sweep takedown. The grapple was back and forth as the two long limbed fighters battled for position and leverage. Each appeared effective at times until the referee stood them up. Looking almost like Nick Diaz, Matthews took the fight right to Ashaheed again as the horn sounded.
Round 3– Matthews pushed the pace mixing in spinning backfists. Ashaheed used movement and countered with combinations until he clinched and swept Matthews yet again. But the referee stood them up due to lack of action. This time Matthews got the takedown put Ashaheed's left arm in a Kimora .
Fight 9- Cody Connell vs. Andrew Kauppila -155
Round 1– Connell opened with a hard leg kick and a big overhand right which he followed in for a clinch and take down. From top position, he worked some ground and pound. Kauppila regained his feet and took another hard kick and another take down.
Round 2– Connell used strikes to again get inside. Kuppila fought off the first take down but Connell regrouped and went for it again. Connell controlled the grapple with positioning and some ground and pound until the horn sounded.
Round 3– Kauppila'a numerous fans were screaming for him to let his hands go and so was his corner. Kauppila then actually managed to control a takedown and made a brief attempt to take Connell's back. Connell, however, quickly reversed postion and stood the fight back up where he finished with a big overhand right and a big uppercut. Judges: 30-27, 30-27,30-27 Connell.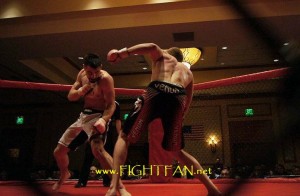 Fight 10- Sammy Rind vs. Jash Kissell
Round 1-Rind moved in and got a huge slam. He tried to mount. The fight went back to standing when he again Rind slammed Kissell. Back to the feet and Rind threw two big rights. Kissell got a takedown and calmly walked Rind into the cage. Where he mounted him and opened up his hands causing the referee to move in and stop the action at 2:25.