RMBB – Cage Of Fury 12/9/11
By Mike Pisano of www.FIGHTFAN.net
Fight 1- Garrett Irons vs. Michael Zapata – 155
Round 1- Zapata clinched then wrestled Irons to the mat.
Irons immediately secured Zapata's head in a triangle, cranked, and tapped him
at 50 seconds.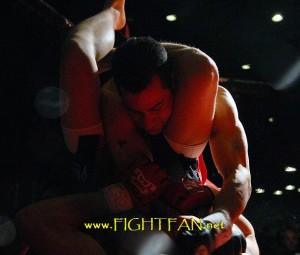 Fight 2-
David Garcia vs. Nic Navarro – 160
Round 1- Navarro
threw a hard leg kick and followed it in with a right hand straight down the
pike bloodying Garcia's nose. He then followed Garcia into the fence with a
flurry knocking him down. Navarro secured a quick rear naked, rolled Garcia
onto his back, and tapped him at 1:03.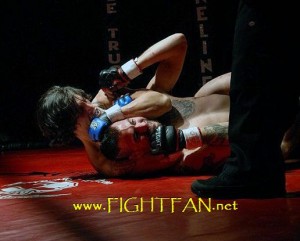 Fight 3- Gabe Florez vs. Toby Lopez – 145
Round 1- Lopez
reversed a Florez takedown attempt and trapped his arms momentarily getting off
a series of punches to the face. Florez tried an armbar but Lopez defended then
took top position before letting Florez up again. Florez went for another
takedown, Lopez reversed once again.
Round 2-
Lopez hip tossed Florez from a clinch and found himself in a triangle which he
broke by lifting Florez and dropping him hard drawing cheers from the crowd. He
tried to pass guard but Florez was flexible in defending with his legs. Lopez
gained side control and then a mounted cross where he got off a stream of
rights to the face before the horn sounded ending the round.
Round 3-
Lopez opened with another hip toss and again, trapped Florez' arms. He began to
land right hands again as Florez battled to buck him off and cover his face.
Finally, after more damage to the face, the referee stepped in and called the
fight. Time: 1:41.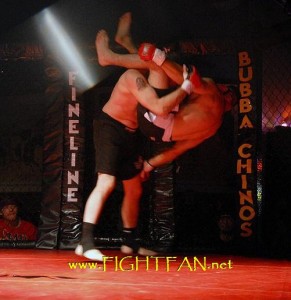 Fight 4- Cruz Soltero vs. Sasha Brown – 155
Round 1- Brown
began working his jab, Soltero kicked. Soltero suddenly shot and took Brown to
the mat using a double leg. He passed Brown's guard in short order and landed
strikes until Brown rolled over. Soltero took Brown's back, sunk a rear naked
and tapped him. Time: 1:06.
Fight 5- Doree Sanchez vs. Kelly Brown – 115
Round 1- The
ladies went back and forth in the clinch each digging body shots, knees, and
battling for leverage. The fight went to the ground Sanchez on top, quickly passed
guard into full mount. She had Brown against the cage trying to strike to the
face as the horn sounded ending the round.
Round 2-
Brown got an immediate takedown landing in Sanchez' guard. She pushed her
against the fence then tried to free her arms from Sanchez' grip until the
referee stood the fight. Both fighters looked for an advantage in the standing
clinch as the round closed.
Round 3-
Brown landed a good right hand, snapping Sanchez' head back. Again the two
clinched. Brown took a low base and lifted Sanchez off her feet to put her on
her back against the cage. She smothered her and worked ground and pound for
the remainder of the round as the crowd chanted "Doree get up!" Judges:
29-28,29-28,29-28 Brown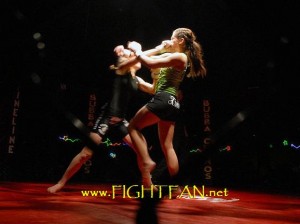 Fight 6- Sylvester Mitchell vs. Ryan Blair – Heavyweight
Round 1- Mitchell
unloaded power kicks and strike flurries from the touch of the gloves and did
not let up. Strikes came from all angles with both hands until Mitchell wilted
to his knees and covered up. The referee moved in and called the bout at 44
seconds.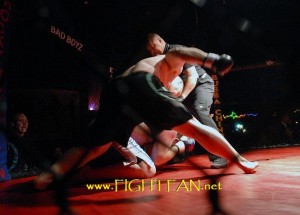 Fight 7- Bryan Montoya vs. Dominick Garkow – 145
Round 1-
Garkow threw his first leg kickoff the fight with such force that it snapped
Montoya's lower leg and ending the contest. Time: 11 seconds.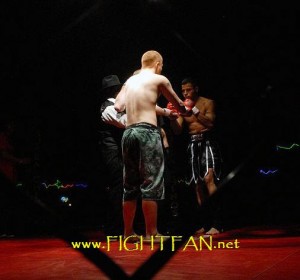 Fight 8- Brian Maronek vs. Michael Matthews
Round 1-
The fighters clinched and Maronek pulled Matthews to the mat using a
guillotine. Matthews freed his head and then found himself in a triangle.
Maronek cranked as Matthews dug left hands to the body. Maronek gained wrist
control and straightened Matthews' arm coming close to an armbar submission
before Matthews rolled out of it.
Round 2-
Maronek established double underhooks and Matthews swept his legs and landed in
his guard. Maronek used a body lock to prevent Matthews from advancing to full
mount. The two reversed each other in the grapple but the round ended as it
started out, Matthews in Maronek's guard.
Round 3- Matthews
got a leg sweep and assumed side control then full mount. Maronek rolled over
to avoid strikes to his face and Matthews immediately applied a guillotine
choke. He took Maronek's back and applied a rear naked choke tapping Maronek at
51 seconds.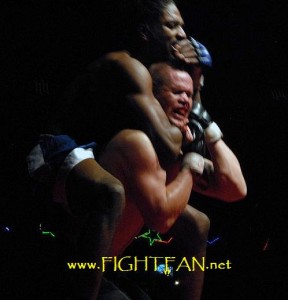 Fight 9- Vinnie Lopez vs. Ryan Peak  –  185
Round 1- The
fighters came out patient, using cautious strikes to gauge distance. Peak shot
and caused a clinch. Lopez took his back and threw hand and knee strikes as
Peak covered up. Lopez transitioned to side control. He began pouring it on
using knees to the body and right hands to the head as the crowd got noisy.
Peak tried first to smother then to cover up but Lopez mixed in elbow strikes
to build up damage and finished him in the same position with a series of right
hands to the face. Referee stoppage at 4:16.