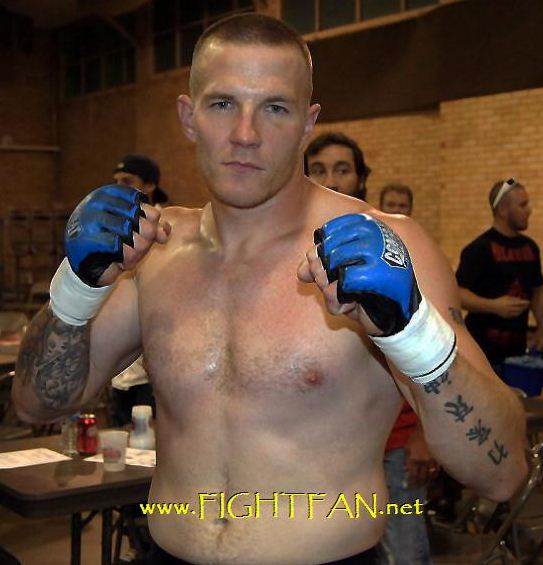 The Juggernaut Jason Clayton steps up as the main event in this
weekend's KICKDOWN 97 in Casper against a game Tim Nixon…
FF:  So Jason for the
fans who may not be familiar with you yet, can you tell us a little bit about
yourself? Your record, and what gym you're fighting out of?
JC:  I'm Jason Clayton, 2-0 as a pro, I fight out of Grand Junction Colorado, originally out
of Michigan. I go out there and I do my thing. I train hard and I fight hard,
and I like to press the pace in my fights. I definitely like to dictate where
they take place. I don't like to get bullied, I like to do the bullying, and I
think that pretty much speaks for itself when you watch my fights.
FF: For sure. I've seen you a couple times out in Casper and
there has been no disappointment. You're up against Tim Nixon, another fighter
not well known in Colorado. What do you know about him?
JC: Not much. I only know what I was able to find on line,
and I know that records aren't always everything. 5-13, not really all that
impressive. He's 2-1 in the Kickdown promotion, one of those wins being the
middleweight belt. Other than that, not really a lot  is known. I've seen a couple fights and he
doesn't seem to have much of a ground game. Which definitely works to my
advantage. That's where Im most comfortable. Ideally, him being 6'3", you
wouldn't think I would want to be doing a lot of standing with him, but I want
to test my stand up. So you never know. Im taking it like I do for all my
fights, train everywhere and be ready for anything.
FF: So like I said, we have seen you in Casper a couple
times, any thoughts on fighting in Denver?
JC: You know, throughout my armature career I have fought a
few times in Denver. I would prefer to fight in Denver. I have no objections to
it, I would most definitely rather fight in Denver. Theres more recognition,
its sanctioned, but the recognition is really what I'm looking for, because I
would like to take my talents to the next level for my weight class. To the
Ultimate Fighter.
FF: Right on…So tell us about your gym. What's the focus,
what's  going on over there?
JC: I don't focus on any one thing, the 8th
Street Gym is very much a family oriented, beginner friendly gym. Very
different from where it started. It was started by fighters for fighters. Everything
evolves and grows, just like our sport, and I'm a coach and trainer there. I
focus my guys, two of which I have fighting with me on this card, on the whole
aspect of MMA. The guys can take whatever classes they want on their time, but
when they come in, we focus solely on the MMA aspect. Too often you see guys
that are really good at kickboxing, or really good at Jiu Jitsu. Not very often
anymore do you see someone who is just really good period. Really well rounded
or really good with the transitions. Which usually means ground and pound.
That's what I try to focus on, the whole as a package. You have to be able to
strike because that's where every fight starts and then once you go to the
ground or in those transitions you have to be able to do damage, inflict your
will on your opponent so you can get the win.
FF: Every time I have seen you, you have been the main
event. This time its for a belt as well. Any extra pressure with that?
JC: Not really. My first coach I trained with used to always
give me shit, he was like "dude you are like the only person I never see get
nervous before a fight." Its  not that I
don't, I just don't want to show it. Not for any reason, I just don't show it
outwardly. The pressure I put on myself is more so than anybody can put on me.
I know I can go out there and have my way with most people, and I've really
kinda been making my fight career of beating up the bigger guys. My first fight
was against Ken Scott up there, bigger weight. My other fight was against Doug
Lemley, 205. I started out as a power lifter so I don't really see a lot of
pressure coming from other people on me. Its more the pressure I put on myself
and things I've been through. I go out there and try to have fun with it. The
first interview I ever did with Steve in my armature career, he was like " that
was a quick fight, how do you feel about it?" and I was like, " You know, I
wish it could have gone longer." laughs
…
FF: Yeah, all your fights have ended pretty quick. So let's
just say you're fighting in Denver…We have the Juggernaut vs. …who?  Who would you like to fight?
JC: that's a good one…You know, my last amateur defeat was
at the hands of Jason Lee. That was for the F2W amateur middleweight title.
That would be totally awesome. But whatever, Im taking fights as they come. Im
trying to build my rep and trying to build my record, but I'll fight anybody.
FF: Awesome man…Anything you want to say to Tim? Or any
sponsors to thank?
JC: To Tim, I hope you come ready. To my sponsors, the
biggest recent one is Max Muscle Colorado West. If it wasn't for them, I don't
know…I really just want to say thanks. They have really thrown a lot of weight
behind me as far as sponsorship, banners and custom clothing. Just a big thank
you to them.
FF: Okay, well Im looking forward to seeing you fight again,
thanks for taking the time to talk with us.
JC: Thank you.