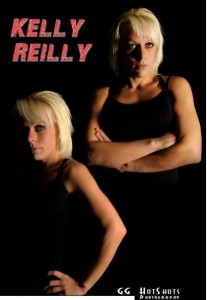 South Dakota fighter Kelly Reilly steps up once more to face
Wyoming stand out Margaret Bloom for the Kickdown Womens Flyweight Belt…
FF: Hi Kelly, for the fans that aren't familiar with you
yet, can you tell us a little about yourself? Your record, fighting style etc…
KR: Sure. I started about a year and a half ago, actually
just walked into MMA off the streets. Lost my first fight by decision.  Worked my way up from there and some people
took me under their wing at Panicle Combat Sports MMA. I started out with them,
I am now 8-7. I have fought in almost every women's weight class, except the
really big ones. Anywhere from 115 – 145. Im walking around at 110-115. I am
ranked with "Non Stop WMMA" #3 in the world at 115.
I train mainly in Jiu Jitsu, Judo, Wrestling and I have some
stand up. I have kind of been working a lot on the wrestling aspect and the
stand up, which has been my downfall in my previous fights. I pretty much train
out of my home and then travel to train at other gyms. My fiancé is a fantastic
boxer and wrestler, so that helps me out quite a bit.
FF: So you're coming to Casper to face Margaret Bloom,  from South Dakota, Whats it like fighting in
South Dakota and do you fight away from home much?
KR: Actually I fight everywhere but South Dakota nowadays.
Because of sanctioning rules and what not.
I fight mostly in sanctioned states and I really don't have
anybody left to fight in South Dakota. So I just travel around.
FF: Gotcha. So what can you tell me about Margaret? Any game
plan you care to share?
KR: I actually fought Margaret last February and won via
standing Guillotine in the first round. So I'm pretty confident for this fight.
I have progressed as a fighter about 110% since our last fight. I have molded
myself as "getting ready for the pros", so therefore, I'm ready to take on
anything at this point in time. So Im pretty confident in a win here and taking
home the belt.
FF: Awesome. Any thoughts on coming and fighting in Denver?
KR: I would LOVE to come to Denver. I have a friend who
fights in the Rapid City area and she has fought in Denver. She said it was a
pretty tough group of girls down there. So my plan is to get ready, bring my
training up so I don't get blindsided. It's a pretty tough group of girls down
there, they aren't to be messed with. Give me a couple months, maybe this
summer and I'll be ready to come in and take them on.
FF: I would be interested in see you come and test the
waters. Anybody in particular you would like to fight?
KR: You know, honestly, on the pro side…I would love to
fight Patricia Vidonic. Because I respect her as a fighter and she is amazing! She's an amazing fighter and I
think in a couple years that would be a really good fight between me and her.
FF: She is a "beast" as she puts it.
KR: Oh yeah, she is a beast. You know there is one other,
Kathy Snell an amateur ranked number two at 115. She's my size, we're both real
little girls and she scares the daylights out of me, because once she starts,
she doesn't stop. She goes and goes and goes. I think that's awesome and that
would be another great fight as an amateur I would like in the future.
FF: So you guys are the co-main event and it's a title
fight, does that put any extra pressure on you coming into this one?
KR: No, not really. I come into every fight…I don't come in
with arrogance, I don't coime in cocky. I come in confident. Not knowing if I'm
going to win or lose, I just know I'm coming in to give 100%. Belt or not, I'm
going to keep my head held high.
FF: So is this belt up for grabs or does somebody hold it
right now?
KR: This belt is up for grabs.  Steve said it's the first time ever and me
and Margaret are going at it.
FF: Great Kelly, do you have anyone or any sponsors you
would like to thank?
KR: Of course…First I want to thank my family. My thanks go to Omari Mambaleo of Pinnacle Combat sports,
Joe Medanich and Mike Alama of Fury Fights for getting me started, my fiance
Jake Tyree for always puttin up with me and helping me train, my sponsors Down
by Contact, Ripper Fight Gear, MMAdepot net, Snooks from Knockoutlounge.com,
alien & co tattoo, and of course Steve Alley of Kickdown for giving me this
amazing opportunity, Thank you guys too for doing the interview, can't wait to
see it.
FF: Okay, and my final question…do you have anything to say
to Margaret?
KR: Lets go in there and get it on again. She's an awesome
lady. I have nothing bad to say about her. I can't wait to see her again.
FF: Im looking forward to the fight, thanks for taking the
time to talk withus, and we will see you Saturday.
KR: Awesome, thank you so much.
.
.
.
.
photo courtesy Kelly Reilly