Fight 1– Mark McGlasson vs Omar Rascon 135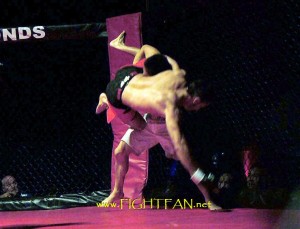 Round 1–
Rascon caught McGlasson with a quick jab which landed just right and staggered
him. McGlasson went into defense mode immediately clinching. The two battled
for leverage and McGlasson wrestled Rascon into his guard where Rascon sunk a
guillotine. McGlasson tried body strikes and twisted and turned but eventually
tapped.
Fight 2– Marques Laureno vs Chris Waters 185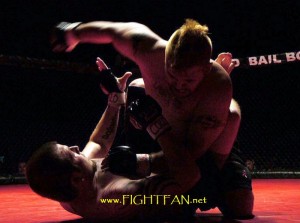 Round 1– Waters
moved in and out landing a forceful leg kick and a superman punch. Laureno
opted to bring the fight to the ground scoring a powerful takedown. The pace
was slow, Laureno working ground and pound, Waters trying for submissions.
Round 2– Waters
trapped a Laureno leg kick and turned a single leg takedown. On the ground the
fighters reversed each other multiple times with Laureno eventually
establishing top position before a referee stand up due to lack of activity. On
their feet, Waters opened up his hands briefly, landing several good strikes
before Laureno took the fight back to the mat to end the round.
Round 3–
Laureno landed a solid leg kick and Waters answered with a right hook flush on
the cheek. Laureno immediately took Waters down again, Waters' corner yelling,
"Get up! Get up!" The referee stood the fight again for lack of action. The
fighters exchanged crisp blows and, once again, Laureno took Waters down, but
this time Waters sunk in a guillotine to tap him out. Time: 1:58
Fight 3– Toby Lopez vs Thomas Sandau 145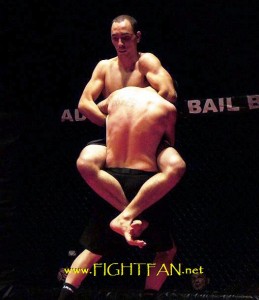 Round 1– Sandau
showed boxing discipline setting the pace with one two combinations mixed with
power strikes. Lopez finally shot and managed a takedown but Sandau had
established a tight guillotine just before the slam and held on. Lopez worked
his head free after some effort and the battle went back and forth, standing
and on the ground. Good knees were exchanged in the stand up as the crowd
became excited. Sandau, following a scramble, cinched up a classic arm bar and
tapped Lopez. Time: 2:50
Fight 4–
Brokk Christianson vs Wes DePriest  155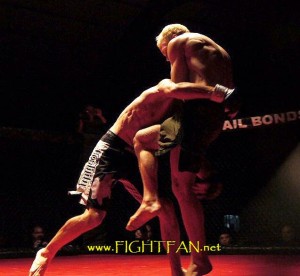 Round 1– DePriest
rushed Christianson and clinched, clearly wanting the fight on the mat. Christianson
stuffed the take down and pushed DePriest away. He then connected on a big
overhand right before DePriest established another clinch. Christianson worked
knees to the body causing DePriest to protect and then Christianson took him
down. The grapple was strategic, Christianson going for submissions and
DePriest working to dominate position.
Round 2–
Christianson was the fresher of the two to begin the round. He immediately
drilled DePriest with a big right hand off of a jab and pounded DePriest as DePriest
took him down. Christianson used Jiu Jitsu on the ground as DePriest appeared
to be looking for answers. DePriest clung desperately to an ankle as Christianson
pounded away. The referee warned DePriest, "You gotta give me something man,
I'm not going to let you get hit like that!" As DePriest moved, Christianson
then sunk a rear naked choke stopping DePriest at 2:31.
Fight 5– Brian Montoya vs Mike Despain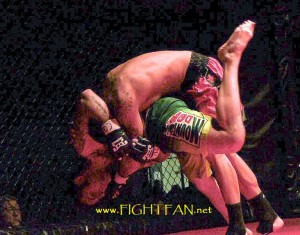 Round 1–
Montoya brought fast, clean strikes forcing Despain to clinch and get a trip
takedown. Montoya quickly got to his feet and motioned for Despain to stand
back up. Despain stood up slowly. Montoya threw more strikes but allowed the
fight to return to the ground. This time, he remained content on the mat and
pounded Despain out. Time: 1:48
Fight 6– Ryan Gould vs Deon Harris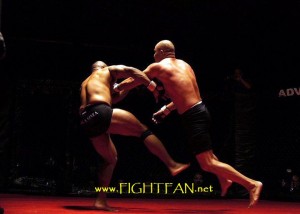 Round 1– Harris
landed a straight kick directly to Gould's mid section causing Gould to clinch.
Harris got a takedown and the fight was stopped briefly for a Harris fishhook. The
referee took two points away. Action resumed standing and Gould punched his way
in to try to establish a guillotine. Harris fought it off.
Round 2–
Both fighters breathing heavily, finally engaged and Harris landed a big right
hand. The two engaged in a furious grapple with Harris taking his back and
sinking in a rear naked choke. Time: 45
Fight 7– Justin Tanke vs Ben DeVries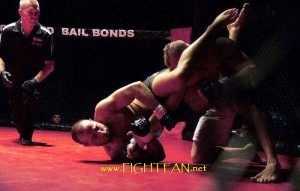 Round 1– The
fighters exchanged kicks and DeVries shot. A scramble took place on the ground
and Tanke isolated the right arm of DeVries, positioned his hips, rolled him
over and got the arm bar at 51 seconds.
Fight 8– Gabe Kintzley vs Tyler Gutierrez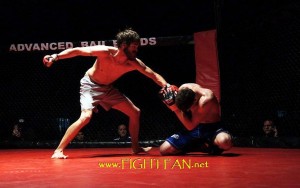 Round 1- Kintzley
came out with power leg strikes in succession. Gutierrez ducked a strike,
wrapped up Kintzley's legs and drove him down. He worked ground and pound
controlling the fight with wrestling as Kintzley defended strikes and a rear
naked choke attempt.
Round 2–
Gutierrez used a single leg take down in order to again utilize his wrestling
on the ground. He transitioned from side control to take Kintzley's back but
failed to finish him with a prolonged rear naked choke attempt.
Round 3–
Kintzley rushed across the cage and threw a right hand which Gutierrez ducked
and used in order to secure another wrestling take down.  The grapple was slower in pace as Gutierrez'
conditioning was beginning to fail him. Kintzley took advantage and assumed top
position but the contested was stopped momentarily so that Kintzley could be warned
for a foul and Gutierrez given time to recover. When action resumed standing,
Kintzley came across the cage and landed five straight leg kicks before
Gutierrez tied him up and held on until the final bell. Judges: 29-28 Kintzley,
29-28 Gutierrez, 29-28 Gutierrez.
Fight 9– Tommy Thompson vs Ron Muir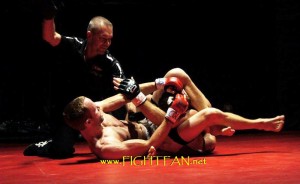 Round 1–
Thompson stuffed a Muir take down then ended up in a clinch along the cage.
Both fighters battled for leverage and landed knee strikes. Thompson landed and
overhand right and a right uppercut. Muir reversed a Thompson take down to take
top position. Thompson immediately isolated an arm, threw a leg over Muir's
head  and tapped him with a triangle
choke at 2:26.
Fight 10– Ricky Johnson vs Frank Morris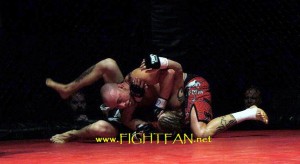 Round 1–
Johnson stuffed a Morris takedown and moved into side control. He used his legs
to trap one of Morris' arms looking for a mounted crucifix but Morris
demonstrated super flexibility in escaping. The ground battle was a Jiu Jitsu
chess match as each fighter attempted and defended submissions. Johnson did
damage with fists and elbows from the mount. As the fight passed the three
minute mark, Morris began struggling to defend Johnson's ground strikes and
Johnson increased the pressure. Finally, as Morris ran out of answers for
Johnson's striking offense, he rolled onto his side and covered up. As the
referee moved in, ready to stop the fight, Morris tapped. Time: 4:51