Fight 1- Jeffrey Malaterre vs Nick Mota – 135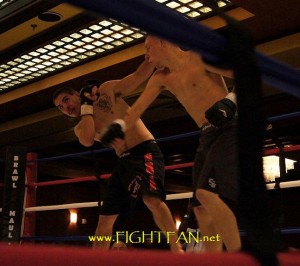 Round 1– Mota landed a head kick then continued his offense with combinations until Malaterre clinched. Mota promptly took him to the mat with a head toss then passed guard. From there Mota landed effective ground and pound until Malaterre gave up a wrist and Mota applied an arm bar. It appeared he could finish the fight with it but Malaterre gave the referee the thumbs up and then the bell sounded.
Round 2-Malaterre threw a good head kick as the crowd warmed up. Mota then took him to the mat, controlling the grapple and incorporating some ground strikes. Toward the end of the round, Malaterre went for an arm bar as the bell sounded.
Round 3– The fighters circled and boxed. Malaterre connected with snapping jabs and rights. As he had Mota off balance he threw in some solid leg kicks, his boxing flair bringing the crowd to cheer in appreciation with his corner yelling to keep the pressure on. Malaterre finished strong with an uppercut and a final flurry. Judges: 29-28, 29-28, 29-27 Mota.
Fight 2- Vince Abachiche vs Dan Hudak – 160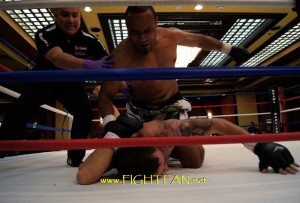 Round 1– Abichiche got off to a fast start with strikes until Hudak shot. Abachiche sprawled and then took side control. From side control Abachiche maneuvered to Hudak's back. He broke down Hudak's posture and fired shots until the referee moved in and stopped the action due to strikes. Time: 2:07.
Fight 3- Dylan Oligo vs Louie Gonzalez – 125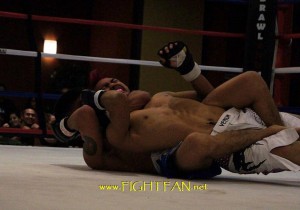 Round 1– Oligo attempted a takedown and Gonzalez reversed. The two engaged in a spirited grapple drawing huge noise from the crowd. The ground battle consisted of a number of throws and reversals. On their feet, both fighters let their hands fly. Finally, Gonzalez took Oligo's back and sunk in a rear naked forcing a disappointed Oligo to tap. Gonzalez had all kinds of fans present. Time 2:03
Fight 4- Jorge Dominguez vs Jorge Alonso Gonzalez – 145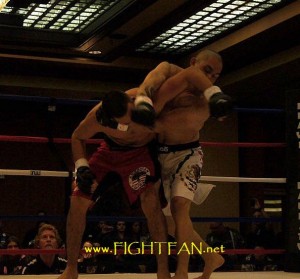 Round 1- Dominguez punched his way in with a big right and then took Gonzalez to the mat where an evenly waged grapple took place. Dominguez ultimately mounted Gonzalez then got reversed. The fight was up then down from standing to the mats but always busy. In the stand-up, Dominguez landed a series of knees with a Muay Thai clinch in place.
Round 2– Dominguez took Gonzalez down and grabbed side control as his corner shouted, "Hold your position!" Gonzalez got to his feet, however, and both fighters boxed until Dominguez followed several strikes with a takedown. Dominguez ended the round in control form top position working strikes.
Round 3– The round started with a resting clinch until referee Oscar Martinez stepped in to break the fighters. When action resumed, Dominguez took Gonzalez' back and rode him to the mat but both fighters were gassed. Action stalled in a fight that had consisted of a variety of techniques on display as Dominguez had promised beforehand. The fight ended with both fighters hanging on and looking tired. Judges: 30-27,30-27,30-27 Dominguez.
Fight 5- David Payne vs  Steeve Alvaro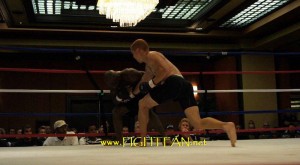 Round 1– Payne showed nice footwork and fast hands as the two boxed. Alvaro staggered Payne with a powerful leg kick that drew roars from the crowd. Payne landed a strong uppercut. Alvaro began bleeding from the nose and Payne letting his mouthpiece hang as he breathed heavily. Payne landed a good combination to close the round.
Round 2- The pace slowed dramatically as both fighters were showing signs of fatigue. Alvaro landed a sweet uppercut and Payne nodded his head in acknowledgement. During a lull, someone from the crowd yelled "superman" and Payne landed a superman punch flush on the left side of Alvaro's jaw knocking him out. Time: 2:05
Fight 6- Mike Holman vs Ronnie Tomasek – 155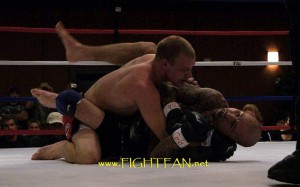 Round 1– Both fighters landed hard strikes in an opening exchange. Tomasek took Holman down and controlled with a guillotine for several moments until Holman finally freed his head and began striking. A strong leg kick from Tomasek followed then another take down by Holman ended the round, Holman in Tomasek's guard.
Round 2– Holman battled for a takedown and finally got it. He took Tomasek's back and applied a rear naked causing Tomasek to tap.  Time: 1:25
Fight 7- Sean Meineke vs Nick Navarro – 155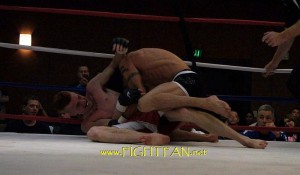 Round 1– Navarro showcased a brutal leg kick, then took Meineke to the mat, passed his guard in short order, then employed brutal ground and pound to stop Meineke at 55 seconds.
Fight 8- Matt Cockrell vs Juan Maganu – 170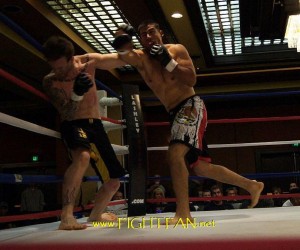 Round 1- The fighters clinched and Cockrell got off some effective knees and good dirty boxing. He followed up with solid strikes and had Maganu seemingly where he wanted him. Cockrell then took Maganu to the mat where Maganu was able to isolate an arm, swing his leg around, push his hips up and tap Cockrell with an arm bar at 1:41.
Fight 9- Nolan McLaughlin vs Andrew Kauppila – 155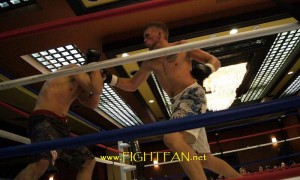 Round 1– McLaughlin used kicks to keep Kauppila off balance and dictate distance. He landed a variety of kicks, both high and low, capped off by a good head kick and a solid right-cross to the cheek of Kauppila. Kauppila trapped a few kicks but elected not to try for a takedown. Toward the end of the round, Kauppila pressed forward and opened up his hands, hurting McLaughlin with a left-right-left-right despite McLaughlin covering up. As McLaughlin was reeling backward, Kauppila delivered a right hand straight to the chin putting McLaughlin down. Kauppila pounced, McLaughlin rolled over and covered up, McLaughlin unloaded punches until the fight was stopped and ruled a TKO at 2:59.