"Thunder" August 27, 2011
by Mike Pisano
Fight 1  Brandon Johnson vs Joey Mares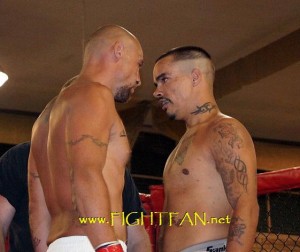 Round 1 – Johnson opened with a strong leg kick and a right hook to the head.  Mares covered up and Johnson clinched, took his back, applied a body lock and tapped him with body strikes.  Time :33.
Fight 2  David Toth vs Tyler Espinoza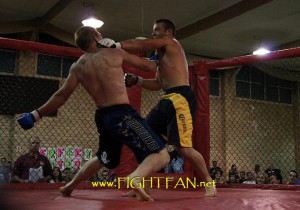 Round 1 –  The two fighters came out one hundred percent, swinging for the fences. Both landed kicks and strikes. Many swings missed badly. Espinoza knocked Toth's mouth piece out. Toth was the first to tire from the pace and the adrenaline. Espinoza kept the pressure on as Toth bled from the nose.  Espinoza knocked Toth down with a flurry at the 30 second mark and the round ended with Espinoza doing groundwork as Toth fended off a referee stoppage.
Round 2 – The wild flurries resumed immediately before the referee paused the action to allow the doctor to look at Toth's nose. The fight resumed with Espinoza looking to tee off and Toth gamely swinging back. As Espinoza floored Toth with a big right and Toth unable to defend intelligently, the referee moved in and halted the action. Time: 50 seconds.
Fight 3 – Jordan Hernandez vs Jesse Granzer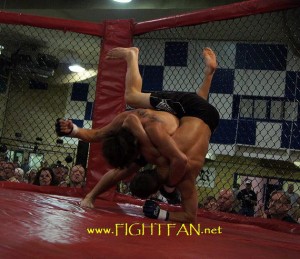 Round 1 – Hernandez slipped a jab and established head control which he used to wrench Granzer to the mat.  He landed good knees to the body at the instruction of his corner. Granzer applied a head crank with his locked legs but abandoned it to defend against Hernandez' strikes to the face. As the round closed, Hernandez had gained full mount and was landing ground and pound.
Round 2 – Hernandez opened with a straight right that shook Granzer. Granzer clinched to clear his head but Hernandez took him down and, in knee on belly position, rained down vicious strikes until the referee stopped the attack at 29 seconds.
Fight 4 – Brad Wright vs Wade Hardy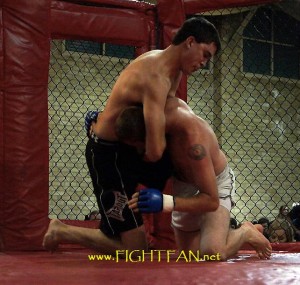 Round 1 – Wright surprised Hardy with a quick strike right off the glove touch and ambushed the fight to the ground. Hardy quickly used his leverage and long arms to reach around Wright's neck and sink in a guillotine choke tapping Wright out at 26 seconds.
Fight 5 – Tom Stanley vs Houston Falkenberg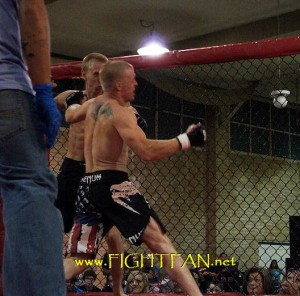 Round 1 – Falkenberg landed a right hand over a Stanley leg kick as the fighters went immediately into a wide open exchange. He then landed another left right that knocked Stanley out cold. Time: 09 seconds.
Fight 6 – Margaret Bloom vs Megan Bennett
Round 1 – Bloom landed a body kick and followed with a right uppercut which stunned Bennett backing her up. Bloom reloaded and tagged Bennett with a second right which knocked her to the mat. Bloom immediately jumped on top and began firing shot after shot to the face until the referee had seen enough and stopped the contest at 31 seconds.
Fight 7 – Ole Anderson vs Billy Johnson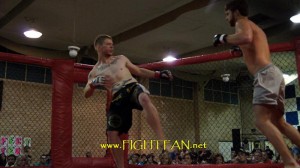 Round 1 – Johnson followed an Anderson leg kick with a looping overhand right that caught Anderson behind the ear knocking him to the canvas. Anderson covered up his head immediately but the referee had already pulled Johnson away and stopped to contest at 12 seconds.
Fight 8 – JW Kiser vs Tim Martinez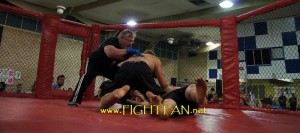 Round 1 – The fighters touched gloves and each looked for their offense immediately. Kiser uncorked a wild right which landed squarely on the side of Martinez' head dropping him like a log and knocking him cold at 6 seconds.
Fight 9 – Lance Meyer vs Jared Olguin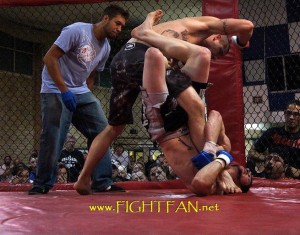 Round 1 – Olguin mixed hand and leg strikes to keep Meyer at a distance in the opening moments of the fight. He hurt Meyer with a liver kick bringing the fight to the mat and immediately taking his back and working strikes and a rear naked attempt. Meyer forced a scramble, used a number of up kicks and stood the fight. Olguin went to work using his reach advantage and working punches and kicks again. Meyer closed the distance and got a takedown. Working comfortably from his back, Meyer wrapped a leg around Olguin's head and arm, locked his foot, and placed pressure on Olguin's head tapping him out with a triangle choke at 2:55.
Fight 10 – Joey Munoz vs Steven Overshiner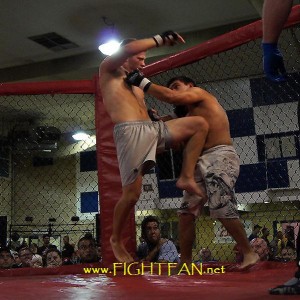 Round 1 – Overshiner loaded up with a right hand and Munoz forced a clinch against the cage. Munoz threw knees to the thigh of Overshiner and dug right hands to the body. Overshiner fought off a takedown attempt using high leverage and worked knees of his own. Munoz finally did score a double leg takedown but Overshiner made it back to his feet. Munoz nailed him with a big right hand which sent him to the canvas but Overshiner recovered and finished the round.
Round 2 – Overshiner threw knees in a Thai clinch and Munoz took him down. Munoz wore him down with strikes and broke down his posture attempting a rear naked. Overshiner slipped the choke and maneuvered his way back to stand up. Munoz then solved the leverage issue picking him up, moving him to the center of the mat and slamming him. He had taken Overshiner's back and flattened him out once again as the bell sounded.
Round 3 – Overshiner was breathing heavily. Munoz got an easy takedown and began improving his position with strikes and Jiu Jitsu. He again took Overshiner's back and maintained the advantage until he got a body lock, rolled Overshiner over and tapped him with a rear naked at 2:46.
Fight 11 – Jason Clayton vs Doug Lemley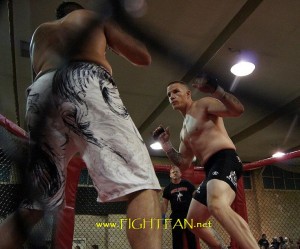 Round 1 – Both fighters started tentatively. Clayton got a speedy double leg as Lemley defended with a guillotine on the mat. Clayton freed his head and took full mount in one swift burst. Lemley immediately turned and gave his back. Clayton created space with punches, sunk the rear naked and tapped Lemley. Time: 1:10.