By Mike Pisano
8-12-2011
Fight 1- Brian Camozzi vs Jontue Collier (Kick Boxing) Title fight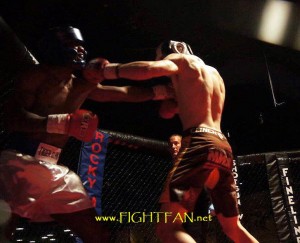 Round 1- Collier wasted no time letting go speedy hand combinations. He then applied a Muay Thai clinch and launched a series of knees, some of which landed low prompting a warning from referee Eric Heinz. As action resumed, it was Collier again getting off first, but a second knee to the balls caused a point to be taken away. This time, Camozzi remained on his knees in a tight ball wincing in pain. As Camozzi used his allotted recovery time, Collier's corner was yelling, "Do not let up on him Jontue, don't be nice!" After Camozzi recovered, furious action ensued and Camozzi landed a straight right followed by two more which shook Collier. Camozzi, smelling blood, kept the pressure on as the crowd came alive.
Round 2– The fighters immediately engaged again and Collier landed a third strike to the cup losing another point. Camozzi took a few seconds to recover and then opened up his hands. He kept the pressure up and continued the onslaught with the referee watching closely. One last knee landed by Camozzi and the referee stepped in to prevent unnecessary damage. Time 1:11.
Fight 2- Mark McGleeson vs Scott Ingram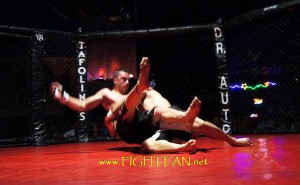 Round 1- Ingram exploded in with a superman punch. McGleeson grabbed his head as he slipped the punch and head tossed him to the ground. From there he fired off head and body shots. Ingram was eventually able to tie his arms up and effectively stall the action so referee Eric Heinz stood them up. On the feet, McGleeson grabbed Ingram around his trunk, swept his legs and slammed him to the mat so fast that Ingram was knocked cold on impact. Time: 2:12.
Fight 3- Dominick Garkow vs Josh Hagerty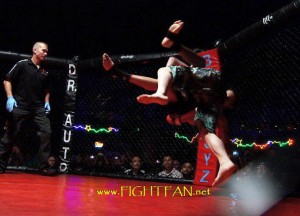 Round 1- Garkow missed a jump kick by inches, grazing Hagerty's nose, then shot and took Hagerty down falling into a guillotine. Garkow then stood up and waved Hagerty to the feet. Hagerty tied Garkow up along the cage and then they broke. Garkow again closed the distance with a jump kick which missed but he followed immediately with a right hook which rocked Hagerty. Hagerty landed a left of his own but Garkow landed another right and the referee Tom Johnson stopped the action as Hagerty appeared to be out. Time: 2:05.
Fight 4- Josh Copeland vs Robert Gocha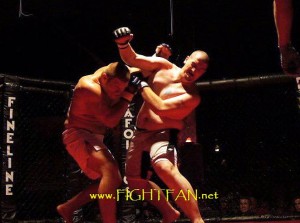 Round 1- Copeland landed a solid overhand right but remained patient rather than following with an excited flurry. He then landed a counter right hook to the head as Gocha charged in. Gocha was stunned and already breathing heavily. Copeland remained relaxed, picking his spots. Gocha rushed in once again and Copeland tagged him with a precision one-two, knocking him on his back and then smothering him with more punches as referee Tom Johnson stopped the damage. Time: 1:30.
Fight 5- Brian Montoya vs Jorge Dominguez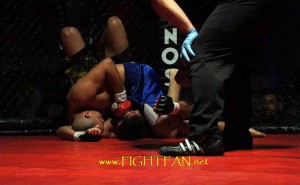 Round 1– The fighters engaged in a great stare-down with Montoya holding his hands on his hips and no glove touch happened. The fight started with strategic low kicks. Montoya finally let his hands go with Dominguez back against the cage. Dominguez then got a takedown and passed guard. Dominguez then grabbed the cage and the referee stood the fighters and warned him. The fighters exchanged strikes then locked in a grappling clinch along the cage. Dominguez finally took the fight to the ground landing Montoya in a crucifix and landed a number of strikes as the ten second clap sounded.
Round 2– The round opened with a leg kick by Dominguez and a knee to the body by Montoya. Dominguez then scored a double leg takedown. In the grapple, Montoya secured wrist control and attempted an arm bar which appeared close but Dominguez escaped as both fighters were sweaty which might have helped. Dominguez landed strikes on the ground but Montoya kept wrist control and went for another arm bar a the round closed.
Round 3– Both fighters looked a little gassed. Montoya's corner instructing him to breathe, breathe! Dominguez got a takedown off of a body kick. Dominguez didn't work on the ground so the referee stood them. Still tired, the fighters engaged in a resting clinch against the cage. Montoya applied a guillotine and tried to tighten it. He pulled Dominguez to to the ground and kept it on with Dominguez eventually pulling out at the then second clap. At the bell both fighters raised their hands and appeared to want more as they refused to shake and came face to face again while awaiting the decision. The crowd gave their approval of a good competitive fight. Judges: 30-27-, 29-28, 29-28 Dominguez.
Fight 6- Taylor Phillips vs Michael Stanfield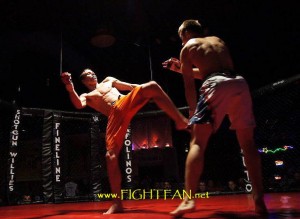 Round 1- The fight opened with a leg kick by Stanfield and head kick by Phillips. The fighters traded in the clinch and Phillips landed a number of upper cuts. Phillips landed knees and several precision strikes which had Stanfield stunned. Stanfield grabbed onto Phillips and managed to tie him up in a clinch long enough to get his bearings back.
Round 2- Phillips was head hunting with kicks until Stanfield tied him up in a clinch, his corner telling him, "Keep that head down!", Phillips corner telling him, "Crossface! Crossface!" Stanfield, after working hard, got the takedown. Phillips reversed position and settled into Stanfield's guard. The grapple was a stalemate.
Round 3– Fighters traded leg kicks and Phillips landed a big overhand right. A clinch along the cage came next. Phillips landed a low knee and received a warning from the referee. As action resumed, Stanfield's corner yelled,"Get mad Michael, Get mad!" Stanfield then exploded with offense and landed numerous strikes, but Phillips answered with a kick which stung Stanfield and allowed him to take Stanfield to his back. The fight ended with Phillips in top position and Stanfield trying to find a triangle. Judges: 30-27,29-28,29-28 Phillips.
Fight 7- Andrew Lipp vs Nic Brown

Round 1– Brown slipped on a led kick attempt and Lipp pounced. Then each fighter reversed with brown ending up putting Lipp in a triangle. Brown landed strikes in the triangle and Lipp answered with strikes. Brown then noticed a deep cut over his eye which was bleeding heavily. He took Lipp's back and sunk a rear naked as his eye gushed. Lipp battled and battled refusing to tap, but as the bell sounded Lipp was out. The referee called an end to the bout as it was not ruled a flash knock out and Lipp was out cold from the choke.

Fight 8- Justin Hernandez vs Brandon Royval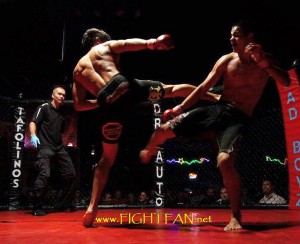 Round 1-  Royval opened with a head kick and Hernandez clinched. After a brief referee stoppage, Hernandez pursued a take down striking his way in but also absorbing strikes from Royval. He finally managed a takedown but was quickly reversed as he attempted an arm bar. The two worked back to standing where Royval threw a number of kicks to the head.
Round 2– Royval threw several more high kicks then defended a flying knee attempt by Hernandez. Royval sidestepped the knee took Hernandez' back on the ground, flattened him out and then tapped him with a rear naked. Time: 2:08.

Fight 9- TJ Nunnaly vs Michael Matthews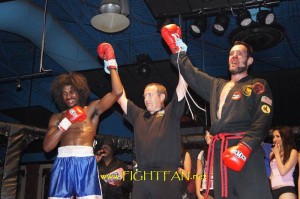 Round 1– The action consisted of numerous even exchanges and numerous separations by the referee until Nunnaly landed a good overhand right and Matthews answered with a kick. After brief exchanges, more clinching and more breaks by the referee, Nunnaly landed a good one-two to the head and was looking for more as the round closed.
Round 2– Matthews landed a side kick and several leg kicks. Nunnaly missed with spinning back kicks. Matthews then went upstairs with a head kick that both dropped Nunnaly and pleased the crowd. Matthews kept pursuing and appeared to have Nunnaly hurt or winded but Nunnaly recovered before round's end.
Round 3– Matthews' head gear appeared to be bothering him and Nunnaly kept combinations in his face. Nunnaly continued to work more effectively landing crisper strikes, Matthews' corner yelling, "Mike you gotta do something!" Nunnaly finished the fight with pressure. Judges: 28-28,28-28,28-28 Technical Draw

Fight 10- Heather Sachleben vs Raquel Pennington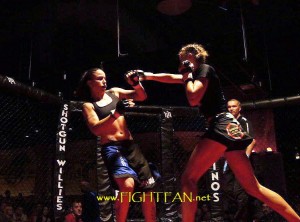 Round 1– Sachleben looked to do damage early with strikes. Pennington ducked a combination and attempted a double leg but Sachleben leveraged out of it and trapped her against the cage. Pennington swept her legs. Sachleben stood back up. Sachleben went back to her striking and again, stuffed a Pennington double leg attempt. Pennington then gained head control and threw knees to the body as the crowd broke into chants of "Rocky, Rocky!"
Round 2– Pennington picked up the intensity of her kicks but was wary of Sachleben's hands. Sachleben stuffed a third takedown attempt but ended up being pulled the the mat by Pennington's head control. On the ground, Sachleben freed her head and immediately began striking to the face of Pennington as Pennington wrapped her legs around Sachleben's body. Pennington inched her body lock higher and higher until she had Sachleben in a triangle choke. She grabbed the back of Sachleben's head and pulled down hard. Sachleben dug right hands to the ribs of Pennington but finally tapped. Time: 1:51.

Fight 11- Daniel Aguilar vs Alfredo Corona
Round 1– Aguilar crouched extremely low and grabbed for a leg. Corona squatted down to block him and got pulled immediately into Aguilar's guard with one leg trapped. Aguilar then went to work for leg submissions as defended and countered. Aguilar had a knee bar seemingly tight at one point but Corona freed his leg and rolled. Corona looked to punch Aguilar in the face in order to slow his relentless Jiu Jitsu flow but Aguilar kept ahold of Corona's ankle, until he finally had the right position and a tight enough grip to tap Corona with a knee bar.Time: 1:38.